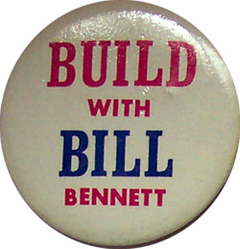 If history is a guide to the future, the current economic downturn means that B.C. will have a new government on May 12. That's because the time B.C. governments most often are defeated at the polls is when a general election and an economic downturn coincide.
Since 1903, when political parties made their first official appearance in provincial tilts, eight B.C. governments have been turfed from office. Those losses occurred in 1916, 1928, 1933, 1952, 1972, 1975, 1991 and 2001. (Actually, the governments doomed to defeat in 1933 and 1952 disintegrated on the eve of facing the electorate.)
On three occasions -- 1928, 1952 and 1972 -- the overthrown governments had been in power for more than a decade and were seen by many voters as long-in-the-tooth and out-of-touch. And each, to varying degrees, was wracked by internal dissent. Simply, B.C. voters believed it was time for a change.
But the other five times that B.C. governments were kicked to the curb, the province (or Canada, or our largest trading partner, the United States) was either on the cusp of, or deep in the midst of, an economic recession.
This is not to say that the economy was the sole issue in any of these five general elections -- in 1916, 1933, 1975, 1991 and 2001 -- but it was an important factor in each. Dire economic circumstances exacerbated the electoral challenges facing already beleaguered governments.
Why Liberals need rare bit of luck
We can look at the situation another way: have any B.C. governments won re-election when the province has been hit, or is about to be, by an economic downturn? Just three administrations meet this criteria: the Liberals in 1920 and 1937, and Social Credit in 1983.
Yet a closer look shows that in the first two tilts, the government was returned with a much-reduced majority over a divided opposition. In 1920, John Oliver's Liberals lost 11 seats and saw their 26-seat majority cut to just three. Liberal Premier Duff Pattullo was re-elected in 1937, but his government lost three seats and his legislative majority was reduced from 22 to 14.
Just once, when Bill Bennett's Social Credit party won re-election in 1983, has a government been returned with an enhanced legislative majority during an economic downturn. In that election, Bennett's Socreds picked up four new seats, which boosted their majority in the House from five to 13.
In sum, on eight occasions, B.C. governments have faced voters during difficult economic times. Five times the administration was defeated, and twice more won re-election with a much-reduced majority. Just once, in 1983, has a government increased its legislative majority.
It is that latter, sole example in 1983 that the B.C. Liberals -- as well as their supporters, plus many members of the news media -- point to as the paradigm for their re-election in 2009. History suggests that such a feat is akin to drawing to an inside straight: not impossible, but very rare.
Bill Bennett redux?
As the foregoing examples from 1920 and 1937 illustrate, it's possible for a sitting government to lose seats but still be returned to power. Thanks to redistribution, such a scenario in 2009 appears to be almost out of reach for the B.C. Liberals.
Four years ago, Campbell's Liberals won 46 of the legislative assembly's 79 seats. Then, in a by-election last October, the government lost Vancouver-Burrard, which cut their seat total at dissolution to 45.
For the general election now underway, six new ridings have been added to the electoral map. To win a majority, a party must capture at least 43 of 85 seats.
Because Gordon Campbell and the B.C. Liberals held 45 seats at dissolution, and must retain a minimum of 43 to maintain their legislative majority, it follows that the Campbell government can afford to lose no more than two seats they currently hold if they are to remain in office.
In this light, the Campbell Liberals' enthusiasm for Social Credit's electoral success in 1983 is understandable. Simply, nearly the only scenario by which the B.C. Liberals can retain power is to replicate what Bill Bennett did 26 years ago: pick up new government seats in the teeth of a severe economic downturn.
Flood of red ink
So, the current economic climate should assist Carole James and her New Democrats in their quest to defeat the Campbell Liberals, right? Well, most political pundits disagree, with one -- television reporter Keith Baldrey -- going so far as to opine that the NDP during the election "want[s] to talk about anything other than the economy."
How can that be? In March, the number of unemployed British Columbians jumped up to 173,000, the highest number in six years. The unemployment rate, as low as 4.2 per cent in the spring of 2008, has exploded to 7.4 per cent. The number of British Columbians receiving Employment Insurance benefits in January was 56,100 -- up 47.7 per cent from a year earlier.
Bankruptcies are shooting skyward, and a variety of industries -- notably construction, forestry, mining, real estate and tourism -- are struggling for survival. And, remarkably, the deficit-averse Campbell government this spring amended its balanced-budget legislation so as to run deficits in the current and next fiscal years.
Don't B.C. voters believe that it's time for a change? The answer, if current public opinion polls are accurate, is, no.
NDP's silver platter
So, how to explain James's New Democrats' lack of credibility on economic issues? Here are three examples.
First, consider the party's 2005 election platform, prepared under James's direction. Ten of 73 pages were devoted to the economy, but the section eschewed new ideas or innovative thinking, and instead reiterated age-old NDP nostrums -- resolving Aboriginal land claims, restricting raw-log exports, increasing the minimum wage and strengthening the agricultural land reserve -- and restated criticisms of the Campbell government.
Second, three years ago, James surveyed her caucus and decided that Jenny Kwan was the best candidate to serve as economic-development critic. The Vancouver-Mount Pleasant MLA may well have credibility on many issues, but B.C.'s economy is not one of them. (Any who disagree may peruse Hansard and post below examples of Kwan's economic acumen.)
Third, last October, the NDP leader appeared on province-wide television to rebut Gordon Campbell's earlier TV address on the worsening global economy. The event gave James yet another opportunity to display a firm grasp of economic issues and offer some innovative ideas.
She failed to do either, mostly repeating her party's opposition to the Campbell government's pay increases for senior bureaucrats, criticizing cost overruns at the Vancouver convention centre, and insisting the government reduce its advertising budget. And, again, there was a recitation of long-standing NDP promises: curtailment of raw log exports, expansion of grants for post-secondary students, and increased funding for public transit.
The current economic downturn has been delivered to the NDP on a silver platter. In the event that James and her New Democrats fail to win the May 12 general election, they'll have no one to blame but themselves.
Related Tyee stories: