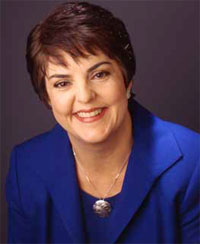 *Story updated with new information at 9:30 p.m., April 9, 2008.
The B.C. New Democratic Party's promise to axe the carbon tax would open up a $1.8 billion hole in the provincial budget over the next three years.
How an NDP government would close that hole, along with other details of how it would manage revenues and expenses, is included in the party's 46-page election platform, Take Back Your B.C., which leader Carole James released in Burnaby this morning.
"This is a balanced platform that I am bringing forward today," James said presenting the platform. "It combines sound fiscal management with the investments we need to support jobs, to make life affordable, speed up our recovery and build for the future."
It's a prudent plan in a difficult economy, she said.
Besides getting rid of the "gas tax," a James government would give small businesses a one-year, $40 million "tax holiday" and freeze or rollback another $46 million in fees.
The NDP would spend $200 million on a rural development fund, an extra $225 million on kindergarten to Grade 12 education, $125 million on childcare and $175 million on post-secondary education.
There would be $99 million more for public safety related measures, including added police, courts and youth programs, and a similar amount for spending aimed at reducing poverty. The platform promises smaller classes, greater environmental protection, 3,000 new long-term care beds for seniors, reduced transit fares and more accountability at B.C. Ferries.
There would be more money for housing, park programming, women's centres, anti-violence programs, the arts and tourism. The minimum wage would go up to $10 an hour and post-secondary tuition fees would be frozen. Welfare rates would be linked to inflation.
James promised a public enquiry into the sale of BC Rail and a moratorium on the sale of streams.
New revenues sought
The party also has plans for areas where the government can increase or find new revenues. The largest is a proposed royalty on flaring at gas wells that would bring in $412 million over three years.
It would also raise $155 million from increased liquor taxes, $75 million from water rentals and $185 million by reversing a tax cut Gordon Campbell's Liberal government gave to financial institutions.
A proposed system for pricing greenhouse gas emissions would bring in $250 million in the third year of the plan.
Another $1.2 billion would come from reallocating current government spending, including rolling back executive pay hikes, downsizing the public affairs bureau, reducing contracts and government travel and spending part of the housing fund.
An accompanying 10-page appendix on "strategic investments" says implementing the NDP platform would add a "modest and affordable" $1.5 billion in debt to the Liberal's projections this year, and $1.6 billion in 2010-2011.
The platform promises reduced deficits and a balanced budget in the fourth year of the plan.
The provincial budget the Liberals presented in February planned for two years of deficits with a balanced budget in 2011-2012. The NDP platform calls that plan "wishful thinking" and "political posturing."
"What the platform does is give people a very clear choice in this next election," James said in a phone interview.
The Campbell government is raising taxes and cutting services, she said, while an NDP government would cut taxes and target investments to health care, education, tourism and mining. That would increase the government's debt, she said, but "It's clearly still very manageable."
With job losses mounting, she said, "It's clear the direction this government's taking isn't helping British Columbians."
Liberal criticism
"The NDP platform is centred on fundamental priorities," James said in Burnaby. "Immediate tax relief for families and businesses, investments in green and community infrastructure, investments in people to secure B.C. for the long term."
The challenges facing the government are large, she said. "I know we can't fix all the problems at once," she said. "I know that the public demands a government that's careful with their tax dollars. But I also know that British Columbians don't expect government to use the recession as an excuse to do nothing while thousands of jobs are lost."
People don't want a government that will "use the tough times as an excuse" to cut programs, sell off public services, liquidate resources and surrender public control of rivers.
The B.C. Liberal party put out a press release bashing the NDP plan for not balancing the budget.
"Voters have been waiting for months to see how the NDP would balance James' reckless spending promises with policies that slash government revenues," the B.C. Liberal release quoted Finance Minister Colin Hansen saying. "We now have the answer -- they can't do it."
Several NDP policies outlined in the platform would kill jobs instead of creating them, Hansen said.
'There's anxiety, that's for sure'
NDP finance critic and Surrey-Whalley MLA Bruce Ralston said the added debt is affordable and sensible given the state of the economy. "It is a bit more than theirs, but times are tough. It's nothing like Ontario, or even Alberta."
The Alberta budget released yesterday included a $4.7 billion deficit, which is roughly 10 times the $495 million deficit B.C. projected for 2009-2010.
The Liberals' policies appear to have done little to slow job losses, which Statistics Canada announced today were higher in B.C. than any other province, Ralston said. "Their plan isn't having much effect."
Times have been tough in the interior of the province for some time and the Lower Mainland has taken a sudden and dramatic hit too. "There's anxiety, that's for sure," he said. The provincial government could do much more to help, he said. "We can have some influence on the local economy."
While the NDP would provide that help, he said, the Liberals are ideologically blocked from taking the needed steps.
"People in British Columbia don't expect government to fix everything," said James. "But they don't expect government to make their lives more difficult, and I think that's what Gordon Campbell has done."
Related Tyee stories: