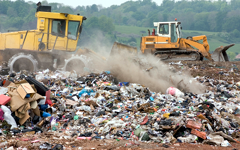 As mayor of Logan Lake, B.C., Ella Brown spends a lot of time wondering how to lure young families to her small town. She thinks she has an answer. Garbage. Mounds of it, arriving by the truck load every day.
She may be on to something. Consider the fierce competition Brown faces.
Logan Lake is one of 23 communities battling for the right to host the next big landfill for the Greater Vancouver Regional District (GVRD).
Soon the GVRD hopes to trim the list down to 10. Then the great B.C. rubbish rush really gets rolling.
Small businesses and national corporations have put in bids, most of them enjoying the support of communities eager to welcome garbage trucks. Logan Lake is up against a strong pitch from Cache Creek, as well as proposals from the Fraser Valley, Vancouver Island, Alberta and even California.
'Inspiring' landfill
Mayor Brown can already smell the potential. Her town, in collaboration with Teck Cominco, wants to take in 500,000 tons of refuse from the region every year.
About 2300[*] people live in Logan Lake, which is 325 kilometres northeast of Vancouver. The town's main industry is the Highland Valley Copper mine, scheduled to close in 2019. When it does, municipal revenues will shrink by over half.
Brown hopes trash can be a cushion. The project could create 186 jobs in the area, and is expected to bring $800,000 in tax dollars annually.
"My goals are to attract younger families, to get the school running and to improve the social aspect of the city," Brown said. "The landfill would be located in the mine. You wouldn't even notice."
Brown describes the design of the garbage dump, which would be the size of 513 football fields, as "sustainable" and "inspiring."
It hardly inspires John Ranta, mayor of Cache Creek, where for the last 20 years the Vancouver area has sent about a third of its solid waste. Ranta calls the Logan Lake plan "100 per cent negative" for his community.
Cache Creek, along with Ashcroft Ranch, supports a competing proposal to create a new dump near Ashcroft. They stand to lose combined almost $1 million a year in revenue if it goes to Logan Lake instead.
Garbage greenspeak
The proposals piling up at the GVRD are part of a rubbish rush spanning the continent. U.S. trash, worth $52 billion per year, should top $60 billion by 2010 according to Waste Business Journal, the bible of an industry working hard to re-brand.
"Think green. Think waste management," is part of the slogan for Waste Management of Canada. Wes Muir, the company's spokesperson, says "landfills are not dirty dumps anymore."
"We are more than just waste disposal companies," Muir told The Tyee. "We advocate for integrated approaches when it comes to waste management. We look at the environmental and economic benefits."
Heather Rogers, a New York-based historian and the author of Gone Tomorrow the Hidden Life of Garbage, has followed the greening of the industry.
"It started in the early nineties, and part of what motivates them is that they're dealing with an industry that is very toxic," she said. "It's an environmentally destructive industry and they don't want to appear that way."
Rogers doesn't detect altruism behind the marketing. "In the end, it comes down to environmental protection required by law." Garbage firms are "only respecting current legislations" and aren't "promoting compost or pushing for better management of our resources," she said.
Alberta's mega-dump
Across North America landfills are becoming fewer but bigger, and tend to be farther away from their sources.
In some cases the distance is necessary, according to Gord Lovegrove, an engineer at the University of British Columbia. Vancouver may toss out tons of trash, but the coast is not a healthy place to keep it around, he says. The region is earthquake territory, with "water infiltration issues." Plus, "you need a lot of space."
Which helps make the case for Cache Creek -- also nicknamed Trash Creek. "Cache Creek is a good location. It's away from earthquake risks, it's away from groundwater and it's in a drier climate," Lovegrove explained.
At least Cache Creek is closer to Vancouver than, say Ryley, Alberta. There, a firm wants to create one of the largest landfills in Western Canada, accepting a million tons of garbage a year for the next century. That would mean up to 40 trucks a day arriving from far flung urban centres, which critics say means burning a lot of carbon just when Canada is trying to cut back.
'Out of sight, out of mind'
Putting landfills in the boondocks "disconnects us from our sense of responsibility when the garbage we create goes far away," Robin Nagle, an anthropologist at New York University, told the Tyee. "We throw away. Where is it? Out of sight is out of mind: we don't care."
Despite all the buzz about recycling, "our attitude towards garbage disposal hasn't much changed in 100 years," said Nagle. "The cost of getting rid of garbage has increased. But we're still willing to pay. It's easier to pay for throwing it away than finding a real solution."
For towns like Cache Creek or Logan Lake, garbage apathy is like a new Klondike. "But there's a downfall, and it's health risks," said Nagle. "And it brings another question. Wealthy cities are benefiting from the poverty in certain areas to create landfills. Is it just?"
In Ashcroft, 90 per cent of residents agreed to accept Vancouver's waste in a recent referendum. But the related question on the ballot was: "Do you want your taxes to dramatically increase in the next couple of years?"
Elsewhere, the public tends not to be so predisposed to waste disposal, according to Waste Management's Muir. "Frankly, people are supportive," he said, "until it gets into their own backyard."
Burn it?
The best option, claimed Muir, is to burn the trash.
That's what the First Nation community of Seabird Island, near Chilliwack, wants to do with GVRD garbage. Their plan would be to yearly take in 250,000 tons of waste and incinerate it to generate enough electricity for 20,000 homes. The project might also generate two dozen new jobs.
"It's safe, and it's 99 per cent efficient. You don't even know it's there," Chief Clem Seymour of Seabird told The Tyee.
One such a facility already operates in Burnaby. Seymour says residents of the area can see nothing but a small plume of steam coming from its stack. "You couldn't even smell it," he said.
While burning garbage is gaining some green credibility -- the U.S. Air & Waste Management Association wants the government to accept waste-to-energy facilities as sustainable sources of energy -- not everyone is on board.
"There's huge public suspicion that you can never burn things efficiently," said UBC's Lovegrove. "What exactly are you burning? Do you really know? You can have very good engineering and guarantee 99.99 per cent degradation, but there's always room for error."
'Long term' fix?
Apart from reducing our amount of waste, there's no perfect solution, Lovegrove added. "Until we start paying the price for our garbage being taken away, we're not going to cut back."
He suggests allowing people pick up of just one bag of garbage per week. "And if you need more, you buy a special tag," he said.
Marvin Hunt, the chairman of GVRD's waste management committee is happy with the outcome of the trash tender. "We've got all kinds of creative proposals," he said.
Hunt hopes the next meeting of the committee and analysis from an independent consultant will see the list whittled to the 10 most viable proposals. "We're considering the long term," he said. "We won't necessarily take the cheapest solution."
Related Tyee stories:
*On June 25, 2007, we corrected the number of people who live in Logan Lake (in this line).