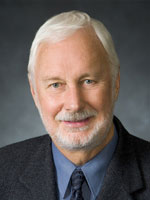 A think tank's proposal to raise welfare rates by 50 per cent is "unreasonable" and would cause British Columbia to become a "welfare magnet" for people from other provinces, says Employment and Income Assistance Minister Claude Richmond.
Richmond also claimed B.C. is already near the top of what provinces pay welfare recipients, a statement that doesn't accord with the Tyee's own review of welfare rates across Canada.
The Canadian Centre for Policy Alternatives re-sparked discussion of how to find the right level of support for people living in poverty with the April 22 release of its report, Living on Welfare in BC: Experiences of Longer-Term "Expected to Work" Recipients.
The CCPA proposal, dramatic as it sounds, still falls far short of the more than doubling of support the Raise the Rates coalition advocates. The coalition and the CCPA both suggest tying welfare rates to what it actually costs to live in the province. A 50 per cent raise, which the CCPA suggested as a first step, would still leave welfare recipients living in poverty.
With the current rates a single person considered "employable" receives $610 a month, including $375 for shelter. A 50 per cent hike would bring the rate to $915. That's still $420 shy of the $1,327 Raise the Rates says it costs to live in Vancouver, based on the federal government's Market Basket Measure.
An "employable" single parent with one child gets $1,069.08 a month, which includes the B.C. family bonus plus $570 for shelter. Bumping support by 50 per cent would bring it to $1,594, still well short of the $1,725 Raise the Rates says that family needs.
'Welfare magnet': minister
Minister Richmond said the proposal to raise the rates by even 50 per cent is ridiculous. "Now you know if we did that they'd be above the rate some people who work earn and it would cost over $700 million a year. It's just not reasonable."
The ministry meets frequently with advocates, he said, and considers any reports and recommendations seriously. "But that was a request they've been making for the last 10 or 15 years. They always get up and say 'raise the rates by 50 per cent.' Do you realize, I have no stats on this, this is an opinion, but how many more people we would have on welfare if we raised the rates 50 per cent?"
He said, "We would become, and you can quote me on this, we would become a welfare magnet."
Already, he said, B.C. has the second or third highest rate of all Canadian provinces for most categories of welfare. "If we were to raise rates by 50 per cent, and it's totally unrealistic, you know where that would put us? It would put us into the stratosphere as far as anyone else is concerned and we would be a very attractive place to come and be on income assistance."
Go north, poor person
The minister's claim, however, is inconsistent with the most recent figures available from the federal government's National Council of Welfare. A table based on 2006 data compares the household incomes of people on welfare after accounting for tax credits. According to the table, a British Columbian with a disability ended up with $10,665 in 2006, which is the second highest rate in Canada, behind only Ontario.
In the three other categories the council tabulates, B.C. fares much worse. The $6,460 annual income for single employables ranks fifth in the country, and a 50 per cent increase to people in the category would put the province just $700 ahead of the top payer, Newfoundland and Labrador. For single parents with a child, B.C. is ranked sixth. And for couples with two children B.C. is ninth, ahead of only New Brunswick.
Canada's three territories, by the way, are ahead of the provinces in all categories. A single employable person in the Northwest Territories was eligible for $13,619, more than double what B.C. pays. A couple with two children in Nunavut would get $36,766, which is about 90 per cent more than the same family would receive in B.C.
A spokesperson for the Employment and Income Assistance Ministry, Richard Chambers, said the National Council on Welfare's figures do not take increases B.C. made to shelter rates in 2007 into account. He did, however, acknowledge that they are the most recent numbers available and that the minister would not have any information that is more current.
The CCPA report called the increases made in 2007 "modest," and pointed out they were the first in many years. "In real dollars . . . these increases have effectively brought after inflation benefit rates to where they were in the mid-to-late 1990s. These increases are not enough."
Comprehensive approach
NDP employment and income assistance critic Jagrup Brar said the rates are too low. "Income assistance rates at this time don't make life for these people affordable," he said. Costs for rent, transportation, gas, food and government fees are rising, he said, and welfare rates should keep pace. "The welfare rates at this point in time, they're low. Because of that people go through hardship."
He declined, however, to say how much an NDP government would increase rates, or to comment on the CCPA's proposal for a 50 per cent raise. "I'm not in a position to specifically give you a number at this time," he said.
Raising rates would have to be part of a comprehensive strategy that would include providing more affordable housing for people with low incomes, whether they are on welfare or working, and raising the minimum wage to $10. He also supports bringing back earnings exemptions for all welfare recipients, which would allow people to keep a certain amount of money from employment without the government clawing it back.
"The key here is to help people find ways out of poverty," he said.
Most people are proud and apply for welfare as a last resort. He said, "I don't think they'd stay on welfare even if you doubled welfare."
Right to dignity
Most people who receive welfare do so for only a few months. But anyone who doesn't get a job quickly is likely to be on the caseload for a long time. Therefore the rates should be high enough for them to meet their basic needs, the authors wrote. "People have the right to live with dignity," they said. "People need to be able to live without resorting to charities, or to desperate measures such as survival sex or petty crime, or remaining in abusive relationships."
Report co-author Seth Klein, who is also the CCPA's B.C. director, said he does not believe a 50 per cent increase in welfare would attract people to the province. "There is nothing attractive about living on welfare, and people would not move here to get it," he said via e-mail.
Nor does Minister Richmond have to act alone, Klein said. "If he is really concerned about this, yet prepared to acknowledge that current rates are too low, then why is he not leading a national effort to increase rates in a coordinated manner?"
Richmond's government has refused requests to raise the minimum wage, which has been fixed at $8 an hour since 2001 for most workers, and reduced to $6 an hour for new workers.
Last week Statistics Canada reported that earnings have been stagnant since 1980 for most Canadians. In British Columbia they dropped by 11.3 per cent between 1980 and 2005, despite making an increase during the 1990s.
Culture of independence
Richmond, for his part, said the government's focus on moving people into jobs is working. "We have gone from a culture of dependence and entitlement to a culture of independence and employment," he said. "The average wage they're earning is 13 bucks an hour give or take a few cents."
The figure is from data reported back to the government by contractors who administer the B.C. Employment Program, a ministry spokesperson said. The government is waiting for data from Statistics Canada to complete a report using tax data to find out what people earn after leaving welfare.
Klein said the $13 an hour figure is consistent with what the 45 people surveyed for the CCPA report said they were earning. "The catch is that, when we look at their individual circumstances, two-thirds of them remain below the poverty line," he said. Many had wages that were too low or else had too few hours of work.
"Only four people had incomes above the poverty line, and none of the single parents had incomes over the poverty line," he said.
Related Tyee stories: