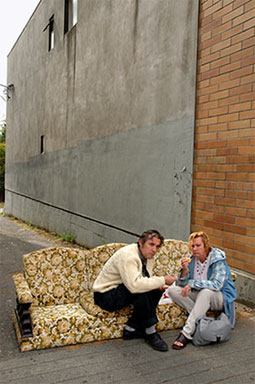 One day in April 2003, Dave Nash received a package of survival rations from a Victoria shelter -- three small tetra packs of water and a 2,400-calorie, vitamin-enriched, lemon-and-vanilla flavoured brick. It was one of 400 soon-to-expire kits a local elementary school gave to the shelter for distribution to people in need.
"I actually couldn't believe it," said Nash. "It's kind of ironic that we're getting emergency food rations. There is an emergency now, but there's going to be a really serious emergency in a year when thousands of people in this city are cut off [income assistance]."
Years of living in poverty had sharpened his sense of irony.
Nash was in his 50s, and he had a mouthful of rotting teeth and a body that showed signs of continuous hard living. Yet the human resources ministry considered him employable. He was just one of hundreds of thousands of people affected by the B.C. Liberal government's radical new approach to welfare.
The party gave no indication of what would come in its election platform, the much-referenced New Era document. But soon after the Liberals came to power in June 2001 they introduced welfare policies that set a new standard of harshness among Canadian provinces, according to A Bad Time to Be Poor , published by the B.C. office of the Canadian Centre for Policy Alternatives
Liberal policies 'a fundamental shift'
"A number of B.C.'s new welfare policies are radical and unprecedented in Canada," the report stated. Two policies in particular -- an eligibility time limit and the requirement that claimants prove independence from their parents -- "represent a fundamental shift in Canadian social policy--the denial of welfare when in need as a basic human right."
Most of the attention was directed at rules to limit "employable" people to two years of welfare payments out of every five. The first people affected by this clause would have been cut from the welfare rules last April, but the Liberals blinked. They made anyone who was looking for work exempt from the cut-off. The change meant practically no one would be denied a cheque, since anyone on welfare who is deemed employable must commit themselves to job hunting in order to qualify for aid.
Some welfare watchers wondered if the time limits were just a cynical threat.
The time-limit issue aside, the new policies are still tough. Rates, which the CCPA says were already "far from generous," were cut for many recipients, especially for "employable" people over 55 years old. A single "employable" person between the ages of 55 and 59 saw their cheque reduced to $510 from $557. An "employable" person between 60 and 64 years old faced a cut of nearly 20 percent, to $510 from $608.
This week, the National Council of Welfare released Welfare Incomes 2003 , which calls the B.C. rates "cruel and punitive." The report notes that since 1989 B.C. rates for a single employable person have fallen 19.4 percent and are now 67 percent below the poverty line.
For those living in cities, the Liberals reduced shelter allowance below market prices. Earnings exemptions, which allowed people to keep the first $200 as an incentive to seek employment, were eliminated for everyone except the disabled. Single parents are now expected to work when their youngest child turns three, instead of the previous age of seven. People over 19 years old have to prove they've been independent from their parents for two years before they qualify for assistance. Emergency hardship assistance is no longer available for people, said the human resources ministry's service plan, "in certain circumstances, such as when a person quits a job voluntarily, or for refugee claimants."
The ministry announced plans to lay off some 460 people of a total staff of 3,000, close 36 of its 198 offices across the province and cut its budget by 30 percent over three years.
James says NDP shares blame
The Liberals' cuts followed those made in the late '90s by the NDP government, which current leader Carole James said "started some of the welfare bashing you see" in a June interview with The Tyee. "Mistakes were made."
While the Liberals were gutting welfare, they made other moves that compound the difficulties for people living in poverty. Cuts to daycare subsidies make it even harder for single parents to work or go to school. Chopping all but a few job-training programs narrow the options for people who want to develop skills that will make them more employable. Reduced legal aid funding makes it hard for anyone who can't afford a lawyer to use the justice system; as a result, people needing spousal support after a separation have been unable to pursue their claims.
"They've attacked the poor, the disabled, women and children and families with these cuts," said James, who promises that an NDP government would make post-secondary education affordable and provide significant daycare subsidies. "Not only are they making it more difficult for people to get income assistance, they've cut all the supports and services that help people get back into work."
After the cuts, Tara Mundy and her five-year-old daughter were eligible for about $860 monthly in welfare from the human resources ministry. The rest of their income comes from a monthly child tax credit of about $200 from the federal government. They pay $640 a month to rent a two-bedroom apartment in Esquimalt -- well under the average for the region -- leaving just $440 for the month's utilities, food and any other expenses.
She works part-time at a daycare, but since the Liberals took away the earnings exemption that allowed people on welfare to keep the first $200 they earned without penalty, she finds herself no further ahead. Premier Gordon Campbell wants us to work, she said, but he's cut everything so that when we do work it's harder to get off welfare. "To me it seems unfair."
Who can live on welfare?
When the effects of the cuts were first sinking in, the Vancouver Island Public Interest Research Group (VIPIRG) issued a challenge to members of the legislative assembly to try the government's own web-based income assistance estimator to see what they would receive if they had to depend on welfare. The estimator, which can be found on the ministry of human resources website, was posted by the Liberal government to pre-screen people for income assistance eligibility. Though the NDP's Jenny Kwan sent a sympathetic letter, said VIPIRG researcher Bruce Wallace, none of the MLAs took up the challenge.
"The fact they didn't respond I think shows they can't look at how inadequate welfare is," said Wallace. "A lot of people in poverty say 'I'd like to see the Liberals live on this.' This, we thought, was a gentle way of asking that same question…. There's been such minimal debate on some of the welfare changes, and they are so drastic."
Murray Coell, a social worker by training who was the Liberals' first minister of human resources, said at the time in an interview with Victoria's Monday Magazine that he didn't respond to the challenge because the people who issued it had "misinterpreted" income assistance. "I think the point is they don't understand income assistance is temporary," he said. "It's not a lifestyle."
Put another way, the money available under the income assistance program isn't enough to live on because, well, nobody is supposed to live on it.
Jobs, jobs, jobs
"We're attempting to help people into employment," said Coell. "That's the emphasis we're putting on -- to move from long-term support to engagement in the economy and engagement in employment."
Several times during that interview, Coell said there are 7,000 jobs available across the province to people on income assistance through the JobWave and Destinations programs, which help connect people receiving welfare with potential employers. (The programs are profiled in Part 3 of this series.)
However, by the ministry's own count there were some 112,000 people considered "employable" on income assistance in B.C. at that time. Add the number of people on Employment Insurance and anyone else looking for work, and competition suddenly looks pretty fierce for those 7,000 jobs.
The emphasis on employment is explicit in the human resources ministry's three-year service plan, published in February 2002, which says the number-one goal is that "B.C. Employment and Assistance clients achieve independence through sustained employment." Success, the document says, will be measured by the "percentage of clients leaving B.C. Employment and Assistance for employment" and by the "percentage of clients who find employment through job placement and do not return within 12 months." Around that time, in January 2002, the Vancouver Sun quoted Coell as saying he wanted two years to prove the Liberals' direction on welfare works.
Government claims success
Just over two years later, Stan Hagen, who recently replaced Coell as the human resources minister, is claiming success. He told the legislature on April 1, during the debate on budget estimates, that nearly 90,000 British Columbians no longer depend on welfare because of the government's emphasis on employment.
There's no doubt the number of people on income assistance has fallen, despite an economy that has been largely stagnant and employment levels that have been flat.
So are most welfare recipients leaving for work? Some surely are, but the government's main tool for checking, the exit surveys (explored in Part 2 of this series) that look at what people are doing six months after they leave welfare, raises more questions than it answers. Many people who work with the impoverished are unconvinced there's enough work available.
Under the current economic system there will never be a job for every single person who wants one, said Cindy L'Hirondelle, the coordinator of the Status of Women Action Group, a Victoria women's centre that had its core funding removed by the Liberal government. Indeed, she added, our market economy needs a certain number of unemployed people to provide a willing, even desperate, pool of labour and to keep wages from spiralling upwards.
To cut the social safety net out from under people in such a system is cruel, she said, and some the consequences will be dire. "They're sentencing people to death."
Remembering Dave Nash
As it happens, one of the people off the caseload is Dave Nash, the long-term welfare recipient who'd found it so ironic to receive a box of emergency rations. But government's policies didn't lead him to employment.
The NDP cut his welfare benefits by $46 a month in the mid-'90s, said L'Hirondelle, an amount that added up to a meal a day. Under the B.C. Liberal government, there were additional rate cuts. L'Hirondelle said Nash also had to jump through the hoops of ineffectual job programs, and deal with believing he would be cut off welfare altogether in April. "He thought about it all the time. He had planned to barricade himself into his apartment when he could no longer pay the rent."
For years Nash lived on beans and white bread, she said. In October, he was found dead in his apartment holding a slip of paper with his sister's phone number. He didn't have a phone.
"Found lifeless sitting upright on a recliner in living room of his private residence," wrote coroner Maureen Wint in a January 2004 report on Nash's death. "The building manager entered Mr. Nash's suite to check on his well being as he had not been seen for four days. Investigation revealed no evidence of acute illness, traumatic injury or foul play. Medical history includes hypertension, gastro intestinal disorders, chronic alcohol abuse, smoking and depression. Toxicology findings ruled out alcohol overdose."
She classified the death as "natural," with the immediate cause of "acute coronary insufficiency" caused by a buildup of fatty deposits in his arteries.
In the days after Nash died, L'Hirondelle counted him as a casualty of Liberal policy. "Stress and anxiety, malnutrition and a lack of phone killed Dave. Poverty takes 10 years off people's lives. Dave was only 55."
This is PART 1 in a series.PART 2 Where Did All the Welfare Cases Go? PART 3 Welfare Reform's Public-Private PartnershipsPART 4 Shut Out at the Entrance
Andrew MacLeod has covered welfare reform regularly as a staff writer for Victoria's Monday Magazine. On Monday, the second instalment of The Tyee's four-part series on welfare examines the government's claim that most of the nearly 90,000 people who have left the welfare rolls are thriving beneficiaries of Liberal policy.