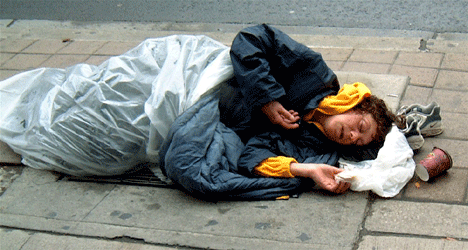 The number of homeless people in British Columbia may be triple the estimate Housing Minister Rich Coleman provided to The Tyee last week, according to a new report by health professors at UBC, SFU and the University of Calgary.
In B.C. there may be as many as 15,500 adults with severe addictions or mental illness who are homeless, says the 149-page report, Housing and Support for Adults with Severe Addictions and/or Mental Illness in British Columbia. The report is dated October, 2007, and was released to The Tyee on Jan. 30, 2008.
The authors are SFU's Michelle Patterson and Julian Somers, Calgary's Karen McIntosh and Alan Shiell, and UBC's Jim Frankish. The report was prepared at the request of the health ministry's mental health and addictions branch. Other partners and contributors to the report include the provincial health authorities, the Employment and Income Assistance Ministry and Coleman's own Forests and Range Ministry.
To get their estimate, the authors used data and reports from the Canadian Mental Health Association, the Canadian Senate, the provincial government and academic journals. "No single authoritative source of information is available to derive these estimates," the report says. "However, a number of recent reports offered valuable insights into various levels of housing need."
Many at risk
The report says some 130,000 adults in B.C. have severe addictions and/or mental illnesses. About 39,000 are "inadequately housed," meaning they meet the Canadian Mortgage and Housing Corporation's definition of being in "core housing need." Of those, about 26,500 don't have enough support to help them stay in their home.
Somewhere between 8,000 and 15,500 are what the report calls "absolutely homeless," meaning they are living on the streets, couch surfing or otherwise without shelter. The report says the authors confirmed their figures with "local stakeholders and key informants." The report also says that despite impressions that homelessness, mental illness and addiction are urban problems, interviews with front-line workers found the same problems were "highly prevalent in rural settings."
The report's number—which includes only people with severe addictions and mental illness -— far exceeds the figure used by Forest, Range and Housing Minister Rich Coleman. Last week he said there are between 4,500 and 5,500 homeless people in B.C. at any given time. He said the figure came from BC Housing. The agency told The Tyee it based its estimate only on the communities that have done official homelessness counts.
NDP housing critic David Chudnovsky called Coleman's number "bogus." His own "conservative" estimate of 10,500 homeless in the province was made last fall based on homeless counts and numbers provided by shelters and other aid agencies.
High cost status quo
While creating supported housing for everyone at risk of homelessness would be expensive, the authors found the cost of doing nothing is even higher.
"If we focus on the absolutely homeless, non-housing service costs amount to about $644.3 million per year across the province," says the report. That includes the costs to the health care and prison systems as well as emergency shelters. "In other words, the average street homeless adult with SAMI [severe addictions and/or mental illness] in B.C. costs the public system in excess of $55,000 per year."
Providing adequate housing and supports would cut those costs by $18,000 per person each year, it says, saving about $211 million in annual spending.
The authors note they did not include the amount of money that homelessness may cause to be lost by businesses, tourism and cancelled conference or convention bookings. The report says, "The inclusion of these and other cost drivers would further enhance the case for change."
'Key actions' suggested
The report offers a dozen "key actions" that need to be taken to provide housing and support to people with severe addictions and/or mental illness. They include:
Adopting a "housing first" policy providing permanent, independent homes to people without time limits or requiring residents to get addictions treatment.
Creating more multidisciplinary treatment teams such as the Assertive Community Teams set to launch Jan. 31 in Victoria. The teams are needed to reach the "hardest to house" and get them better access to services and treatment.
Taking a "harm reduction" approach at housing facilities and accepting the use of drugs and alcohol on-site.
Creating more affordable housing and protect the affordable housing that already exists.
Continuing efforts to make it easier to apply for and receive welfare.
Hospitals and prisons should set policies so they no longer discharge people with "no fixed address" without knowing where they will go. "No one should be discharged from an institution directly to the street or a shelter without prior arrangement and follow-up."
Finally, the authors recommend immediately building or creating supported housing for the 11,750 or so people with severe addictions and/or mental illness who are already homeless. The number likely underestimates the need, they write, and should be taken as a starting point.
BC Housing's current goal falls far short of the need. The agency's most recent service plan says 1,462 new units of supported housing for homeless people will be added by 2009-2010.
"Without adequate housing and support, people with SAMI who are homeless often cycle through the streets, prisons and jails, and high-cost health care settings such as emergency rooms and psychiatric inpatient units," the Health Ministry's report says. "This is ineffective and costly in both human and financial terms." With help, it adds, they can stay in stable housing. "It is time to implement these evidence-based solutions for British Columbians in need."
Related Tyee stories: