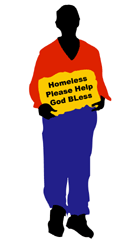 The report calls her Lorraine. After being cut off welfare for a reason she said was unfair, she had no income. She lost her home, started skipping more meals to save money and returned to prostitution. In hopes of leaving the sex trade, she went back to an abusive ex-partner who assaulted her badly enough to break some of her bones.
Getting better required surgery and several months in a hospital.
"She was clearly worse off since being cut off," observed Jane Pulkingham and Seth Klein, the lead authors of a new Canadian Centre for Policy Alternatives report, "Living on Welfare in BC: Experiences of Longer-Term 'Expected to Work' Recipients."
Lorraine, whose name the authors changed for the 69-page report, was one of 62 people the researchers followed for two years between 2004 and 2006. While some people's lives improved over that time, others worsened and few escaped poverty.
Eventually, after 12 weeks of waiting, Lorraine returned to welfare. At the time of her fourth interview with the researchers she was not using drugs, had stayed away from her ex-partner and was living in a transition house. Six months later she had a room of her own in an SRO hotel, was still working in the sex trade and was missing many meals.
Most vulnerable to changes
Thirty of the people interviewed for the study were in Vancouver, 17 in Kelowna and 15 in Victoria. The government classified each of them as expected to work, and they had all been on welfare for at least 15 months. A researcher contacted them once a month and interviewed them every six months.
"We were interested in isolating those who were being targeted by the work expectations," said Klein, the CCPA's B.C. director. In 2002, the government changed the welfare system to put more emphasis on moving people into jobs and to make it harder to get help. The number of "employable" people collecting welfare has since dropped by more than 70 per cent. "We have tried to construct a study that sticks with those who are most vulnerable to these kinds of changes."
At the end of the two years, researchers were able to interview 45 of the people (of the others, one died, four were working or in school and nothing is known of the rest). Of those, 48 per cent stayed on welfare throughout the study, 27 per cent left voluntarily and stayed off, 16 per cent left at some point and returned, and nine per cent were cut off.
For the 29 who were on welfare at the study's end, 20 were no longer "expected to work" and had been reclassified as Persons with Persistent Multiple Barriers to Employment or having a medical condition that exempted them from searching for a job. The new labels gave them slightly higher assistance rates.
"A majority seem to be slightly better off, primarily because most were re-categorized," the report said. "But the degree of housing and food insecurity remains troublingly high. And those who were not re-categorized saw no improvement in their income or other basic needs."
The 12 who left voluntarily were better off, with "a sizeable increase in their incomes," though most of them still made too little to cross the poverty line.
'Clearly worse off'
The four who were forced to leave welfare were "clearly worse off" with a "staggering" drop in income. All four were homeless. "It's through the looking glass stuff," said Klein. "It serves nobody that these people are cut off."
Many of the participants had unstable housing. Four out of 10 said at the start of the study they'd been homeless at some point in the previous six months. Those who had housing "were much more likely to leave welfare for employment."
Few had enough money for healthy food. Three out of four got food from a food bank, soup kitchen or drop-in centre in the month before the interview. By the final interview, many still relied on charity to eat. "Disturbingly, even those who were re-categorized continued to rely on food banks or soup kitchens an average of four times per month," the report said. "And those who were not re-categorized reported a significant increase in their use of food banks or soup kitchens."
The study recommended:
Raising welfare rates, indexing them to inflation and allowing all recipients to keep at least some of the money they may earn
The government put welfare recipients in appropriate categories and do it "in a timely manner" so they are not forced to jump through inappropriate employment hoops
Revisiting the policies that allow recipients to be cut off -- they are "too arbitrary" and "cause unacceptable hardship and harm
Providing people with housing, medical help, addiction treatment, childcare, education and other support they need if they are going to work
The authors wrote, "We urge that the ministry (and government overall) change its overarching goals, from a narrow focus on welfare caseload reduction and 'moving people from welfare to work,' and move instead to the broader goals of poverty reduction and elimination, and health promotion."
Minister unavailable
Minister Claude Richmond was unavailable for an interview.
The government is yet to present any evidence that its 2002 changes to the welfare system have resulted in more people working. The ministry abandoned attempts at 'exit surveys' by phone after it was pointed out the researchers managed to contact only a third of the people for whom they were looking. A more recent study done with tax data showed the rule changes did not change the number of people who left welfare for work.
"B.C.'s welfare policies do not help people find a path out of poverty," said the CCPA report. "Only a small fraction of the participants in this study left poverty. Those who remain on assistance remain very poor, even if re-categorized. Those forced off even more so. And while those who shifted from income assistance to the labour market were better off, most are now counted among the working poor."
The report should be read in conjunction with an earlier CCPA report, it said. "Denied Assistance: Closing the Front Door on Welfare in B.C." is about how the 2002 rule changes made it more difficult to get welfare. "Together, these studies help to explain a paradox: Why do we continue to see deep and persistent poverty and rising homelessness, even after years of steady economic growth, record low unemployment and declining welfare caseloads?"
Related Tyee stories: