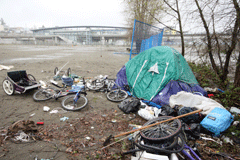 [Editor's Note: This story was updated at 11:20 a.m. with numbers from the homeless count.]
I was one of the more than 600 volunteers who helped conduct the 2008 regional homeless count, which found 2,592 people living without homes in Metro Vancouver.
Street homelessness rose in every community within the region, though the cities of Vancouver and Surrey continue to bear the brunt -- and the tax burden -- of sustaining three-quarters of Metro Vancouver's homeless population. The regional total squares with a recent SFU study that estimated province-wide homelessness at up to 15,500.
But my experience as a volunteer suggests that today's number falls well short of the actual total of homeless Canadians living in Vancouver.
"The street homeless count really only captures part of the visible tip of the iceberg," agreed Michelle Patterson, an SFU scientist and lead author of the recent province-wide estimate by the Centre for Applied Research in Mental Health & Addiction (CARMHA). "We know homelessness goes a lot deeper than that."
Guys in vans
My counting partner and I were assigned to survey the industrial area that extends west of Clark Drive, south of Venables Street, and north of Great Northern Way. It was a rough territory; perhaps that was my comeuppance for writing stories about the homeless hell hole beneath Science World and Vancouver's worst drug hotel. In hindsight, it was hubristic to expect any two people could effectively canvas such chaotic terrain.
We were a bit too timid to wade into the underbrush while it was still pitch dark, so we began by knocking on the door of a twenty-year-old motorhome we found parked on a side street. Its occupant was quite gracious. He told us he'd been living in such campers for years, that he worked a variety of odd jobs, and that he considered himself better off than many of his van-dwelling neighbours because his motorhome was still drivable.
As we completed the one-page interview, he pointed us to the next motorhome on the block. That resident pointed us to a third, and so on. By dawn, we'd discovered an entire subculture of guys who live in vans and campers. Most were more than 50 years old and most worked odd jobs; some of their vehicles ran, and some didn't; a few said they shared meals and helped their neighbours out from time to time. None had any other place to go.
Ten agreed to be interviewed for the homeless count. We counted another 14 motor-homes that look lived-in -- condensation on the windows was our main clue -- but at which no one woke to answer the door.
We also knocked on the window of a late-model minivan with Alberta plates. After a moment's confusion, the clean-shaven man inside assured us that he was merely a budget-minded tourist. He was quite amused to have been taken for homeless.
'Perceived homeless'
No one had suggested knocking on motorhomes during the otherwise excellent training sessions that my teammate and I had attended. My guess is that as a group, guys in vans were undercounted in Metro Vancouver.
Likewise, we were unprepared for the flood of men staggering out of the bushes at daybreak. We interviewed the first group we saw: three men who said they'd been rousted from their camp by city bylaw officers. As we listened to them, we saw others emerge from nearby campsites. But by the time we'd finished with the trio, most of the others were gone.
We can only hope that those other campers spoke with other volunteers later in the day, perhaps at a service centre or soup kitchen. The count is scrupulous in its efforts to avoid counting anyone twice. The first and most important of the 17 questions we were trained to ask was, "Have you already answered this survey?"
Our paperwork did include a section for "people observed to be homeless but not interviewed." These will not be included in the total, but will be reported separately as "perceived homeless."
People who refused to be interviewed were also listed as "perceived homeless." Twenty-seven per cent of the individuals we contacted refused to be interviewed.
Most memorable of these were a couple sleeping heavily in a tattered blue tent near the southern boundary of our territory. After they did not respond to several inquiries, I grew worried. I prodded their feet lightly. They stirred. I felt relieved, and vowed to check on them again later in the day.
Overwhelmed by volunteers
My partner had to return to work midday. We volunteers were under strict instructions not to do anything dangerous by ourselves. I bought a cup of coffee then staked out the parking lot of the bottle depot on the corner of Evans and Glen, just north of the Grandview Viaduct.
Spotting the homeless customers was not difficult. While others wheeled into the parking lot in SUVs and station wagons, the homeless arrived like jesters -- balancing dramatically oversized bags of bottles and cans atop bicycles and shopping carts.
Most consented to be interviewed. All of the bottlers I spoke with professed deep disgust toward homeless shelters. Each told me how long it had been since he'd spent a night in one, and most wore the number of cold nights they'd survived on the streets like badges of honour.
All but one claimed to be drug addicts, and most said they were mentally ill. I was startled by their blunt honesty. The questionnaire asked nothing about their future plans, but each man I spoke with volunteered the news that he would be quitting soon. They said it in the precisely same way my office mates promise to diet after New Year's.
I was surprised that no one had been assigned to stake out the bottle depot exclusively.
Robyn Newton is research manager for the Social Planning and Research Council of BC (SPARC), which manages the count on behalf of the Metro Vancouver Regional Steering Committee on Homelessness.
"I don't think we were quite ready for that many volunteers," said Newton. SPARC planned for half of the almost 700 who sought to volunteer. Newton suggested that SPARC could have handled assignments better.
"It did become a bit of a logistical nightmare," she said. "Not everyone was well placed."
Night walkers
After meeting with some fellow volunteers for lunch, I joined up with City of Vancouver street outreach coordinator Judy Graves. Together, we returned to the site of the blue tent.
We found the couple awake. They were tending to a small pot atop a camp stove that was burning inside the tent. They appeared to be cooking crack cocaine. Flames from the stove licked the nylon tent fabric. They made it clear that they were not interested in being interviewed, or receiving visitors of any kind.
I followed Graves down to First United Church on East Hastings Street, where dozens of homeless Vancouverites spend their days sleeping in the sanctuary. Graves knew they'd be waking shortly, and wanted help interviewing them before they left the building.
While nearly all of the homeless I'd interviewed that morning were middle-age white men, the crowd at the First United mission included quite a few women, youth and Aboriginals. Most told me they'd smoked crack or crystal meth the night before. Some of the women had prostituted themselves. Some of the men had committed property crimes; one offered to sell me a car stereo. Like the men at the bottle depot, they spoke of their lives calmly and without much apparent judgement, as if they were talking about a television show around the office water cooler.
When First United closed its doors, I returned to the territory to catch the just-before-closing rush at the bottle depot.
Couch surfers
Among the closing-time rush, I recognized some of the same binners I'd met that morning, as well as a handful I hadn't seen previously. These included several who were relatively well-washed and wore clean clothes.
These men told me they were staying with friends -- or "couch surfing." They'd lost their own apartments, or had been thrown out of family homes, as a result of their escalating addictions. But they hadn't yet burned through all their friends. There was a nervous edginess to these men. They were weeks or maybe even just days away from sleeping on the streets themselves, and they knew it. But like those with whom they were rubbing shoulders, they planned to begin the agonizing process of quitting drugs either tomorrow or the day after.
They are also the cohort that most confound the homeless count. They are the hardest to find, and they represent much of the unseen portion of the "iceberg" described by SFU's Patterson.
"A lot of the people you see on the street are older single men. But we know that the fastest rising groups are women, youth and refugees," Patterson said.
"Women and youth are more likely to couch surf for longer periods of time. Immigrants are more likely to double up with other families. Neither of these groups feels safe sleeping on the streets."
A patch of burned grass
By dusk, we'd spoken with 38 people, of whom 27 agreed to be interviewed for the homeless count. Twelve had spent the previous night outdoors, 10 had slept in motorhomes or cars, three had crashed on someone's sofa, and two had slept in shelters.
Due to the refusals, the paperwork we handed in enumerated only 71 per cent of the homeless individuals we contacted. If we were to figure in the unanswered knocks on motorhomes, the bush campers we missed at daybreak, and the hours during which no one was at the bottle depot, I would conservatively guess that we failed to account for half the homeless population living in our little patch of East Vancouver. Other volunteers shared similar experiences.
I offer these anecdotes not to fault the count organizers, but to give a sense of how crude these counts really are. SPARC's Newton agreed.
"This is an undercount," she said. "I never pretend this is an accurate total. This is just a count of the people we were able to find in a given 24-hour period who were willing to tell us they were homeless."
"It is flawed social research," agreed SFU's Patterson. "It's a good start, but there's a lot more sophistication we could bring to this if resources were available."
Oh, and I did stop by the little blue tent one last time on the way home. The couple was gone. So was the tent. On the ground where it stood was a patch of burned grass, and a few shreds of melted nylon.
For now, that couple will simply have to remain in the "perceived homeless" category.
Related Tyee stories: