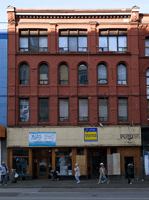 What may be the most crime-infested hotel in Vancouver is about to evict all its tenants.
The neediest residents, nearly all of whom are addicts, are expected to become homeless.
The most dangerous occupants, including some reportedly gang-connected dealers, are expected to set up shop in new hotels, and new neighbourhoods.
The so-called Backpackers Inn, a dilapidated four-storey Victorian building at 7 West Hastings St., is a 42-room drug bazaar where, a number of anonymous sources allege, violent crimes regularly occur.
"The place is a nightmare," co-owner Jason Sundar told The Tyee. With his partners, Sundar is trying to evict the tenants and sell the building. "I can't wait to get out."
"It's a rough fucking hotel," agreed Kim Kerr, who directs the Downtown Eastside Residents Association (DERA).
And where are the tenants of Backpackers Inn going to go?
"They're just gonna' move somewhere else" warned James Hardie, a veteran residential hotel manger who tossed some of these same occupants out of the equally infamous New Wings Hotel just a few years ago.
"They are going to move the infection out of the Downtown Eastside," Hardie warned. "And then it's going to infect your neighbourhood."
No place for tourists
This "Backpackers" is no place for tourists. On the rare occasions when some disoriented traveller has accidentally been buzzed up, he or she has reportedly been shooed back to the street amid brusque laughter.
Security cameras monitor street activity around the building. Behind the stained front door is a steep, narrow stairway leading to an even more heavily barricaded door, a clerk's booth, and yet another guarded door. Beyond that door sprawls a Byzantine maze of dead-end hallways and confusing catwalks that connect two run-down brick buildings.
Roaches scamper through piles of garbage that line the halls and barricade fire exits. Rats stroll from room to room with impunity. But the rodents are the least of the Backpackers' problems.
The building has evolved into a mall where buyers can walk from room to room shopping for drugs. Long-time observers of the Downtown Eastside drug trade say this unique marketplace has been created by the unusually visible gang presence within the building.
The Vancouver Police Department declined repeated requests to be interviewed for this story. In e-mail and telephone exchanges stretching over a two-month period from mid-January to mid-March, The Tyee was repeatedly told that no officers with knowledge of this building would be available for an interview.
On March 18, Const. Jana McGuinness offered a general statement via e-mail: "I can't comment specifically on the drug activity in this building but we are aware of drug activity in many of the buildings in the area as well as at street level and our patrol and investigative divisions work on files daily in this regard."
'No better place to score'
The Tyee interviewed 10 people with recent, first-hand knowledge of the building. These witnesses included city employees, social service workers, off-duty police officers and drug users who are well regarded within the Downtown Eastside community. Due to the nature of the criminal activity being described, none were willing to speak on the record. All confirmed various versions of the following accounts:
"There's no better place to score," said an addict who visits the building daily. "Crack, heroin, meth, pills, guns, girls . . . whatever the fuck you want, you can get it in here."
"There are several rooms dealing," said another addict. "So if one is out of something, another will have it. And it's quality product. They weigh it out right in front of you."
"The thing at the Backpacker is, it's the high end," said another. "It's the cartels. You got the heavy hitters there. I could drop names, but I gotta' live down here, ya know?"
Extortion and 'beat downs'
Extortion has been part of how those heavy-hitters do business, several sources allege.
They said hard-core addicts are pressured to work off their own drug debts by luring "marks" into the building. Young female addicts often target middle-age men from outside the neighbourhoods. Once the marks are naked or high, they are pressured to hand over their ATM cards and PIN numbers.
"That's the way these people do business," alleged another source. "Extortion is just part of the normal, day-to-day activities for these people."
In order to keep all these people in line -- not only the marks, but particularly the resident addicts doing the extortion -- "beat downs" are said by sources to be another part of life within Backpackers Inn.
Hockey buddies from PoCo
"We bought this thing about a year and a half ago," Sundar told The Tyee. Sundar said he was brought into the investment by a group of old friends.
"We grew up together in PoCo. We were all hockey buddies. Jarrett and I worked at Earl's together," said Sundar, who runs a financial marketing firm called Sundar Communications Group.
The building is owned by a corporation called 7-11 West Hastings Street Ltd. Sundar confirmed that the building is owned by the corporation's six registered directors: John Blake, Jarrett Guy, Edith Ham, Hugh Maddin, Jason Sundar and Benjamin Taylor.
"It's a terrible place to own. The building has nothing but problems. Everything from mould to plumbing to broken doors. There are a lot of drug-addicted people living in the building. They plug toilets and break walls," Sundar said.
"It turned out to be, well, it's not a loss, but it's been a major headache," Sundar said. "That's the reason why we're selling."
He said a sale is pending, with a closing expected at the end of April. He did not name the buyer.
Eviction notices sent
Partner John Blake signed the eviction notices that were issued to the building's tenants on Jan. 30. The notices listed Trafalgar Properties Ltd. as the landlord, and provided a mailing address on Flavelle Drive in Port Moody. But when two tenants challenged those evictions, no one showed up to represent the landlord at the hearing.
"Those two tenants are not legally evicted," said Harjap Grewal, an advocate at the Downtown Eastside Residents Association. "It became apparent that the landlord didn't have the permits they claimed they had."
Sundar said partners John Blake and Jarrett Guy managed the property. But in the days after those eviction orders were signed, both Blake and Guy removed themselves as directors of 7-11 West Hastings Street Ltd, Trafalgar Properties Ltd., and a related company, 658 Alexander Street Ltd. (Tenants at that building told DERA they haven't seen their building manager since Christmas.) Neither Blake nor Guy returned phone calls from The Tyee.
Sundar said he was generally aware of the sorts of activities that have been taking place within his building.
"It's really bad," Sundar said. "I've only been down there three times. I try to stay away from it."
Hotels become 'drug kingdoms'
The Backpackers Inn is but the latest in a lineage of rough hotels in the Downtown Eastside. Among its immediate predecessors were the Marie Gomez and the New Wings Hotel, the site of a 2005 shooting.
James Hardie, who has spent more than a dozen years working among Vancouver's rougher SROs, was part of a crew hired to clean up the New Wings.
"By the time I got there, the whole place was infested," Hardie said. "The manager was selling crack right out of the office. There wasn't a tenant left who wasn't part of the drug trade in one way or another . . . . It was so bad they had a dead body there during the whole day. They just rolled it up in a rug and it sat there."
From one hotel to another
Hardie suspects that some of the same dealers he helped throw out of the New Wings are now working the Backpackers Inn.
"What happens is that the whole hotel becomes a drug kingdom," Hardie explained.
"They try to find a tenant who smokes rock. They show up with a couple of good looking girls. The girls will be really friendly. They'll go to the tenant's room with him, and get him all wired up on the best shit he's ever smoked. Then his habit goes up, and he needs to do favours for the dealer. By this time the girls are long gone, and the dealers they work for have taken over the guy's room as a storefront."
Hardie said a dealer running a handful of such rooms could sell $100,000 worth of crack every week.
"But the room is still in that original tenant's name," Hardie said. "So if it gets busted, he takes the fall while the dealer just moves down the hall."
Hardie now manages the Marble Arch, which is one of the SROs purchased last year by BC Housing. He said he's already turned down an offer of $1,000 cash to look the other way while a dealer sets up shop.
"These guys are going to find another hotel," Hardie said. "And if they can't find one in this neighbourhood, they'll just move further out Hastings Street, or down Main, or wherever."
'Our tenants didn't drive BMWs'
The former tenants of the Backpacker may not fare as well
"They aren't going to get resettled anywhere," said DERA director Kerr. "There's nowhere to resettle to. And even if there was someplace, what building manager would take them? So they're going to go out on the street."
Kerr complained that while Vancouver police frequently bust the tenants, they rarely pursue the dealers who prey on them.
"I used to watch BMWs pull up to the Maria Gomez. Our tenants didn't drive BMWs," Kerr said wryly. "I find it a little difficult to understand why the police can't just sit there and take down the licence plate numbers of the BMWs. How difficult can it be?"
'It should stop'
Likewise, Kerr criticised the City of Vancouver for not pursuing landlords like the partners that have owned Backpackers since 2006: "The city has had a responsibility to go in and enforce the standard of maintenance bylaw."
He said the Backpackers is currently the worst spot in town.
"Sure, I've heard the horror stories about the place," Kerr said.
"But you know what? We should be worried about every building down here. Women are victimized in this neighbourhood all the time. . . . It should stop. But we shouldn't have to wait until Concord Pacific buys the lot across the street before the City of Vancouver takes an interest in it."
Related Tyee stories: