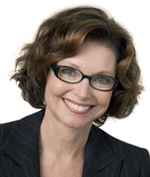 Finance Minister Carole Taylor's new Fluevogs were green, her dress was green and the budget documents she presented in Victoria were wrapped in green covers. The theme, in Taylor's words, was clear: "We promised you green and today we delivered green."
It is, however, worth taking a closer look. The budget delivered the expected carbon tax, a move applauded by several environmentalists, but there is plenty of brown in the background. And the budget does little to address chronic underfunding in several areas, making B.C. less sustainable.
The budget's green centrepiece is a carbon tax that will add 2.4 cents a litre to the price of gas, and $10 a tonne for greenhouse gas emissions. The rates will go up over time.
The tax will raise $1 billion over two years. To make it "revenue neutral" the government has not chosen to follow Quebec's lead of spending the money on incentives to make green choices. Instead it will write a $100 cheque for every British Columbian and cut income taxes for individuals, corporations and small businesses.
The carbon tax is a great first step, said University of Victoria climate researcher Andrew Weaver. The tax is small enough that it won't shock anyone, but it puts a framework in place. Over time we need to drop greenhouse gas emissions to zero, he said. To get there the carbon tax will need to be raised. "It will become very, very expensive."
Climate change action
"It's great to see the B.C. government moving forward on that," said Ian Bruce, a climate change specialist for the David Suzuki Foundation. "It's a landmark decision in North America as far as governments taking strong action on climate change."
Tom Hackney, the B.C. Sustainable Energy Association's policy chair, was supportive too. "It's kind of groundbreaking for North America," he said. "I think they've started in the right direction."
He did, however, acknowledge the brown shadow in the room. "They haven't quite got it right in conventional spending on highways and continued incentives to the oil and gas industry," he said. By his count the budget promised nearly a $1 billion increase for highways over the next three years, while allocating just $370 million for public transit.
"Expanding highways is obviously going in the wrong direction," he said.
During a question-and-answer session with media in the Victoria lock-up, Taylor defended putting money into highways. "The Gateway Project has been part of our budgeting for some time," she said.
"The Gateway plan must not be dismissed as if it isn't helping also with carbon emissions."
Reducing the time cars and trucks spend idling in traffic jams will help, she said. "If you could get traffic moving, if you could get trucks moving, that would help with carbon emissions."
Green Party leader Jane Sterk said it makes sense to tax carbon, but the budget should have used that revenue better. It could have been used to reduce or eliminate Medical Services Plan premiums, she said, or to encourage green behaviour. "I feel like it's a missed opportunity on the use of tax shifting," she said. "I guess it's a different philosophical place to start."
Business-friendly budget
Perhaps the best indicator of how closely the budget sticks to the status quo is the reaction of B.C. Chamber of Commerce president John Winter. "I think we were nicely surprised," he said. Any concerns about the carbon tax were more than offset by the tax cuts.
"It's a business-friendly budget," he said, adding he likes the tax cuts for corporations and small businesses, as well as for financial institutions.
Nor did he think the carbon tax would have much effect. "It's not something that's going to have a heavy thud of impact immediately." It might even attract green businesses, he said.
Asked whether it is possible to fight climate change without impacting the economy, he said, "That's a tough question. I don't know. I think the economy will react negatively if investment's scared off. I don't think there's much here to scare off investing."
Taylor acknowledged the carbon tax would not create much change. "This is a long-term plan," she said. "This is not something where overnight we're going to make the target."
By giving money back to people, they could choose to spend it on things that are good for the environment. "They can make their choices. They may choose to continue in the same lifestyle they have," she said. "I'm not someone who feels very comfortable telling people what they should do...I hope it is an encouragement, but it is up to individuals."
No money for salmon farm containment
From a broader environmental point of view the budget is uneven, said Christianne Wilhelmson, clean air and water program co-ordinator for the Georgia Strait Alliance. "Some things are strong and some things are weak," she said. The carbon tax is a courageous step, but needs to go further. "Over time it becomes more effective. Hopefully the incentives will grow.... The impacts of climate change are happening today. We need a healthy environment today."
The budget left incentives for the oil and gas industry intact, she said, which runs counter to the goal of reducing carbon emissions. Nor does it do enough to protect the ocean, she said.
Her GSA colleague, salmon aquaculture campaign co-ordinator Ruby Berry said the organization asked the government to spend $10 million helping salmon farmers move to a closed containment system, something that would go a long way to cleaning up the industry and protecting wild salmon. "Nothing. There's no mention of salmon or aquaculture in the budget," she said. "That was really disappointing. Climate change is important, but if we lose everything else.... If we lose the salmon, our ecosystem is in serious danger."
Even the carbon tax exempts planes and ships that are leaving B.C. That means international shipping, flights to Calgary and beyond and cruise ships won't have to pay. "They're huge users and they're all exempt from the carbon tax."
Education spending frozen
B.C. Teachers' Federation president Irene Lanzinger said she was looking for money to reduce class sizes and support students with special needs, but neither was in the budget. "It's very disappointing for us," she said.
Education funding is still at the level it was in 2002, she said, and an extra $250 million would make a huge difference. "It's a non-issue for the Liberals. Education is a non-issue for them."
"The budget speaks to how this government has the world upside down again," said Jim Sinclair, president of the B.C. Federation of Labour. What, he asked, would the government do when faced with record homelessness and poverty? "We would give a tax cut to banks."
The plan to cut a $100 cheque to every British Columbian he dismissed as "cheap trickery." Sure, people like having money in their pockets, he said, but "they do want to be walking down the street without stepping over the bodies."
B.C. Housing received $25 million a year to keep emergency shelters open 24 hours a day, seven days a week, but nothing to increase the amount of supported housing being built. The health ministry gets a small increase.
"There will be hardship in this budget even if it's carbon neutral for two years," Sinclair said.
He worried what the carbon tax would mean for employment in the province. "No one's really talking about the question of jobs," he said. The government needs to put environmental standards on goods, he said. Otherwise it could become even cheaper to import things from places that don't have a carbon tax.
That could mean encouraging bringing apples from New Zealand or wood products from China. Sinclair said, "Why should you be punished for producing in B.C. and rewarded for going to China?"
Related Tyee stories: