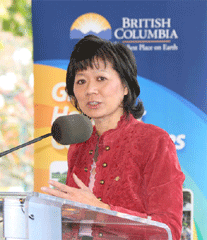 The provincial and federal governments have found a novel way to help Nanaimo fight global warming: spend money on roads.
"The City of Nanaimo will reduce greenhouse gases and vehicle congestion by improving a busy stretch of road," promises a Jan. 22 announcement. "New traffic lights, widened traffic lanes and improved access to the Swy-a-lana Lagoon Park... will improve traffic flow and reduce greenhouse gas emissions from idling vehicles."
The federal and provincial governments are spending $790,000 on the project, out of a fund dedicated to helping communities become "healthier, greener and more sustainable places to live."
So, just how many tonnes of greenhouse gases will the project eliminate?
A spokesperson for Western Economic Diversification Canada was not able to provide an answer, nor was the province's community services ministry spokesperson, who did say the City of Nanaimo will be studying how the construction affects emissions. At Nanaimo city hall, no one was available to answer the question Monday afternoon.
Unorthodox response
Expanding roads and encouraging traffic are normally seen as major contributors to greenhouse gas emissions and global warming, not as part of the solution.
"It's a really unorthodox response," says Jamie Biggar, a researcher and co-founder of Common Energy, a group that has a member on the premier's Climate Action Team. "In general, I'd much rather see money going to public transportation than road expansion."
Biggar says he's not familiar with the details of the Nanaimo project, but adds, "Almost all the time, more money to public transportation means less greenhouse gas emissions, and more money to road expansion means more."
As more and more is done in the name of reducing greenhouse gas emissions, he says, there are two ways to test the claims. The first is whether a project is an efficient use of funds. When you look at the amount of greenhouse gas emissions reduced per dollar spent, how does that compare to other projects? The second is whether it puts infrastructure in place that will lead to future reductions, he says.
The province's transportation plan, for instance, will not result in large reductions immediately, he says. But it builds a system that will make huge reductions possible in the future.
'Silly' logic: scientist
The Nanaimo announcement comes at a time when Premier Gordon Campbell is making headlines for leading Canada's premiers in the fight against global warming, but many are still watching for substantial progress.
University of Victoria earth and ocean sciences professor Andrew Weaver says the Nanaimo announcement is "silly," but should not be taken as a sign of the province's direction on climate change. Weaver, a lead author on one of the International Panel on Climate Change's reports last year, sits on the premier's Climate Action Team.
"It's a sign of the times, isn't it?" The announcement may be a misstep, he says, but it does show the officials think reducing greenhouse gas emissions is important. "Good on them for at least wanting to, but you've got to do more, folks."
The assertion improving roads will help is silly, he says, but it's ultimately harmless. "You want to get people off the roads, not make more roads," he says. "It is silly pegging it to greenhouse gasses. It's silly, but not in a mean way.... This is a harmless announcement."
'Everything becomes green'
Echoing the green claims of other federal and provincial politicians quoted in the Jan. 22 press release, B.C.'s Community Services Minister Ida Chong applauded the City of Nanaimo "for taking steps to ensure their community is more sustainable and vibrant."
But Central Saanich councillor Zeb King says proposals like the Nanaimo one need closer scrutiny. "How many tonnes of greenhouse gases are they proposing to reduce?" he asks in an e-mail. "If we don't hear figures, then this appears to simply be greenwashing, and we can't afford that when the consequences of not taking serious action are so grave."
In a December interview, King told The Tyee he's seeing a lot of fairly brown projects getting wrapped in green. At the time, Central Saanich was considering a proposal from daffodil farmer Ian Vantreight to use part of his land for a housing development. Vantreight promised the project, which would have required changes to the official community plan and the regional growth strategy, would be done to high environmental standards and would reduce greenhouse gas emissions.
"I see these stretches," says King. "We'll find a way to use the language that will satisfy people for the green angle.... It's fairly dangerous if we think of the predicament we're in, if they don't understand the seriousness and they're just using green talk."
When a developer has a pitch like this, and Vantreight for instance was working with some very good environmental consultants, it can be pretty confusing, King says. "It's like Alice in Wonderland, this stuff."
Officials and the public need to be looking for the substance in these pitches, he says. There needs to be real numbers that prove the claims are rational, not just spin.
"Everything becomes green. The big thing is to scrutinize this. That's what's lacking," King says. "If you don't have people asking tough questions and people just accept it, then we've got trouble."
Related Tyee stories: