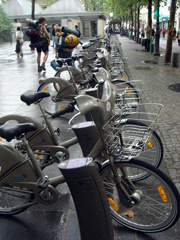 [Editor's note: Rather than look back over the year that was, the Tyee is offering its readers a dozen New Ideas for the New Year. We'll publish a new one every weekday from now through Jan. 1. They're textbook cases of thinking outside the box, all of them from people trying to make B.C. a better place to live. Later in January, we'll be asking you to suggest your own new ideas for 2008, and will publish a selection.]
There's no denying that Vancouver is an Asia-Pacific town, but city councillor Peter Ladner thinks it's time to import a little piece of Europe.
Earlier this year, Paris launched a massive bike-rental scheme involving more than 20,000 bicycles in hundreds of electronic racks around the city. A hit from the start, the Vélib' program attracts tens of thousands of riders each day.
Other cities such as Oslo, Barcelona, Copenhagen and Brussels are already in the mix, and Ladner hopes Vancouver will soon join that list.
"I think we're going to see this everywhere, and I would just love to see it here by 2010," he told The Tyee. "In fact, there's no excuse for us not to have it here by 2010."
There is the small matter of helmets, which are mandatory in Vancouver but would be difficult to integrate into an automated rental system. But Ladner doesn't think headgear should be a deal breaker.
Dollars and cents
A much bigger issue is financing a project Ladner admits is "a very costly thing to do," involving the purchase and maintenance of bikes, the installation of racks, roving teams of mechanics and a system to move bikes around so that some racks aren't overflowing while others are empty. In Paris, the tab has been well over $100 million.
While the specifics vary from place to place and some cities have relied heavily on user fees, Ladner thinks low rates are essential to the project's success.
"User fees would be some portion of it but I think if it was all user fees, nobody would use it because it would be too expensive and you'd defeat the purpose," he said.
Despite the massive financial output in Paris, an annual pass in the French capital would set you back less than $50 and rides under 30 minutes are free.
A word of caution for bike hogs though. Those who stay out longer than half an hour may be in for a nasty surprise as the rates get "really high, really fast," according to Ladner, who has been riding his own bike to work for 25 years.
"So it encourages frequent, short trips," he said. "And then it's electronically monitored so that you swipe the card to get the bike out and you swipe to put it back in. So they know. You get billed automatically if you're out past 30 minutes."
Assuming that most people will return the borrowed goods promptly -- theft is not really an option because the bikes can be tracked -- another source of revenue is needed. In Paris, a single company is footing the bill in exchange for exclusive rights to the city's more than 1,600 billboards.
A familiar face
That company is JCDecaux http://www.jcdecaux.co.uk/aboutjcdecaux/ which now goes under the name of CBS Outdoor Media, and has a similar, albeit less lucrative deal with Vancouver involving bus shelters and street furniture.
"I'd love to see it so that we wouldn't have to spend any public money on it, and it would be entirely self-supporting and somebody would look after it all for us, just like we do with the bus shelters," said Ladner who has spoken to JCDecaux about expanding their operations in Vancouver to include bicycles.
"They'd love to do it, but they don't know quite how we'd pay for it. They might come back and say you're gonna have to let us build this many billboards and then we'd have some pretty tough decisions to make," he said, pointing out that Vancouver doesn't have a 1,600-billboard bargaining chip and people might not be so keen on having more giant ads around.
"Do we want a lot more street ads in this city? Probably not, but if it can deliver a system like this, then it's probably worthwhile. So that's the kind of thing we're working out," according to Ladner.
If the bus shelters are already tapped and advertising on the bicycles and racks won't cover costs, another public amenity might be necessary. Ladner thinks installing water fountains all over the city could be a solution. Once the $600 million filtration system on Mount Seymour is completed, he says the fountains could showcase Vancouver's improved drinking water, wean people off bottled water and provide a surface for advertising.
He's also not ruling out the possibility of public funding.
"If it were to reduce the number of car trips or take the load off transit, then I don't know why there wouldn't be some justification for public funding, given that we subsidize transit and we subsidize car trips by building roads."
In November, following Ladner's motion that TransLink look into a bicycle plan, the public transport provider put out a tender call asking companies for concrete proposals.
After years of frustrated hopes of bringing bicycle schemes to Vancouver, Ladner has no stated preference for the model the city may adopt. With one stipulation: "I'd like to see something that works."
Related Tyee stories: