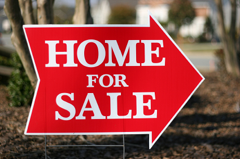 Vancouver housing prices could be about to fall.
Tomorrow, the Bank of Canada is likely to increase interest rates by a quarter point in order to curb overheating inflation.
Vancouver is the "extreme outlier" of housing affordability in the country right now, according to the Royal Bank of Canada's (RBC) most recent report, meaning it's the worst by far. Due to continued housing price increases, and despite increased salaries, households spend, on average, 70 per cent of their income on housing costs (for two-storey, single family dwellings). Many prospective homeowners are currently priced out of both the house and condo markets.
Two-in-three Canadians think houses in their neighbourhood are overpriced, according to a poll released today by Angus Reid Strategies. Almost three-in-four homeowners say they could not afford a down payment on their house as it's presently valued. And the vast majority of Canadians rank home ownership as a top priority, but are pessimistic about their chances of buying a house in the current market.
That could be about to change. Sales and listings in B.C. have "cooled down" and "levelled off," according to RBC. Inventory in the Greater Vancouver market is up to around 12,000 properties for sale, those properties are sitting on the market longer, and the housing market generally is experiencing a slowdown. B.C. "is unique in the Western provinces" because it appears to have already reached a "saturation point."
RBC predicts that the likely interest rate increase tomorrow will be the first of several increases this year, bringing the total increase up to a full per cent over the next twelve months. Combined with the other factors, this likely means the beginning of the end of the real estate "bull" cycle. The question is whether it will mean a levelling off or a decrease in prices.
Floating mortgages common
With the rate increase, "We're likely to see more changes to housing prices here than elsewhere in the country," said Benjamin Tal, senior economist for CIBC World Markets. It will affect people at the margins first, then will start to have an impact that "is not insignificant" on the market as a whole, especially if the total rate increase goes to a full per cent. Housing prices here depend on very low interest rates.
In Vancouver, in addition to the fact that "affordability is the worst, housing prices are in the sky," and the market is already levelling off, the share of people who use a variable rate mortgage is higher than elsewhere in the country, so the increase will be felt more.
Tal predicts we will likely start to see decreases in housing prices within the next year, but Tsur Somerville, director of the UBC Centre for Urban Economics and Real Estate told the Tyee it's hard to be that precise. Changes to interest rates can take at least a year or two to work themselves through the economy, he says. "It's like turning a supertanker. You turn the wheel now but it will have an effect in five miles."
Somerville also says that the quarter point increase on its own is not very significant.
Right now, according to the Real Estate Board of Greater Vancouver, a typical Greater Vancouver house costs $715,700. With a mortgage for 75 per cent of the value of that house, a quarter point increase would only mean a further $85 a month. That would only affect someone on the margins, he says.
But on the other hand, with the increases that we've had since January, that adds about $286 a month. And if you go back to the lowest point of interest rates in July 2005, that's a $500 a month difference. As Somerville says, "That does bite."
Rather than act on its own, he says the increase will "further dampen the market" when combined with other factors like a slowdown in sales and an increase in the inventory.
'Sticky' prices
But while Somerville expects to see a lower rate of price increase, he says, "Nobody credible has predicted a price decline."
Instead, prices could become "sticky." "People are reluctant to lower prices, so instead, they just let them sit." In Vancouver, from 1994 to 2001, housing prices were flat, meaning that adjusted for inflation, they dropped in worth, but the price tags themselves didn't change. He says that could happen again.
Vancouver's housing market has much in common with other cities that saw price increases, factors including a growing economy, rising incomes, increased immigration and higher employment. But Vancouver also has a limited land base, bordered by the mountains, water and the Agricultural Land Reserve, which intensifies those factors.
Vancouver's price increases were also tied to people's exuberance for real estate. "The market partly feeds on itself, on people's expectations, people guessing it will go up." And Somerville says that might not change.
"We are closer to the end of the cycle than the beginning of the cycle, but I don't know where the end is."
What will the end be, in his opinion? "People have this notion that when the cycle ends, housing in Vancouver will be affordable." He laughs. "Get real. When you look at other world cities with limited land and active economies, prices are high. If you want to get rid of the ALR, fill in the ocean and flatten the mountains, well, that's my recipe for affordability."
We'll know the answer to whether prices will stay stagnant or decrease sometime in the next year. But after tomorrow, prices are unlikely to keep going up.
Related Tyee stories: