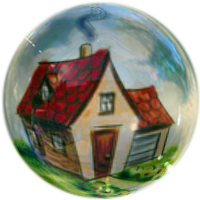 "The worldwide rise in house prices is the biggest bubble in history. Prepare for the economic pain when it pops." So warns a recent story in The Economist, which states "never before have real house prices risen so fast, for so long, in so many countries" and goes on to show that between 1997 and 2005 real estate prices rose 47 per cent in Canada, 73 per cent in the U.S., 192 per cent in Ireland and 243 per cent in South Africa.
In the U.S., of course, many cities are now experiencing a real estate crash, or "significant downward adjustment," to quote Warren Buffet's real estate speak.
How worried should we be in B.C., where real estate prices keep climbing? Are we in a "bubble," a "balloon" or a rare case of a permanently "bull" market? A lot of people in the business take their cue from optimistic "condo king" Bob Rennie of Rennie Marketing Systems. But Rennie's leading rival may be an anonymous blogger with a dark reading of the trends. The shadowy figure behind the Vancouver Housing Market Blog, says thousands visit his site daily and read his grim predictions.
His latest post as this went to press: "I call this a trend. Housing starts are heading down."
As anxiety mounts in the real estate biz and homebuyers pray for a dip in prices, VHB traffic keeps picking up. And the mystery blogger, who would share with The Tyee his views but not his identity, is fast becoming a strange mix of soothsayer celeb and comic book hero.
The bubble war players
Bob Rennie is a real estate mogul, who started selling real estate 25 years ago (at the age of 19), went on to create his own real estate agency (Rennie and Associates), then went on to pioneer the Vancouver-based concept of the presale: selling condos before they were built. He now creates "marketing systems" for real estate developments in Canada and the U.S. In January 2005, the Vancouver Sun reported that Rennie sold over $405 million dollars worth of real estate. In that story, Rennie said he would continue to equal and beat that amount each year.
By contrast, the VHB "blogger" says he spends half an hour a day on the blog, and doesn't run any ads or make any money from it. As for his own stake in the market? "I own no property. My net worth is well into the six digits, however, so I don't fall into the 'poor little bitter renter' category. I could buy, but I choose not to. I'm not 'priced out,'" he told The Tyee.
He claims his blog gets over 25,000 unique visitors a week, 10,000 of them on one day alone last week.
One of the main bones of contention between Rennie and "the blogger" is whether we're in a "bubble": a market condition in which real estate values rise, through speculation, to more than what people are willing and able to pay. Pricing is related to interest rates (which affects the actual cost of the mortgage), the strength of the economy, job market and salaries (therefore, people's ability to pay), and whether or not there are people who need housing (which is based on population growth, age of population, etc). A key part of the concept of "bubble" is that a crash of some sort is inevitable.
The question in Vancouver (and Victoria, Nanaimo and Kelowna) is whether prices have risen to levels that reflect the current state of our economy, or whether they've risen too high (and will fall).
Every day, "the blogger" posts entries that discuss and link to reports and news stories that warn that an ongoing "bull" (growth) market is not certain. Like his entry in April 2005, reporting that economist Robert Shiller of Yale University called Vancouver "the most bubbly city in the world." Or that in April of this year, the TD Economics "Housing Bubble Watch" claimed Vancouver and Victoria are in a speculative bubble. He also links to reports from the Real Estate Board of Greater Vancouver, Statistics Canada, Canada.com, and others. And links to a list of expert opinions, to other cities' real estate blogs, and to media reports. The VHB often takes the position that those reports largely indicate we are currently in a real estate bubble.
As for Bob Rennie? The quote at the top of the VHB is by Rennie: "If the blogger is right...1,000 people are wrong." Rennie is regularly quoted in the media as saying that the real estate market will continue to be strong and won't suffer a downturn. The Tyee made two appointments to talk to Rennie, and he didn't show up for either of them.
Emotional numbers
Back to the blogger. A typical VHB entry is that from Thursday, Nov. 2, which summarized and linked to the weekly reports from the Real Estate Board of Greater Vancouver, which stated that listings for Greater Vancouver houses are up 19 per cent from last year. (People who argue we are in a bubble market look for rises in the number of properties on the market -- they say that occurs when fewer people are willing to buy properties because prices have risen too high.) He goes on to report that in October, for the 9th straight month, sales were worse than in 2005: condo sales are down 19.5 per cent from last year and condo listings are up 29 per cent from last year.
One of the posts that day had 116 comments at last count. Including one that relayed Cameron Muir's comments in the Vancouver Sun about those same market reports. Muir said "current provincial economic upswing, with job growth, increasing wages and positive population migration, is helping to offset a housing downturn." Commenters on the blog criticized Muir, many linking to contrasting reports about Vancouver population growth.
One commenter, Foo, went further: "I'm waiting for the VHB post that says 'Can we all finally admit it's a bubble?' There's nothing in any stat that supports the mad buying and rising prices of the last 3-4 years. Not the economy, not immigration, not even the mountains and the Olympics. Sheesh."
Commenters on the VHB often have much more extreme views on the imminent crash than the VHB does, and are more vehement in their criticism of the mainstream media's coverage of the real estate market. But facilitating those "unorthodox" views is one of the reasons the VHB started the blog in March 2005. "I was following the housing market and wondered if others shared my more unorthodox views," he told The Tyee. "I was making some graphs on my own. I thought some others might like to see them too," he says. The mainstream media "doesn't point out the inherent conflict of interest in always asking builders, bankers, developers and realtors about the housing market."
Pampering the prospectors?
Is that a fair criticism of the media? Michael Levy, the business analyst for the Corus Radio Network, who appears regularly on the Bill Good Show on CKNW, says there are some stories about a coming "bear" (down) market out there, but not as many as for a "bull" market. "It's a self-promoting philosophy that this will go on forever so people like to hear it will go on forever. They like stories that reinforce their feelings. The media does get caught up in that because they are talking to people who want to reinforce that," said Levy.
And do any experts agree with the VHB's view of the real estate future? Levy agrees that the real estate market in the U.S. is a bubble in many cases. Here, he says, it's more of a "balloon" than a bubble. "What's the difference? You can let the air out of a balloon slowly. You can't let the air out of a bubble -- it pops."
Levy says he's not expecting a bear market. "The economy is too strong." Instead, he's looking for a levelling off and a "correction" down, which could be a "reasonably significant correction."
Is the party over?
Another analyst is more moderate. "We had a really great party and now the party is winding down. But winding down doesn't mean we're all unconscious," says Tsur Somerville, a UBC professor specializing in real estate. He expects stabilization or maybe no price increases for several years. But he says in order for there to be a significant change of direction, there would need to be employment falling, interest rates rising, or a huge inventory of unsold units. He says with the exception of 1982, Vancouver's downturns haven't come with large price declines -- just with fewer sales and small price declines. "A three-story heritage house on the west side will still be able to sell."
Rennie's more optimistic predictions need to be taken in context, says Somerville, noting, "Bob Rennie has a commercial interest in this stuff."
That said, the VHB is not without its problems. Somerville says the blogger clearly puts a lot of effort into collecting research and information. "People on the blog have a lot of expertise and knowledge." But like all blogs, the VHB "flogs" his opinions. "That's the nature of blogs -- they're unedited. You get unedited enthusiasm for a topic."
Hype and doom
The VHB admits, "Sometimes the comments in the blog can veer too far into the 'doom and gloom' range. But I think this provides (in moderation) a balance to the never ending hype we see in the mainstream media."
That doom and gloom is what accounts for the blog's appeal, according to Levy. "People love doom and gloom, they always look for it." And for many people, it's the only place (other than every dinner party in the city) where they can go to discuss opinions and research.
Somerville thinks it's more than that. "It's like wanting to see car wrecks. In real estate, people are making lots of money without doing anything. No one went out and built a company or earned the money. Instead, people are bragging about how brilliant they are. Well, they're not. They're just riding a wave. It's schadenfreude."
He said it's also cultural. "Real estate is the second sport after the Canucks," which is the case in all markets with volatile or valuable real estate. "And this blog is a lot more interesting than the blog on 30-year treasury bonds."
Related Tyee stories: