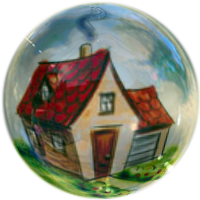 Yesterday, the anonymous real estate blogger known as the Vancouver Housing Blogger, or VHB, went offline. He left this post as explanation:
Things have changed on the off-line front. I have to go now. It has been a lot of fun. I might be back sometime in the future, but I need to stop for a while anyway.
Ta Ta For Now.
(I opened up this thread over at RET if anyone wants to chat about this.)
People did want to chat about it. The VHB's blog often gets over 10,000 unique daily readers, according to blogspot's software. And as The Tyee reported in October, it's because it's one of the only sources of real estate "bear" (downturn) analysis in the Vancouver media market.
The VHB started the blog because even though some economists were saying that the worldwide real estate boom wouldn't last forever, he didn't find much of that kind of analysis in Vancouver media. Economist Robert Shiller of Yale called Vancouver the "most bubbly city in the world," for example. But the VHB repeatedly criticizes most Vancouver real estate media commenters for being realtors, developers, marketers and others who stand to benefit from a continued surge in prices, and refer to such factors as the Olympics and Vancouver's status as a "liveable" city as proof of the continued "bull" market, while ignoring or denying evidence to the contrary. The VHB's Friday post was just such an analysis.
Sad farewells
Usually, the VHB provides links, charts, stats and commentary (like about the number of properties on the Vancouver market and their average prices, historical patterns, comparisons between Vancouver and other cities) that have the implicit questions -- is this a bubble and will it crash?
His last post on Friday left no indication that a halt was in the works, so those who visited his blog on Monday morning expressed surprise. "This is very sudden and I am sad to hear that the mysterious VHB will no longer be making the prescient posts I have become used to reading over the past 12+ months," said a commenter named Mohican.
"Please!!! Don't go! She'll come round!! Just involve her more...She can do some graphs and you guys can research, together," said a commenter named Mighty Mouse.
"Well good luck with that. If you can, keep the site alive. It will be interesting to go back and check the comments in the future. We are going to look like either prescient geniuses or ignorant boobs. I don't think there is much in between," said a commenter named Freako.
But not everyone is a fan. "If the blogger is right...then 1,000 people are wrong," reads Bob Rennie's quote, positioned right underneath the blog's title.
The big question: why?
His departure leaves two questions. The first, is why did he leave? In a post, Freako speculated that there were four possible reasons: loss of privacy, legal threats, boredom or a hacked account. Freako suspected it was most likely that his cover was blown. But the VHB responded, "none of the above. Just personal/professional life will be too busy to continue." See sidebar for the VHB's response to The Tyee's requests for comment.
The other question is where bubble watchers can now go. The Tyee ran the VHB's top five sources of information. "Read these five sites daily," he says, "and you'll soon be a smug housing bubblesphere know-it-all who can join the rest of us watching the biggest economic story of the decade, as the great big real estate keg party dwindles down to the last few drunk frat boys and finally settles into a nasty lingering hangover. And we get to watch it unfold slowly -- but predictably -- every day on our computer screens."
But so far, no one has launched a new blog to discuss it. As yet.
Related stories: