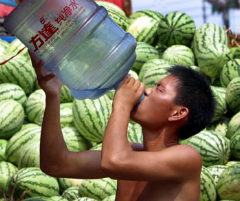 [Editor's note: Of 800 international journalists covering the Fourth World Water Forum underway in Mexico City, Chris Wood is the only Canadian. This is the last of three dispatches he filed for The Tyee. Read the first two here and here.]
East of Mexico City's International Airport, the last scruffy suburb of pitted streets lined with small stores, repair shops and roughly built brick and cement apartments falls away behind us. My Mexican host hands some pesos to the toll collector and we head out on the autopiste toward Texcoco, 17 km away. On either side of the highway, desolation stretches to the horizon.
Brown scrub plants rise from a flat expanse of bare gravel. Here and there, sections of grey cement sewer pipe lie abandoned. We pass a small junkyard, its stock of wrecked cars and trucks trailing off into the scrub. Brown dust blows past the windshield.
Twenty years ago, this was a lake. When Cortez first peeked over the mountains to the East, a 100 km lake ran the length of the valley he saw below. It made the city of the 'Mexicas', misnamed by history as the Aztecs, the Venice of pre-Columbian North America. As recently as ten years ago, my friend tells me, this highway ran between stretches of blue water braided with stands of tall grasses where white herons stalked the shallows.
Today, we drive to and around Texcoco and back to Mexico City-spending an hour and a half in all-without a glimpse of any open water at all. The only 'water' we spot anywhere is a viscous-looking grey-green liquid running along the bottom of some canals that may be meant for irrigation or used to carry sewage-or both.
This is what public administration of water in Mexico, a rough but undeniably functional democracy, has accomplished.
Earlier in the day, the world's third-richest man, Mexico's Carlos Slim Helú, had addressed delegates attending the Fourth World Water Forum on the far side of the city. The proposition that water is a fundamental human right is "undeniable," Slim told them. "But it has to be paid for."
Pressing for water as 'right'
Deliberations at the World Forum ended the next day. Among the 123 countries attending, Cuba, Bolivia, Spain and Uruguay refused to sign a concluding document, excoriating those that did for failing to issue a formal endorsement of the "undeniable" human right.
For the same reason, the World Wildlife Fund and other advocacy groups condemned the Forum as a failure that had "done nothing new" to lessen the plight of the one-sixth of humanity lacking safe and sufficient water.
Council of Canadians chairperson Maude Barlow, Canadian Union of Public Employees President Paul Moist and Mary Corkery, a spokesman for KAIROS, a Christian group advocating for social justice, joined their voices in denouncing both Canada's failure to support elevating water to the status of human right and the involvement of business in providing it.
"Water privatization," the three wrote in the Toronto Star, "allows for some of the worst human rights violations." Ottawa's reluctance to support its declaration as a human right, they added, is nothing short of "shocking."
Logging on to The Tyee, I'm pleased to find that my earlier dispatches from the forum have provoked a lively exchange of views in the site's community. But again, I am struck by how frequently this complex, many-layered subject seems reduced to a simple, up-down vote on the charged dichotomy of 'privatized commodity' versus 'human right.'
Traveling vendors
One has to wonder whether Barlow and her associates have been taking notes from George W. Bush, whose "with us or with the terrorists" formula has worked so well for his foreign policy.
In both cases, the dichotomy presents a false and dangerously limiting set of choices.
On the same day that Slim declared water an "undeniable" human right, Mexico's leading scientist, Nobel Prize-winning chemist Mario Molina, endorsed another of his proposals. The tycoon proposed an independent public agency-the Mexican equivalent of a crown corporation-to combine public and private funds to bring water and sanitation to the 17 million Mexicans who lack them.
"I agree with the idea," Molina told the daily Universel, "because the government doesn't have the funds to do the work."
Meanwhile, in every village, town or smaller city in Mexico-indeed, in all but the very richest neighborhoods of the capital itself-trucks grind slowly through the streets. They are usually painted white and blue or green, and they bear a variety of local and national brand names. Behind the cab, racks of 20-liter water jugs sweat in the sun. From loudspeakers above it, blares the repetitive call: "aguaaaaa…. aguaaaa". This is how most households in Mexico get their drinking water.
Market forces
As distasteful as leftist critics find it, the 'private' sector, at every scale, is already centrally involved in providing water in rich and poor countries.
France has relied on private companies to build and maintain its water services since Napoleon's time. Some of those are now among the global corporations that critics of privatization most strongly oppose.
Mexico's water trucks are widely replicated in other developing regions of the world. In Africa, Asia, Latin America and the Caribbean, millions of people similarly rely on local private vendors who deliver drinking water in jugs, jerry-cans or sometimes by the dipper-full from salvaged fuel drums. Usually, these people pay a price-per-liter for the indispensable liquid that is far higher than that paid by wealthier compatriots who enjoy it piped into their homes by limited public utilities.
Most, I imagine, would thank us who live in wealth far more for the gift of a simple well, a cistern for harvesting rain or a cheap and effective water-purifier, than they would for another human "right" added to those already being violated or ignored in their lives.
Reviving Mexico City's lake
Real solutions to the world's multi-faceted water crises are more likely to be found in pragmatic advances based on economic realities. One of those, just as Molina and Slim said, is that facilities to deliver clean, secure water to people-whether in the form of a state-of-the art central treatment facility or a rainwater-collection pond-don't pop into thin air. They must be paid for.
Other Mexican analysts at the Forum told their home audience that it needs to pay eight times what it does now for water. Noting that Mexico City alone needs $5 to $6 billion worth of new water and sanitation infrastructure, the National Water Commission estimated that in order to extend basic services to the 17 million Mexicans who now lack them, average water rates must rise to 8.8 pesos (about ninety cents) per cubic meter.
In an elegant office south of downtown, where bare wood, polished grey marble, raw cement and welded steel blend industrial and natural influences around a garden open to the sky, architect Juan Cordero walked me through an even more ambitious plan.
Working with other architects, urban planners and researchers at the Autonomous University of Mexico, as well as Harvard, Cordero has developed a plan to restore the vanished lake along the city's eastern margin.
He and his colleagues have spent eight years and $2 million (most of them private) so far to work out the details of the proposal. Their scope is sweeping. Seven new treatment plants would be built to extract clean water from the 95 percent of Mexico City's sewage that is now being pumped raw into aquifers north of the capital. That water would be used to restore a chain of lakes and wetlands on either side of the Texcoco highway.
'Like a lung'
There is more to the plan than refilling the lake. The mountain slopes to the east, where the subsoil is porous (unlike the valley bottom) would be reforested. That would allow the area's relatively abundant rainfall to percolate down and replenish depleted aquifers. "Mexico City can and should be self-sufficient in water," Cordero told me.
The restored lake would "act like a lung," to reduce Mexico City's air pollution by a quarter. Refilled to something less than capacity, the lake and its wetlands would largely eliminate the flooding and sewer backups that are an ever-present threat to seven million people living in the poorest neighborhoods of the city.
The whole deal would cost several billion dollars. But Cordero and fellow proponents believe the sale of newly desirable real estate around the margins of the restored lake would more than cover the cost. The plan also calls for relocating Mexico's overstretched airport to an expanded facility on an island in the middle of the lake, freeing up additional land for sale and redevelopment.
The groundwork has all been laid, Cordero says. The land to be reflooded is mostly unoccupied. No communities would require relocation. "It's simply a political decision." It is also inconceivable without the involvement of private investment on a large scale.
Muddied debate?
The Fourth World Water Forum may have agreed on little more than good intentions. But critics risk making the perfect the enemy of the good. Putting 11,000 people from the world's most water-stressed countries together to compare notes is likely to do as much good (or more) on the ground as adding another to the list of human 'rights' that remain unenforceable wherever societies and governments are failing-almost universally also the places where water is scarcest and most soiled.
Water runs everywhere. Its place in our existence-our habitat, as well as our society-cannot usefully be resolved by opposing a "human right" to a "commodity for profit." In the real world, the essential liquid is also intimately and inextricably part of every economy.
In Canada, roughly 80 percent of the water we use goes for industry. Water may run through our national identity, our spirituality and our imagination. But short of putting ourselves out of business as a civilization, we also can't do without it for growing and processing food, or pulling oil from tar sands or pulp from forest fibre. Or anything else.
'Rights' don't exist in nature. They are creations of human values. What is true is that water is a human necessity. And no society that denied it to its citizens would stand for more than a week (the longest a human can go without water). Equally, in no rational democratic state, or even a dictatorial one, is it plausible to imagine water being priced beyond the reach of every citizen.
False choices make for stirring rhetoric-as Bush and Barlow are plainly both aware. But they also can make for bad policy.
Read Chris Wood's previous dispatches here and here.
Wood is a former national editor of Maclean's and an award-winning author of fiction and non-fiction. His latest book, on climate change and water, will appear next year from Raincoast Books.