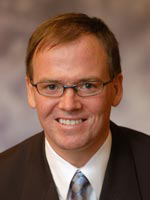 When voters recently gave the boot to Surrey's Doug McCallum and four other Lower Mainland mayors who served as Translink directors, they assured a very different board will weigh key decisions about transportation for the region.
But will those fresh faces get the chance to determine the fate of a project as high profile, expensive and environmentally sensitive as the Port Mann Bridge twinning project? Don't bet on it, listening to Provincial Transportation Minister Kevin Falcon.
In an interview with The Tyee, Falcon said that even if new GVRD and Translink directors oppose provincial transportation priorities, favoured projects like the Port Mann Bridge twinning will truck onward.
And one of Falcon's staunch foes, re-elected Burnaby Mayor Derek Corrigan, upped the controversy factor by claiming that the province might be fixing to sell the upgraded Port Mann Bridge to private concerns, a charge that Falcon flatly denied.
Toll, then sell?
With Vancouver Mayor Larry Campbell also in the mix of outbound Translink directors, it means a gaggle of new mayors and several city councillors will jockey for Greater Vancouver Transportation Authority (i.e. Translink) appointments. Big changes in Vancouver, Surrey, Coquitlam, Langley City, Maple Ridge and the entire North Shore could signal a direction change at the GVRD and its Translink charge.
Already, the fireworks are popping. Corrigan argued that Falcon's Port Mann plan is a paper tiger and contended that the province has yet to budget for the plan.
"What they've got in their mind is a Golden Ears Bridge kind of thing: a public-private partnership," Corrigan said. "I suspect what is in their mind is that they would sell the Port Mann Bridge at the same time as they twinned it, because what they would do is toll both bridges."
Falcon told The Tyee that the province will not sell the Port Mann Bridge. However, he admitted that it was "totally premature" to speculate whether the twinning plan has public-private partnership potential.
Falcon claimed that, thanks to P3 deal structuring, there was "extraordinary success" in saving money on Sea-to-Sky Highway work and on the new Bill Bennett Bridge across Okanagan Lake. Still, government treats public-private opportunities on a case-by-case basis, Falcon said: "P-3s don't work for every project."
Questions about planning
Falcon insisted that keeping the Port Mann project fast-tracked would not require playing politics with Translink.
"We've always had the unfettered right to deal with the provincial highway system on our own," Falcon stressed. "We recognize there are enormous benefits to the communities that parallel Highway 1."
Vancouver City Councillor David Cadman, who also serves as a Translink director, argued that "even with a shift to [the] progressive side on the GVRD, Port Mann can't be stopped."
"Falcon has the ability to impose it," Cadman maintained.
But according to Corrigan, the Port Mann fight has not even begun. "The reality is that there's been political announcement after political announcement on this issue -- and controversy on this issue -- without a scrap of planning done as to what the possible implications would be."
The transportation minister, for his part, has been far from shy about promoting the Port Mann twinning plans. "I've always been of the opinion that this is project of huge importance," he said. Falcon also extolled the plan's benefits during a March 8 speech to the Vancouver Board of Trade:
"A twinned Port Mann and an expanded Trans-Canada Highway will also allow us to have some new flexibility, flexibility to expand the HOV lanes, flexibility to consider dedicated commercial transit lanes, flexibility to finally have public transit going over that bridge," Falcon said.
Streamlined road ahead
Falcon said that the Port Mann Twinning Project Definition Report will be released in early 2006. According to Falcon, the report is the result of "huge investment in consultation with local municipalities."
Falcon emphasized that the report will become the groundwork for public consultation on issues such as traffic congestion and environmental concerns.
However, no mention of the Port Mann twinning plan appears in official Ministry Service Plans until 2004. Surrey-Cloverdale MLA Kevin Falcon became transportation minister in January 2004.
Corrigan wonders whether the BC Liberal government wouldn't welcome the chance to "get out of" the politically and financially problematic Port Mann Bridge project, and theorized that the province might want the GVRD and Translink to oppose the Port Mann twinning.
"I think they would love to have the GVRD opposed to it, so they could get out of it," he said. "They don't have the ability to do it, and they would want to do a public-private partnership on it -- and there's going to be all kinds of conflict on that," Corrigan said.
"Once they begin talking about the tolls, there's going to be problems with that," he added.
Under section 14 of the Greater Vancouver Transportation Authority Act, Translink's strategic plans must move in-step with the GVRD's regional growth strategy, which ultimately operates under provincial approval.
"[It is the] responsibility of region to do transportation planning, but the province can lumber in. That's the reality; they can push anything they want to push through," Cadman said.
The Significant Projects Streamlining Act also keeps lower government levels -- like single cities or the GVRD -- from halting projects that are deemed provincial priorities. The act was introduced in 2003 by Kevin Falcon, then minister of state for de-regulation.
Only environment impact studies under Environmental Assessment Act regulations prevent highway projects like twinning the Port Mann Bridge from being fast-tracked. Environmental Assessment Office records show that only the Gateway Program's South Fraser Perimeter Road project has been submitted for review.
'Dysfunctional' regional planning
Cadman and Corrigan both agree that the statutory rules Translink follows are broken at best.
Cadman stressed that the current Translink setup has systemic problems, since only a portion of the Lower Mainland's 21 municipalities are involved on certain levels -- and only at certain times.
"Certain jurisdictions should never be left off certain committees when they are footing so much of the [regional] bill," he said.
Corrigan called regional transportation planning "dysfunctional".
The Greater Vancouver Transit Authority, under which Translink operates, was created by the NDP government. It assumed authority over transit and regional road and river crossings in 1999.
Translink Board composition
The GVRD board appoints 12 Translink directors who serve one-year terms that may be renewed. And de-facto agreements between municipalities mean most municipalities play musical chairs on the Translink board.
The breakdown works like this:
Vancouver and Electoral Area A (including UBC, and other non-incorporated areas) appoint three Translink directors.
Four directors come from Richmond, Surrey, White Rock, Delta and the Langleys; however, the GVRD has yet to appoint a Translink director from Delta -- and Surrey usually gets two seats.
Burnaby, New Westminster, the North East Sector and the Ridge-Meadows municipalities share three seats. New Westminster and Burnaby alternate with one seat. Port Coquitlam rotates with Pitt Meadows and Maple Ridge and Coquitlam does the same with Port Moody, Anmore and Belcarra.
The North Shore shares a single position. And one last director's seat goes to one 'at-large' GVRD politician.
Dividing director seats by population shows little disparity in how the Translink pie is divided by Lower Mainland municipalities.
Using GVRD 2004 population estimates, Burrard peninsula municipalities, including Pitt Meadows and Maple Ridge, control six Translink director seats that represent roughly 54 percent of Greater Vancouver's 2.1 million residents.
Cities south of the Fraser get four Translink director seats that work out to one seat per 199,391 people; Vancouver gets one seat per 194,432 residents.
The seat split is designed to balance municipal interests against regional interests.
But the provincial government can also appoint three Greater Vancouver MLAs as directors at their pleasure (the B.C. Liberal government has yet to do this).
Province keeps stepping in
Cadman questioned the ultimate significance of the GVRD-provincial government relationship: "The GVRD can make all these regional plans and then the province can do what it wants," he said.
According to Corrigan, Greater Vancouver's last decade of contentious transportation projects -- from SkyTrain to the RAV project -- have provincial fingerprints all over them.
"The analysis of transportation issues has to first look at the impact of provincial governments, and the role provincial governments have had in dictating transportation in the Lower Mainland," he said.
Corrigan called the Millennium SkyTrain extension "a one-off project" created to secure votes in left-leaning Burnaby.
With the RAV project, Corrigan said, provincial interference came with NPA support.
"The current provincial government had decided with the Non-Partisan Association -- George Puil and the NPA in Vancouver -- they would advance the Richmond corridor prior to the Coquitlam connection," Corrigan said, noting that a large number of Liberal MLAs were elected along the proposed RAV route.
According to Falcon, the civic election results have changed little in the region's transportation planning landscape. "The recent election results have been positive for the Gateway project," he said.
The current Translink board's last meeting is Dec. 7 in Langley City. The new GVRD board will appoint new Translink directors in January 2006. There is no decision from the government about whether they will appoint its three MLA representatives to the board.
DJ Lam is a reporter for The Tyee.
With notes from Sam Cooper.