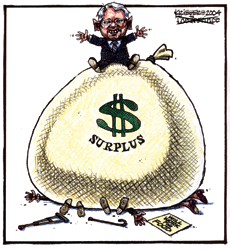 The official election campaign is about to start, and Premier Gordon Campbell and his ministers are giving out money like there is no tomorrow. There's money for sports stadiums, and money for parks, and money for new housing projects for seniors, and new health research projects that, it is to be hoped, eventually benefit everyone. It would seem that before we voters actually go to the polls on May 17, there won't be a community left in British Columbia that hasn't benefited somehow from this tidal wave of newfound money.
This, as Premier Campbell keeps telling us, is the beginning of "the golden decade," something that all of us in British Columbia have earned by going through the pains of the past three years to get to that balanced budget. (Just ignore for the moment the debate as to whether in fact all British Columbians have in fact gone through Campbell-caused pain, or whether that pain was disproportionately tilted towards the poor, the ill, women and seniors. It doesn't matter for purposes of this analysis.) Because in any case, it's over now, and everyone will be marching into a much brighter future. Or so Premier Campbell would have us believe.
To be sure, he's careful never to say the words. But there's no question that he and the Liberals would like us all to think that the incredible largesse we've witnessed in the past 90 days will continue, just so long as the Liberals are re-elected.
The only problem is: the Liberals' own budget documents tell a different story. According to the detailed ministry plans as laid out for the next three years, many British Columbians are going to feel the pain again, before the next three years are up. The struggle to find and maintain a reasonable level of service will resume once again.
What the 'resource summaries' say
The numbers are contained in documents known as "resource summaries" for each ministry. As part of the government's financial planning, each ministry as part of the budget provides a look-ahead to how things might look two and three years down the road.
One must start, of course, with the disappearance of the so-called "slush fund" that was included in February's budget for, it might be argued, the sole purpose of doling out election goodies to communities around B.C. Under the heading "Enhancing Economic Development Throughout British Columbia," Small Business Minister John Les has been given for the current fiscal year a fund of more than $235 million to distribute. That's 13 times as much as was in that same fund one year ago. It won't go back down to its previous base level of $18 million next year, but more than 80 per cent of it will have vanished again. The fund will stand at about $43 million for 2006-07, and then drop even further back to $28 million the next year. There'll be a lot less money around for all those community projects that have enjoyed the capital grants in the months leading up to the vote. The money earmarked for "capital projects" in most ministries will drop significantly as well.
Of greater concern, however, is the question of whether key government functions will have the staff and money to provide the services British Columbians would like to see. On this question, the budget documents offer a mixed bag of responses.
Some ministries, such as Advanced Education, appear to be launching out on a plan which will indeed see continued growth and development. B.C.'s post-secondary institutions are predicted to see a small but steady growth in revenue from government over the next three years. The money available for student loans is predicted to increase as well.
But other ministries – and their clients – are not so fortunate. In the Ministry of Water, Land and Air Protection, for example, spending in many areas has reached as high as the Liberals plan for it to get during the current fiscal year. Spending on "environmental protection" will decline slightly again next year and the year after that. So will spending on parks and recreation. Spending on "environmental stewardship" will stay exactly the same for the next three years. The only increases in money and staffing will be found in the "enforcement and compliance" areas.
Fall-off for schools, health sector
School trustees might also be a little nervous if they looked at the predictions for their funding for the next three years. The increases that have had school boards breathing a sigh of relief this year amounted to about $139 million across the board. That, boards said, was enough to allow them to maintain services, to add back some of the services that had been lost, such as special needs counselors and teacher-librarians, and not to have to consider distressing options likely closing more schools and laying off more staff.
But the numbers show that next year, the plan is to increase the total budgets for public schools by only $60 million – less than half this year's increase. And by the year 2007-08, the increase will be a measly $17 million (on a total budget for more than $4 billion). Just dealing with the normal costs of inflation, let alone any wage increases or paying for the skyrocketing fuel prices, will more than eat up that sum.
Even the health care sector will have new concerns as the next years unfold. The money allotted to the regional health authorities – the money that pays for the hospitals, the long-term care facilities, home-care for the elderly, mental health services, and public health – went up this year by about $475 million. It's been enough to allow the authorities to balance their budgets without cutting services further, although still not enough to make a big dent in the surgical waiting times or clear up the horrendous backlogs that often plague our emergency wards. But the increase for next year is going to be only a little more than half that – about $260 million. And for the year after that, it'll be down to $162 million. It's difficult envisioning those increases being enough to prevent the system from spiraling further into crisis.
Even more worrisome is the money being allotted to B.C.'s doctors. The total being spent on Medicare payments this year is budgeted to be more than $100 million more than it was last year. But in 2006-07, the increase is expected to be only about $15 million – and for 2007-08, it's not expected to rise by a single dime. Doctors, in other words, are being expected to hold the line on payments – not just how much they get paid to do any given procedure, but how much they will make in total, no matter how many more patients they must cope with. Given the strong stand the B.C. Medical Association has recently been taking in negotiations, this could be little more than wishful thinking.
Too many cuts in service within a year or two after the election, and the B.C. electorate could be forgiven for thinking that the golden decade had turned into fool's gold.
Barbara McLintock is the Victoria-based contributing editor to The Tyee.