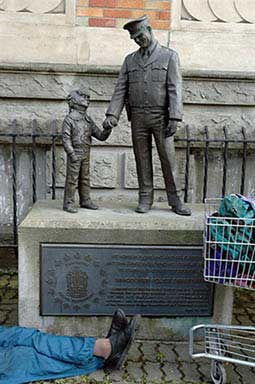 Human Resources minister Stan Hagen was uttering a familiar refrain. On April 1, he stood before the legislature to introduce his budget estimates . "There are now nearly 90,000 fewer British Columbians dependent on income assistance because they are benefiting from government's emphasis on employment."
It's a claim that has been made repeatedly, most recently in Vancouver by Premier Gordon Campbell, on June 10 at Howe Street's Metropolitan Hotel.
There is no doubt about the first part of the claim. When the Liberals came to office in June 2001 252,162 British Columbian men, women and children were surviving with the assistance of welfare. That number is now down by 87,000, to around 165,000.
But although few would argue that welfare is preferable to a decent job at a fair wage, Hagen's statement that people freed from the welfare rolls are "benefiting from government's emphasis on employment" invites close scrutiny.
So, what proof do they have?
Hagen's staff duly noted The Tyee's request for an interview, but did not respond to follow-up calls. However, former minister Murray Coell and the ministry's spokespeople have repeatedly pointed to their exit surveys as their only evidence.
Out of the red, into the black
When a person leaves welfare, the government usually knows only that they are gone -- not why they left or whether they've found employment. So the government began trying to contact people six months after they left.
Although the government insists the vast majority of those off welfare no longer need it, critics argue the exit survey findings don't support that view. "The results are suspicious," said Zheng Wu, a demographer who teaches at the University of Victoria, in an interview after the government's first exit survey announcement in December 2002. "You don't need a statistician to tell you those results are biased."
To gather the information about former welfare recipients, the ministry generated a list of the 3,110 people who'd left the welfare rolls in December 2001. Between July and September of 2002, the Centre for Education Information Standards and Services (CEISS), an "arm's length" agency of the government, contacted as many of them as they could. But 1,442 of the people on the list -- nearly half -- had phone numbers that were out of service. Another 270 told the interviewers to get lost, and a further 326 were "unavailable." In the end, the agency interviewed just 994 people -- 32 percent of the total.
"If they tried to contact all of them and two-thirds couldn't be reached, that's a lot," said Wu. It put the study "way beyond the margins of error allowed" for academic work, he added, and made any conclusions dubious. "The people they contacted could be representative, but it's very unlikely."
While the government's report argued that the people who couldn't be contacted are similar to the people who were interviewed, both in age and in the number of months they'd been on welfare, Wu said not having a phone might be a more important indicator of how they are doing. "Those people are the most likely to be having problems."
The only way to be confident the results are a true reflection of reality, he said, is to either interview everyone or to make sure the people you do interview--it needn't be more than a few hundred--are "representative," which could be done by selecting them at random.
Government claim: two thirds got jobs
Using an unscientific method did not stop the government from announcing the results as good news. The press release crowed that "92 percent of individuals left income assistance for employment, educational opportunities, other sources of income, or because of a change in family or financial status." The majority, some 66 percent, it said, left for paid employment.
Two months later, in February 2003, they did it again, this time with a press release headlined "Leaving Welfare for Work Triples Income." Among other things it asserted that "The majority -- 67 per cent -- left income assistance for paid employment. On average, former clients reported earning 2.9 times the amount of money they received on income assistance."
That survey had the same basic problem. The press release didn't mention that of the 4,762 people they tried to contact for the MHR Exit Survey: Fall 2002, less than a third completed an interview. A whopping 2,271 phone numbers were no longer in service.
This time people who provide services to those living in poverty, and even some reporters in the mainstream press, greeted the news with a measure of skepticism.
"The fact that 48 percent of the people who were former clients of the ministry couldn't be reached because their phones were no longer in service doesn't surprise us in the least," said Bill Burrill, president of Victoria's Together Against Poverty Society. Burrill believes most of those who've left welfare have done so because they've disqualified. "How do you expect people to afford telephones when they've been cut off of income assistance?"
"You'd think after six months they'd have a phone hooked up if they were working," said Brent Donovan, volunteer coordinator at the Mustard Seed Food Bank in Victoria. At the time, in early 2003, 5,000 people a month were using the food bank and the number was growing by about 25 new people a week. "It's getting pretty serious out here…. It's just going to get worse."
Surveys released quietly, or not at all
The government has released the results of three more exit surveys, all with the same low participation rate, but has decided not to draw attention to them with press releases. Richard Chambers, a spokesperson for the ministry, insisted in a June 2003 interview that the government will continue to use the surveys to guide policy decisions. Yet despite a schedule that says they will release survey results every three months, a new report hasn't been added to the ministry's website since November 2003--two are now overdue.
B.C. taxpayers paid $347,000 for four of these surveys in the 2002-2003 fiscal year, and the ministry plans to continue with them for three more years. Altogether, the government spent about $13.5 million on work done by CEISS --mainly through the advanced education ministry--in the last two years.
"We trade on the quality of our work," said Scott Macinnis, the director of research and account services at CEISS, in an interview after the first exit survey announcement. "When there's issues of interpretation with political overtones that could be significant, we turn it back to the client."
In this case, he said, the ministry of human resources wrote the report and drew the conclusions, and it's for them to defend how they came to them. "I'm sure you'll have a hard time getting an answer from them."
Coell 'unavailable'
Murray Coell, then the government's human resources minister, was unavailable for comment at that time. After the second exit survey announcement, Coell was again unavailable.
While the government would have you believe nearly 90,000 cut from the welfare rolls are employed or otherwise alright, people working on the frontlines of poverty assistance have a different view. "My experience is a lot of people are living outside," said Vic Budd, who has worked at the Streetlink emergency shelter in Victoria for seven years. "We're turning away way more people than we used to."
"I think people who live in any city will tell you they're on the street," NDP leader Carole James said of former welfare claimaints, in a June interview with The Tyee. Many young people are "couch surfing," finding places to bed down wherever they can, she added. "I'm sure some have left the province looking for work."
Bureaucratic incentives aren't keyed to getting jobs for those on welfare. Instead, rewards have gone to those who have simply reduced the numbers on the welfare rolls.
Monday Magazine's Russ Francis reported that when the government made a $15,400 bonus payment to human resources deputy minister Robin Ciceri, it was based on reducing the growth rate in disability assistance by two percent and cutting the number of welfare recipients by two percent, not on people finding employment.
And even the private companies that run the province's job placement programs, lauded because they receive money from the government only when they "succeed," are paid when clients become "independent of welfare." The companies are under no obligation to prove that people actually have jobs.
This is PART 2 in a series:
PART 1 Welfare's New Era: Survival of the Fittest PART 3 Welfare Reform's Public-Private PartnershipsPART 4 Shut Out at the Entrance
Andrew MacLeod has covered welfare reform regularly as a staff writer for Victoria's Monday Magazine. On Tuesday, the third instalment of The Tyee's four-part series on welfare looks at the lucrative private companies that help welfare recipients seek employment.