Nothing's impossible, but this comes close. Matthew Wadsworth is a Montreal-based Renaissance lute virtuoso, 37 years old, a bit out of shape, and sightless since birth. He is not an obvious candidate to soar through the sky on a dirt bike. Yet I submit to you video evidence that such a thing can be done, with body armour, training, and a very stiff upper lip.
Produced in collaboration with fellow East Vancouver filmmakers Candice Vallantin and Evan Crowe, this is part one of our new documentary, Renaissance Man.
Thanks very much for watching.
I'd love to show you the rest of the story, but it hasn't happened yet. Matt and Micky are aiming to beat the world record for a blindfolded jump (81 feet, or 25 metres) by mid-December. The next benchmark after that is 100 feet. You'll be able to follow the adventure in parts two and three of the film.
None of us has ever made a long-form documentary before. You could say we're kind of feeling around in the dark here.
As Matt says at the end, "The challenges that I've set myself and overcome in life, I've always used this approach. Which is to have an idea, have a very clear goal that you're shooting for, and then be prepared to figure out the stuff as you go. And don't always expect it to be easy. And don't give up if it's not."
As we experiment with new ways to produce and distribute real-life stories, that's about the best advice we could ask for.
Getting out the door
I met Matt in the airport in Quebec City in May. It was 5:30 a.m., and I could barely keep my eyes open. Watching yesterday's news on a muted television, I heard a tap-tap-tapping behind me. There he was, swinging a white cane, with a giant black instrument case strapped to his back. Striding across the atrium with his aluminium antenna, he reminded me of an ant hoisting six times its weight.
With the airport lounge all but deserted, Matt stopped two seats away, unshouldered his instrument, and folded his cane. I said, "What is that, a sitar?" Sitting down, he sighed, "No actually, it's a theorbo." (Turns out he gets that question a lot. It's the gigantic lute you see him play at the beginning of the documentary.) Matt was on his way to Denver to play in an opera. I was on my way to Vancouver. He told me he'd been obsessing lately about jumping a motorcycle. When the Dash-8 touched down at Pearson, we agreed to stay in touch.
Later in the summer, Matt emailed me to tell me his insane project was a go, with training starting in September. Meanwhile, I had quit my job and given most of my things away. I was living in a tent (before #OWS made it chic), and I was flat broke. I'd never seen him ride a motorcycle. I said, "Awesome. See you in California." And then I started to think about the realities of film financing.
I didn't feel like genuflecting my way into the lobby of a TV network, alms cup in hand.
I also didn't have months to fill out grant applications, then wait for far-off funding committees to render decisions. I looked at third-party crowd funding sites. Kickstarter.com sounds like a great model, but you have to be American. There are others, like IndieGoGo, but I didn't have time to see if the project reached the funding threshold -- or received nothing. I needed to hit the road.
So instead I found two friends with flexible schedules, and we asked for the bare minimum in cash from friends and family. (My blog readers I lump under "friends," especially the ones who funded this project.) We were also lucky enough to borrow some gear from some admirably trusting and curious people.
Here's a photo of all the equipment used to produce Part 1: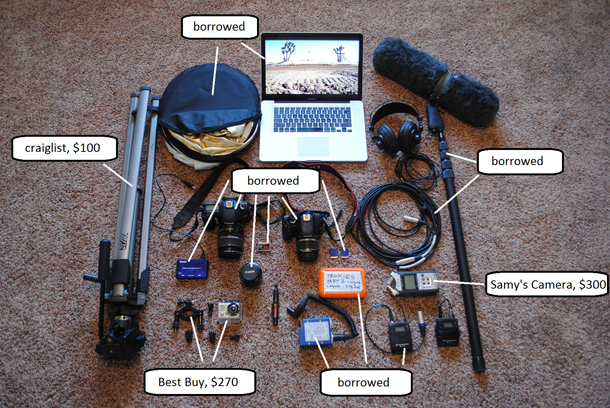 As you can see, the kit is pretty bare-bones. I've invested in a few key pieces of gear that I think will come in handy on future projects. But the actual one-time costs of producing the documentary were entirely covered by our donors.
That includes accommodation for three people for a month, utilities, groceries, travel, equipment rentals, batteries, insurance, American cell phone service, and courier costs for footage gathered by my friend Martin Reisch in Montreal. The total so far: $5,140.
With a running time of 12:30, that means the finished video cost $411 per minute of screen time.
Burn, Hollywood, burn
Bear with me here. Using the same arithmetic, production on the 2009 film G.I. Joe: The Rise of Cobra cost $1.5 million per minute of screen time. According to Chicago Sun-Times film critic Roger Ebert, "[G. I. Joe: The Rise of Cobra] is sure to be enjoyed by those whose movie appreciation is defined by the ability to discern that moving pictures and sound are being employed to depict violence. Nevertheless, it is better than Transformers: Revenge of the Fallen." (A relative bargain at $1.3 million per minute.)
A facile comparison, perhaps, but clearly something is amiss down in Hollywood. (Only a 90-minute drive from where I'm typing this, or the approximate duration of a Miley Cyrus movie. Harry Potter if it's rush hour.) What I'm saying is our sense of value in relation to motion pictures seems more and more out of whack.
In the 2008 handbook Economics for Everyone, Canadian Auto Workers economist Jim Stanford describes how the need to make a profit complicates the definition and measurement of value: "[T]he owners of private capital receive a rate of profit on their investments. This does not imply, however, that capital itself is 'productive,' nor that profit is morally legitimate. It only implies that under capitalism, profit is a fact of life. Because of the payment of profits, the value of something in a capitalist economy -- even a producible good or service -- will not exactly reflect the amount of work that went into producing it." No kidding.
Subtracting, for a moment, the notion of "entertainment value," (clearly not extracted by Roger Ebert) how can we define the value of a movie like G.I. Joe: The Rise of Cobra? Partly in terms of employment. Hierarchical, temporary wage labour for several hundred people. But mostly in terms of profit potential. With an investment of $175 million, the film's backers pulled in $300 million at the box office. I doubt all that was reinvested in green-screens.
The problem when you start with profit as the end goal is that media production becomes a game of fill in the blanks. Under these conditions, value feels like a byproduct, or sometimes an accident. Believe me, I've been there.
So while we can't offer our investors a profit on this project, we still think it has value -- both as an experiment and as a viewing experience.
Our goals are clear. We wanted to make a film that otherwise would not have been made. We wanted to break even on Part 1, and we're hoping that helps us break even on Part Two. At the same time, we're trying to share specialized production skills amongst the team members, and beyond that, share the results of these experiments with other film crews. What we're learning right now will be adapted and incorporated into all sorts of future models.
I think the ultimate goal is for video coverage of real-world events to pay for itself, through the interaction of interested viewers and content creators. To be sustainable, the system would require almost unthinkable efficiency from producers, and a large enough audience to spread the burden. Plus institutional support. (I'm leaning on The Tyee right now to invest in a camera.) I daydream sometimes about an amorphous network of D.I.Y. media makers, training each other on the weekends, uploading episodes as new developments pop up in their different stories. Right now, it sounds a bit improbable. But then again, so does a blind guy jumping a motorbike.
A number of people are running experiments right now that could fundamentally change the way we think about online video. The Tyee is bringing several B.C.-based innovators together on Thursday, Dec. 1 for an event to push the conversation forward. Panelists include ShitHarperDid.com creator Sean Devlin, Tara Mahoney of GenWhy, and Andrew Struthers, creator of the hilarious viral masterpiece Spiders on Crack. The winning videos from The Tyee's REEL BC contest will also be given a big-screen premiere. I'll be joining in by webcam, if all goes well.
If you can't make it to the event, your input and feedback is always welcome here on The Tyee site -- or you can ping me @kainagata or on Facebook.
Finally, if you can put a number on what Renaissance Man is worth to you, I've posted a short list of what we need to make part two, over on my blog. We can't go much further without help.
Thank you again for watching. I hope you enjoy the rest of the film.