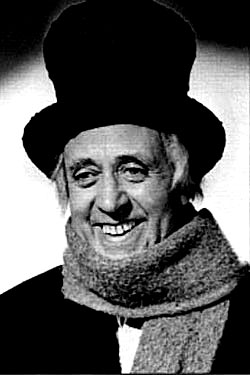 'Tis the season again, that happy time of year when young and old alike wonder why no one ever says "'tis" during any other season.
And what winter holiday season would be complete without those beloved holiday TV shows, when families put aside their cares and once more delight in Ernest Saves Christmas III, just as they did in happy golden days of yore?
Yes, local TV may be ready to turn up its toes. And yes, it's been a pretty rough year all around. But there's still plenty of cheery holiday fare to take your mind off global warming, the economy and Taylor Swift.
So pour another shot of rum in the eggnog, slap another Yule log on the fire and settle back for The Tyee's annual holiday TV roundup. This season's offerings include both treasured classics and some new offerings that are sure to be classics in Christmases yet to come.
The Big Fat Fraud
Dec. 16, CBC News Network, 8 p.m.
Santa-skeptic Rex Murphy rips the beard off the global conspiracy that has duped an unsuspecting world into believing in a so-called "Saint" Nicholas. With his trademark acerbic style, Murphy exposes the junk science behind notions that reindeer can fly and that a fat man can fit into a chimney.
All the conspirators are named. Fans of Rex will appreciate his biting take on the media -- "Yes, Virginia, Santa Claus is nothing more than a fable, concocted by unctuous editorialists." And he doesn't spare his bête noir, the liberal celebrities behind the Hollywood entertainment-industrial complex, which, as Murphy points out, "profits mightily each Yuletide season from an outpouring of Santa-themed dreck."
In a segment accompanied by lots of zippy graphics, Murphy analyzes hacked North Pole emails. The secret correspondence, he declares, proves the Santa industry suppressed data showing that sugarplum visions have actually declined over the past decade. Asks Rex: "If there's a Santa, why did I get such crappy presents last year?"
A Christmas Carol
Dec. 18, Global, 7:30 p.m.
Banker Ebenezer Scrooge is visited by a ghostly trio who show him how his reckless speculation imperiled the global economy. First thing in the morning, Scrooge lays off Bob Cratchit and gives himself a massive bonus.
Away With the Manger
Dec. 18, Shaw Cable, 8:30 p.m.
The Vancouver Park Board shuts down the Children's Farmyard in Stanley Park and the Bloedel Conservatory in Queen Elizabeth Park. Will a Christmas miracle save them? No.
Code Name: Rudolph
Dec. 20, CTV, 8 p.m.
Based on a thrilling true story. Acting on a tip that Santa plans to rip up his Coca-Cola endorsement contract and disrupt the Olympic torch relay, B.C. police forces plant a red-nosed undercover agent at the head of Santa's team.
Rudolph's cover is blown when a senior officer brags at a conference: "You knew that Santa wasn't that organized when he flew over on a sleigh, and there was a cop leading the sleigh!"
It's a Wonderful Life
Dec. 20, Global, 9 p.m.
On Christmas Eve, a despondent Moe Sihota wishes he had never gotten involved in politics. Clarence, Moe's guardian angel, comes to earth to show him all the fun the Victoria Press Gallery would have missed if Moe had never run for office.
Inspired by the vision, Moe becomes president of the B.C. New Democratic Party. In a giddy final scene guaranteed to put a lump in your throat, Clarence gets his wings while Liberals and pundits alike rally round to celebrate Moe's return.
A Christmas Story
Dec. 21, CBC, 8 p.m.
Ralphie yearns for an official Red Ryder carbine-action 200-shot range model air rifle with a compass in the stock. When Parliament votes to wind down the long-gun registry, it looks like he might get his wish.
Will Ottawa scrap the registry in time for Ralphie to get his rifle? Will Ralphie shoot his eye out? Will the conflicting views of urban and rural Canadians ever be reconciled on this hot-button wedge issue?
In the words of Ralphie's father, "Dadgummit!"
The Gift of the Magi
Dec. 24, Bravo, 8 p.m.
Big Beefy Bob, owner of Big Beefy Bob's Big Beefy Burgers, is in love with Gord. Of all the things he loves about Gord, the one thing he loves the most is Gord's $6-an-hour minimum wage for first-time workers.
Big Beefy Bob loves Gord's $6-an-hour minimum wage for first-time workers so much that he gives Gord a big bag of money for an election present.
But Gord has a present for Big Beefy Bob, too. In a poignant twist ending, Gord surprises Bob with a new harmonized sales tax. Big Beefy Bob is overwhelmed when he calculates that the new harmonized sales tax will add seven per cent to the cost of a Big Beefy Burger with fries.
"Next time, I will have no big bag of money to give you for an election present," a teary-eyed Big Beefy Bob tells Gord.