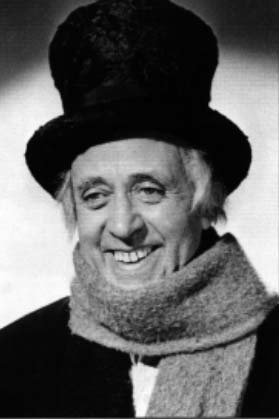 TheTyee.ca
Now at the closing of the Old Year, as our thoughts turn to hope for the New Year and reflection on the Old, we should spare some kind thought for those less fortunate, who are not able to spend Christmas in the manner in which they would choose.
I refer, of course, to the late Mr Ebenezer Scrooge.
Very nearly all we know of Mr Scrooge are the facts gleaned between the lines of a libelous serial article published by one Charles Dickens in the winter of 1843. Here are the bare bones of the case:
At the time of writing, Mr Scrooge was a seemingly diligent businessman of extremely modest taste and habit. Although the exact nature of his business is not revealed to us, we may surmise that he was engaged in some form of money-management, for had he been involved in any of the truly horrific practices of the day -- sweated child labour, unsafe machine-shops, underwriting slave-cargoes &tc. -- you may be sure that the moralizing little psalm-smiter Dickens would have thoroughly rubbed our faces in it.
Therefore, as a money manager Scrooge was making a living in about as ethical a fashion as was possible (even by today's standards, for very few fortunes are made with clean hands).
Slurred for his heritage
As to his personal habits, including the fact that his business occupied his every waking moment: He had but one living relative in his nephew, an extremely well-off individual who in no way suffered from any lack of attention on Ebenezer's part. And so what better way for a single man with no dependants to occupy his time than to immerse himself in his career?
On the evening in question, Mr Scrooge had his usual evening meal of soup and a crust of bread washed down with some "small beer" and then retired to bed. We may draw two conclusions from this:
One, that Ebenezer Scrooge is a Presbyterian Scot, and his name does suggest this. The long-vowel family name has a certain comic-opera "Scottishness" about it -- in the same sense that Americans insist that we Canadians say "oot" and "aboot" for "out" and "about", although that's not as funny as their persistent "ruf" and "crik" for "roof" and creek". And his given name was common in the Borders region until it was blackened by association by Chas. Dickens (in the same way that German boys are no longer christened "Adolf"). As a good Presbyterian Scott, Scrooge's moderation would be an act of piety much like the Hindi verb pujah, denoting (usually ascetic) human actions performed as exponent of prayer. If so, our hack author Dickens has put a spin on an old racist slur -- Shakespeare having gone over the anti-Semitic ground pretty thoroughly in "the Merchant of Venice"; or
Two, that Ebenezer Scrooge had overdone it a bit in his youth and was paying the price in his old age. This is the more likely scenario, as he would have been a young man during the Regency, an era when excesses in wine, women and song were practically mandatory. Certainly the reminiscent account of old Fezziwig's Christmas party would support this possibility, in which case our mister Dickens is mocking a senior citizen with a disability.
Possibly BOTH scenarios are accurate: An educated young buck of the Scottish Enlightenment era goes south to London to make his fortune in an age when many such were doing so (and inventing the entire Industrial Revolution while they were about it), finding himself free of the restraints of the Kirk. Many old prudes become so out of ungrateful memories of their youthful indiscretions. I could write a book of my own for that matter, but I never felt a moment's shame and still don't.
Facing down freeloaders
Mr Scrooge had the happy opportunity earlier that day to turn away a couple of freeloaders allegedly collecting for the poor. Then as now we are plagued with these vultures: "Your Generous Donation Makes Continued Solicitations Possible!" or "Help Keep This Bureaucrat At His Desk!" With the possible exception of Medicines Sans Frontieres (Doctors without Borders) they are all a pack of jackals.
Mr Scrooge had the pleasurable duty to direct the two poverty-pimps to the socially-sanctioned relief agencies as he showed them the door. "Are there no prisons? Are there no Workhouses?" There's one of my favourite lines in Literature.
There WAS however have one charitable cause to which Mr Scrooge was a tireless subscriber, and one for which he sought no public acknowledgement. This anonymous act of charity for its own sake is one the various "telethon" ego-hounds would all be well to emulate:
He continued to employ a certain worthless, incompetent clerk named Robert Crachitt.
We know that Crachitt was incompetent for several reasons:
Unemployment in the early 1840s was virtually zero, in the middle of the greatest economic boom the world has ever seen. Anyone who could work, did work. Skilled labour was a highly-prized commodity with demand far exceeding supply, and therefore if Crachitt was competent he would have found a better-paid job elsewhere.
Furthermore, if as we surmise Ebenezer Scrooge was of the Scottish Diaspora who were setting the world of commerce and industry on its ear, any clerk of his who had paid the least attention to his employer/mentor's business methods would have been able to write his own ticket. Perhaps that's why all of the other clerks' desks in the office are vacant.
Population control progressive
And finally, Dickens portrays Bob Crachitt as a genial oaf whose sole aptitude lies in having more children than he can afford to feed. The alacrity with which Tiny Tim regains his health after Scrooge coughs up the money suggests rickets or some such condition arising from malnutrition. As anything that receives a subsidy becomes a growth industry, we can only assume that after the cash windfall the Crachitt family resumed breeding until the status quo had re-established itself.
Be that as it may, Mr Scrooge retires to his bed after an apparent whisky-punch flashback in which his deceased former business-partner suffers from a fit of maudlin self-loathing. Mr Scrooge rightly has no time for the whining shite, and off he goes to bed.
During the night, our Mr Scrooge is taken hostage by three kitchen-poster terrorists (admittedly dead terrorists, but cutbacks are upon us and we all must make do, &tc). Two of them look suspiciously well-fed. Perennially Indignant Cappuccino Crusaders have been, it seems, always with us, which leads me to paraphrase a conversation between P.J O'Rourke and another journalist:
"How come whenever something upsets the Left you see immediate marches and parades and rallies with signs already printed and rhyming slogans already composed, whereas when something upsets the Right you see three letters in the National Post?

"We have jobs."
Night of the shakedowns
Any roads, this is nothing more noble than a home-invasion cloaked in self-serving rhetoric, and the three are expressedly bent on a shakedown. The first terrorist, with the typical bullshit nom-de-guerre of "Ghost of Christmas Past" (his real name is probably Chauncy Trustfund) holds up Mr Scrooge's past for critical review. "I made my mistakes as any man will, and I live with 'em as every man must. Let the Dead Past bury its dead," says our man.
Undaunted, "the Ghost of Christmas Present" (and not Christmas Presents, as I was led to believe in my youth) who looks like Hagrid in a dressing-gown and speaks as though his head were down a well, reveals the misery of the contemporary world for Mr Scrooge's perusal. "What can one man do?" pipes up Ebenezer, implying: "And I notice YOU standing idle as well, and you make like you actually CARE for these folk! You're worse than the UN in a non-oil-producing African country. Bugger off."
Their shakedown falling to pieces around them, the Third Terrorist comes up for his inning. He's the heavy of the three, having actually been to Patrice Lumumba University in Moscow and has been taught how to properly put the frighteners on someone. Either that, or he hasn't yet received his Actor's Equity card, for he has no spoken lines and we don't get to see his face.
He's been watching the other two and he knows that it's him or nought. Daybreak is coming and they have to get their mother's car back to West Van. So, coffee-house rhetoric having failed, they put a gun to the kid's head ("I see an empty chair by the fire, and a wee crutch with no owner") and then to Scrooge's own.
"Your money or your life!" -- Why didn't they just say it? The threat works, and the story closes with our boy Ebenezer ambling about with a rictus leer on his phiz, allowing the Crachitts to help themselves to the contents of his pockets. Watch the last scene of the 1951 film closely ("Scrooge was better than his word....) Alastair Sim has it to perfection, the trapped grin of a man who knows that he's being watched, and whose shoulder blades are itching like hell at the point where he imagines the gun pressed to his back.
Modest queries
So, in closing, three questions:
Was this the best that this so-called Literary Lion could produce? No wonder the Illustrated London News went under.
Was he writing this under a deadline at work, and was there no "boss.alt" key on his quill pen? And, most importantly:
What the hell sort of moral tale is this to hand out to kiddies at Christmastime: "It's better to give than to receive, especially when your life is being threatened." It beats Hallowe'en all hollow: "I want you to never take candy from strangers, except when I tell you to go extort it from them".
I really don't think that humans are ready for self-government yet.
Happy Christmas.

Robert MacDonald, a Vancouver writer, wooden boat craftsman and postal worker, actually considers himself an optimist.