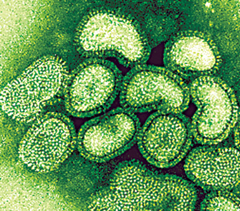 For more than four years I've been part of Flublogia, a small community of gentle cranks. We've been worrying about avian influenza, particularly the H5N1 strain that's infected about 400 people and killed 250 of them.
We agreed that we needed to prepare, so that when the pandemic hit we could deal with it both individually and as a society. And until it hit, we tracked the news from Indonesia and Vietnam and Egypt, worried about each human case and always seeking more information than we got.
As the author of H5N1, I was among the loudest complainers about the lack of information, whether from Indonesia or the World Health Organization.
Then, last week, we got sucker-punched.
Out of nowhere, a different flu appeared, right here in North America: H1N1. It was in Mexico, not Asia or Africa, and the first we heard about it was last Wednesday
I posted a couple of stories about it. But the big items that day were a string of H5N1 deaths in Egypt, and more suspected cases in Indonesia. Swine flu was a distraction. And at the end of the day, I'd had 652 visitors -- maybe a little more than average, thanks to the Egyptian deaths.
On Thursday the stories about swine flu began to multiply, and I was scrambling to cover them as well as the regular bird-flu reports. A medical reporter sent me a swine-flu tip and added: "For the first time, I've got a sinking feeling in my stomach."
By the end of the day I'd brushed up on my Spanish by visiting Mexican newspapers' websites and doing rough translations. And the visitor traffic was soaring: My average for the past week was about 500, but on Thursday the total was 1,442.
Friday was even worse. A young woman died of H5N1 in Vietnam, and another in Egypt, but their stories were lost in the flood. All my complaints about lack of information came back to haunt me.
Blogging in two languages
To cope, I built a list of links to Spanish-language flu resources, and another of sites dedicated strictly to swine flu (such sites appeared almost instantly). Trying to save time, I ditched the translations in favour of summaries of Mexican headlines... which were stunning in themselves.
Schools were closed, keeping 6 million students out of class in Mexico City, and millions more elsewhere. Soccer teams still played, but in empty stadiums. In the Basilica of Guadalupe, the holiest shrine in the country, mass was celebrated behind closed doors, while the faithful watched on TV.
By the end of Friday, 4,430 people had visited my blog. Normally the weekends are quiet; the previous Saturday I'd had just 307 visitors. On Saturday the 24th, the total was 5,734.
And when I checked my referrals to see where all these people were coming from, I was shocked again. They were coming from big U.S. political blogs like Washington Monthly and Marginal Revolution, even InstaPundit and Little Green Footballs. Memeorandum aggregates news stories and the blog posts they generate; my blog was there on Saturday night, linked to a New York Times story on the eight kids with suspected swine flu in Queens.
Information overload
My fellow flu bloggers were getting similar traffic, and facing similar information overload. By Sunday, the B.C. Centre for Disease Control had confirmed two swine-flu cases here. By 2 p.m., I had 87 followers on Twitter and 4,000 visitors, and I was giving myself long breaks to walk the dogs, just to clear my head.
The walks also gave me time to reflect on the phenomenon. I'd often thought about the pressure that flu bloggers would be under if a real pandemic broke out. But I'd tended to think of them as hardware problems, server crashes, even power outages. After four years of two-paragraph announcements of bird-flu deaths, I never imagined that the sheer quantity of information would overwhelm the mere humans trying to make sense of it.
Whether H1N1 turns out to be a real pandemic with deaths in millions, or a flash in the pan, it's given new meaning to the idea of preparation. "Flu preppers" have basements full of canned goods and bottled water, expecting to hole up for weeks or even months while hospitals -- lacking "surge capacity" -- turn into charnel houses.
Meanwhile, it's teaching us where the strengths and weaknesses lie in our public-health systems as well as in our media. We can watch the Mexican government and learn from its successes and failures. So far, it's been decisive in shutting down public gatherings, but the system is clearly strained. Maybe next week, maybe next year, we'll have to be able to do at least as well as the Mexicans.
Like our healthcare system, our information infrastructure will also be under heavy stress. Flublogians fret about hospitals' surge capacity, but our own capacity hasn't handled this news surge very well at all.
I hope we flu bloggers learn how to do better as gatherers and disseminators of information. No matter what happens, the gentle cranks of Flublogia will keep blogging -- about bird flu as well as swine flu.
Related Tyee stories: