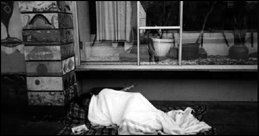 Just a year ago, The Economist named Vancouver "The World's Most Liveable City." It has features other cities can only envy: a breathtaking mix of ocean and mountain, a vibrant multi-ethnic population and a culture of innovation and eco-sensitive practices and policies.
I live in Ottawa at the moment, but my home and my heart are in British Columbia. Every time I return to Vancouver, I see it changing: the downtown is densifying and gentrifying; the line-ups for buses are longer; more and more cars are clogging transportation corridors. In this beautiful city I see more want and destitution -- and not only in the infamous Downtown Eastside.
While Vancouver has so much to offer, an increasing number of its citizens are being excluded from enjoying, taking part in and contributing to this vibrant city.
A new report titled Social Sustainability in Vancouver examined the trends and challenges facing the people of Vancouver. The report was prepared for Vancouver City Council to kick-start a planning process aimed at ensuring Vancouver is able to meet its present needs without compromising the needs of future generations.
There is a lot of good news -- Vancouver ranks high with respect to personal safety, health care, arts and culture, diversity, education and infrastructure. Vancouver is a thriving world-class metropolis, currently the second most popular destination in Canada for new immigrants, particularly those from China and South Asia. And Vancouver will be host to the 2010 Winter Olympic Games, spurring investment in physical and sports infrastructure that will serve the area for many years to come.
But there is plenty of not-so-good news as well. The social and economic trends suggest that Vancouver is moving away from -- not toward -- social inclusion and social sustainability.
Here are some examples:
Working Poor: For such a prosperous community, there is a surprising number of Vancouver residents who have low incomes -- one in 10 workers, more than 25 per cent of households in 15 of 23 neighbourhoods, one of the highest rates of working poor of any major city in Canada. Although average incomes have been rising, most of the growth has benefited high-income households, increasing income inequality, the gap between rich and poor, and the schism between high-skill, high-paid jobs and low-skill, low-paid jobs.
Housing: Housing costs have rocketed beyond the reach of middle-income families. Housing affordability has forced some low-income families to congregate in neighbourhoods that, at best, lack the features and amenities that benefit and support children and parents. Homelessness has doubled in recent years and non-market housing for Vancouver's vulnerable populations has been disappearing.
Visible Minorities: There is a higher concentration of low-income households among racially visible populations and Aboriginal peoples. And both of these groups experience greater difficulty in accessing employment. Aboriginal peoples continue to suffer consequences of ongoing overt racism and exclusion on many other fronts.
If current trends continue, the number of Vancouverites suffering from social and economic exclusion will increase, threatening the city's long-term social sustainability. Population growth and changing demography may further compound these social challenges.
In 25 years, the population of Greater Vancouver is expected to rise by one-third, to nearly three million people, with most of this growth from migration and immigration -- not because of residents having children. As the population ages, Vancouver will be dominated by people of middle age and older, with relatively fewer children and youth.
An aging population has consequences, particularly for health and health care. People may live longer, but with illness and sometimes disability. The majority of seniors will be living alone, meaning health services, particularly home care, will be stretched further. And the middle-aged children of these seniors face their own caregiving crunch -- their lives consist of raising school-aged children, working full-time and caring for elderly parents.
There are opportunities and challenges that come with a population increasingly comprised of immigrants and racially visible people. Immigrants bring a rich tapestry of language and culture that contributes to Vancouver's social and cultural dynamic. Immigrants help to sustain the labour force, and if young enough, also have families that help to sustain the number of children and youth. The challenge in supporting immigrants and their families is to ensure that ESL instruction, settlement programs and integration supports are adequate to meet their needs. Ethno-cultural organizations have indicated that current capacity is already strained.
Can Vancouver turn it around?
Given these changing demographics and social challenges, Vancouver will need to find new ways to ensure all populations are represented and engaged in all aspects of civic life, from electoral politics to community organizations and schools.
Threats to social sustainability in Vancouver are real. The "Most Liveable City" vision requires renewal through a range of initiatives that ensure residents' basic needs are met, ensure they can develop their capacity, and ensure that communities foster the inclusion and development of all residents.
The city cannot do it alone. Sustained government intervention at provincial and federal levels is also needed to contribute to social and economic security for Vancouverites. And all levels of government have to work collaboratively with the non-profit and private sectors to find and implement timely and effective solutions. Vancouver can build on cross-sectoral collaborations already underway, and learn from similar activities in other cities in Canada.
The time to act is now.
David Hay is the director of the family network of Canadian Policy Research Networks, which is a not-for-profit institute with a mission to create knowledge and lead dialogue on social and economic issues important to the well-being of Canadians.