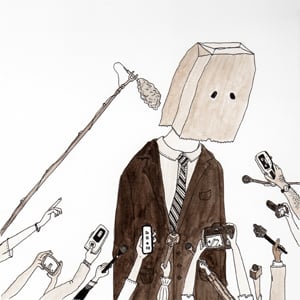 [Editor's note: This is the nineteenth in our "Some Honourable Members" series, depicting the more dubious moments in B.C.'s political history, brought to you by veteran muckrakers Tom Barrett and Tom Hawthorn, one a day until election day.]
In a time of restraint, Peter Hyndman was a high flyer. Minister of consumer affairs in Bill Bennett's Social Credit government, Hyndman was an urbane charmer who pundits thought might be the next premier.
As Hyndman's career was taking off in the early 1980s, B.C. was being walloped by the worst downturn since the Great Depression. Bennett's response was a highly publicized "compensation stabilization program" intended to hold down government workers' wages.
But as the government proclaimed its intention to hold the line on spending, Hyndman was having problems with his own government spending. Clerk Alayne Falle had been questioning his expense accounts for months. She spoke to a senior ministry official, who laughed at her concerns. So she began to photocopy Hyndman's claims.
Several months later, Falle had a cardboard box full of expense claims worth some $10,000. She gave it to her MLA, a New Democrat. The NDP gave it to the Vancouver Sun.
After wading through the documents, the Sun put together a list of questions for Hyndman. Hyndman said he'd be happy to answer them. At the appointed hour, two Sun reporters -- Jes Odam and I -- showed up in Hyndman's office. While we cooled our heels in his waiting room, Hyndman slipped out a side door and hustled down to the legislature's press theatre, where he announced that the Sun was subjecting him to an "arrogant inquisition" that he would have no part of.
"I want the Vancouver Sun to know that I will not be intimidated, that I will not be threatened," he declared.
Hyndman turned the matter over the auditor-general, Erma Morrison, a move the government felt would be less damaging than calling a public inquiry or referring the matter to the legislature's public accounts committee.
For the next several days, the Sun printed a series of questions for Hyndman, along with details from Falle's photocopies. Hyndman had expensed everything, from cartons of milk from the CNIB convenience story on the legislature grounds to a $1,500 stay at a luxury resort in Arizona he said was part of a quest to learn about that state's legislature.
There was a $61 claim for a dinner with Vancouver Sun publisher Clark Davey that never happened. Hyndman's story was that he saw Davey walk through a restaurant just as he was paying his bill. He wrote Davey's name on the back of the credit card receipt as a reminder to give Davey a call some time. Somehow, he said, the receipt was submitted by accident. (He paid the government back for that meal, along with another $265 in mistaken claims.)
For a recession-squeezed public, the item that stood out was a dinner at Vancouver's Il Giardino restaurant with Hyndman's wife and two other couples. The bill came to $374, including four bottles of Pouilly-Fuisse wine at $37.50 each -- $97 a bottle in today's dollars.
The auditor-general's report was tougher than Hyndman had expected. Morrison found he had been "completely oblivious" to public sector expense procedures, and that he had been careless, inept and unbusinesslike.
Hyndman declared he would stay on in cabinet; three-and-a-half weeks later he resigned, saying it was for the good of the government and the Socred party. A week after his resignation, a lengthy RCMP investigation concluded there was no evidence to charge Hyndman with fraud. But by then, his political career was finished.