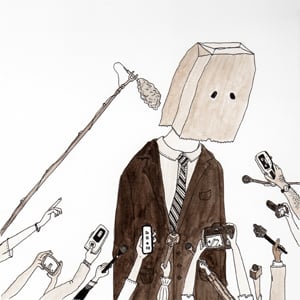 [Editor's note: This is the seventeenth in our "Some Honourable Members" series, depicting the more dubious moments in B.C.'s political history, brought to you by veteran muckrakers Tom Barrett and Tom Hawthorn, one a day until election day.]
Even at the best of times, there are more than a few similarities between B.C. politics and a WWE Hell in a Cell cage match. But on some occasions, honourable members have tried to turn the people's business into a real bare-knuckle sport.
Consider the Brawl in the Hall, when six foot, 210-pound Liberal tourism critic Rick Thorpe threatened to punch out five foot nine, 160-pound then-premier Glen Clark. The two were having a heated discussion outside the legislative chamber when Clark put his hand on Thorpe's lapel.
"Get your hands off me or you'll be down, bud," growled Thorpe.
Clark wisely beat a quick retreat.
As a two-fisted lawmaker, though, Thorpe doesn't measure up to "Fighting Joe Martin," who served briefly as premier in 1900.
In 1902, Martin claimed to be leader of the opposition, even though opposition members preferred to be led by Richard (the People's Dick) McBride. On Feb. 20, when members of the house rose to pray, Fighting Joe slipped into McBride's chair.
"When McBride sat down, he found himself in the lap of his enemy," Martin Robin wrote in his history The Rush for Spoils. "Fisticuffs ensued. Smith Curtis grabbed Martin and was seized in turn by Hugh Gilmour. James Hawthornthwaite, the Socialist MLA, incensed at the display of Predatory Capitalism, throttled Gilmour. E.C. Smith of the Kootenay, now witness to a class war, pummelled Hawthornthwaite.
"All the while, the tenacious Martin clung lovingly to McBride's neck. A legislative stalemate had obviously been reached."
In any legislative Lethal Lockdown Match, though, the victor might well have been the tempestuous Waldo Skillings, government whip in the days of W.A.C. Bennett. One night, during one of the around-the-clock sittings that Bennett favoured to push through his agenda, Skillings took on an opposition member who was haranguing the premier in the legislative dining room.
As Bennett biographer David Mitchell wrote in a 1983 piece for the Canadian Parliamentary Review, Skillings "slugged the offending member and shoved him down a flight of stairs. Surprisingly unharmed, the Opposition member climbed back up the stairs, kicked Skillings with great force in the shins, then rapidly retreated from the dining room.
"Waldo Skillings, limping, pursued; but, perhaps fortunately, could not catch up with him."
Waldo Skillings. He was hardcore.