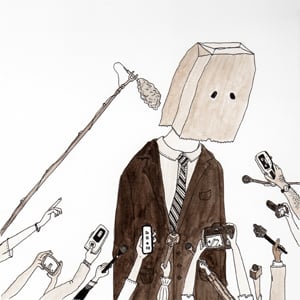 [Editor's note: This is the sixth in our "Some Honourable Members" series, depicting the more dubious moments in B.C.'s political history, brought to you by veteran muckrakers Tom Barrett and Tom Hawthorn, one a day until election day.]
The rental car lurched across the double solid white centre lines on the two-lane Honoapiilani Highway on Maui.
The car swerved across a bike lane and it raced along at 70 miles per hour past signs indicating a 45 mph limit.
After the car sped away from a red light, a patrol officer officer pulled it over. He noted a strong smell of alcohol. The 54-year-old driver had oily skin and bloodshot eyes. The driver explained he was tired and trying to get home. It was 1:13 a.m. on Jan. 10, 2003, and a traffic stop would soon find its way to the headlines.
After failing a field sobriety test, the driver was taken to the main police station in Wailuku. He smiled stupidly for a mug shot. A test indicated he had a blood alcohol level of 0.149, well above the state limit of 0.08.
The driver, Gordon Muir Campbell, issued identifying number 03-02659 by Maui police, would spend the night in the drunk tank, where, according to a story quashed by Vancouver Sun editors, he began to sleep off his night's festivities so close to the toilet that a fellow inmate took pity and woke him up.
Campbell would ultimately plead no contest to the charges he faced for speeding and erratic driving. Luckily for him, drunk driving in Hawaii is regarded as a less serious crime than it is in British Columbia. A misdemeanour there, a criminal offence here. The premier was fined $913 U.S. (about $1,350 CDN). He was evaluated for alcoholism, underwent a 14-hour substance abuse program, and lost his driving privileges for 90 days.
"Mr. Campbell is sufficiently embarrassed and ashamed for what he did," said the judge, "as well he should be."
Only two years after winning a historic, landslide victory, including 77 of 79 seats, Campbell's political career seemed at the brink of failure. He returned home, where he salvaged his premiership with a bravura performance at a nationally-televised media conference at which his wife, Nancy, stood dutifully by his side. It was his 55th birthday.
Campbell was asked by a reporter why he had smiled for his police mug shot.
"I don't believe I was smiling," he responded.
Judge for yourself.
Campbell claimed to have had three martinis and some wine, though experts noted it would take a lot more alcohol than that to register a 0.149.
"I had way too much to drink," he finally admitted.
Campbell pledged to stop drinking. The incident was all the more painful for his family, as Campbell's father, a physician and an alcoholic, committed suicide when the boy was 13.
Campbell ignored demands to resign, hanging on to power for another eight years -- and more scandals to come.