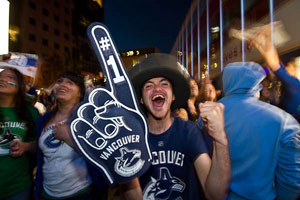 Don Cherry is a blowhard. He's a loudmouth, a fool, a professional yahoo. So it hurts when you rely on Cherry to tell you the truth. "Stop whining," he told the Vancouver Canucks on the Oct. 29 edition of Coach's Corner. "Why does everyone hate Vancouver?"
Why does everyone hate Vancouver? There are surely Canucks fans blissfully unaware that everyone did. But safe to say that by now most locals who are paying attention have heard some of that talk. It was common during last spring's Stanley Cup run and persists today -- the perception that this edition of the Canucks has taken over from the Leafs as Canada's Most Hated. It's just that we don't generally hear it from our hometown writers and broadcasters. It has ever been thus -- to get the truth about your local sports heroes, you must listen to the out-of-towners.
There are plenty of good reasons to hate the Canucks. Non-fans can hate them for the ridiculous amount of attention they garner from local media and their millions of supporters. As a fan you can hate them for their endlessly frustrating history. And personally, I hate that I love them so. I cannot justify to myself or anyone else the giant chunks of my life that disappear down the sinkhole of Canuck love. I hate that.
That kind of hate is our own business, though. The Canucks are our team. Nobody really knows what goes on inside an intimate relationship. It's different when you hear that strangers hate them. Them's glove-dropping words.
Tell us, we can take it
All the same, as fans we want to hear the straight goods about the Canucks from trusted scribes and broadcasters. That's why it's annoying that we have to wait for outsiders, like a TSN or Satellite Hot Stove panel, to hear honest assessments of Canucks players. It may not be a surprise to learn that Alex Burrows and Max Lapierre are battling for last in the Mr. Congeniality race. But isn't that part of the sports story? And more importantly, if there are legitimate issues involving team chemistry, should they not be getting more ink in this NHL-obsessed market?
Covering a sports team is about maintaining relationships -- with players and with management. Call out a player too harshly and good luck getting a post-game quote from him or his buddies next time. Alienating owners and management can be even worse.
Mike Halford of NBC Sports doesn't have to worry about keeping fences mended. So he can write, as he did this week: "Vancouver is the NHL's most despised team -- by a longshot."
Halford was reporting on recent radio comments by retired Bruins forward Mark Recchi that the Canucks were the most arrogant team he'd played against in his 22 year career. He took Recchi's remarks with a grain of salt. But he did report on them.
It does happen that local writers get on the wrong side of the Canucks. Province columnist Tony Gallagher was famously at odds with former Canucks GM Brian Burke, who refused to speak with him. For a reporter that could be a death knell, although a columnist like Gallagher can still opine without direct access.
But NHL teams own their own broadcast rights, and so members of the TV broadcast team are de facto team employees. You are not going to hear much straight talk from that quarter. Sportsnet Pacific team John Shorthouse and John Garrett are a pleasure to listen to, but that doesn't mean you're going to tune in for the straight goods on whose ass needs to be kicked or which player is widely disliked.
Booing Lu
Roberto Luongo is a different story -- he falls into a category all his own. He's been poked and prodded and dissected like a dead frog in a high school lab. With all the head shrinking Lou's been subjected to, it's no wonder he needed that new mask this year. They might as well have swapped it for a portable MRI.
But even the much-maligned Luongo can count on the discretion of the broadcast team. When goalie Corey Schneider let in some weak goals during Wednesday night's debacle vs. Chicago, virtually every fan watching must have been thinking Luongo's best games are the ones he spends on the bench. Would Shorthouse or Garrett ever make a remark like that? Only if they were struck by sudden-onset Tourette's. And when Luongo let in a soft blueline blooper during the previous Canucks-Blackhawks game Nov. 6, Shorthouse and Garrett danced around the subject like Herman Cain discussing his love life.
And as much as Luongo has been scrutinized in this market, the out-of-town chorus can still be more brutally direct. Just before Game Seven last June, Gerry Callahan of the Boston Herald wrote this about the Canucks' mega-bucks goalie:
"If he were a criminal defendant, he would be declared unfit to stand trial and sent to the nervous hospital for evaluation. If he sat next to you on a flight, you'd pretend to sleep until the pilot announced your initial descent. You wouldn't even think about wrestling him for the armrest. If he bought the house next door, you'd move. He looks like Sacha Baron Cohen, but carries himself more like a recent Mel Gibson character -- specifically, the one who talks to his beaver puppet."
Callahan went on, gleefully, to predict almost certain victory for the Bruins simply because the Canucks had a head case between the pipes and the Bruins had someone sane, with a pulse rate that was not escalating like the national debt.
I recall the sinking feeling I got while reading Callahan's diatribe. Because, vicious though the column was, it had the clear ring of truth. I felt as though I was visiting a brutally honest fortuneteller. The Canucks were doomed. It was all over but the rioting.
As a fan, I am endlessly curious about my team. And as I watch the Canucks flounder this season I would sincerely like to know if there are in fact psychological issues that hinder them. I understand that local reporters must take care not to antagonize the men who represent their livelihoods. But it's the fans who pay everyone's meal ticket. Give it to us straight.