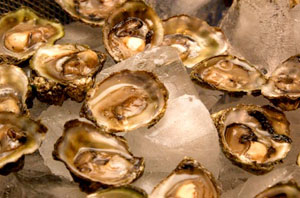 I've lived on the Pacific shore for more than a decade, yet I have never knowingly eaten an oyster. Then again, most British Columbians have never eaten an oyster that is actually native to this coast. That's right -- the famous Fanny Bay oyster and other familiar varieties from local fish shops and restaurants are introduced species. The exception is the Olympia oyster, Ostreola conchaphila, and I have five dozen of them heaped in front of me for shucking.
I'm really going to earn that first taste of oyster.
Until about 1913, any oyster I ate on the coast from at least northern B.C. to southern California would have been an Olympia -- making the "Oly" (as it's known to its fans) a potent symbol of our historical relationship to the sea. Today the Olympia oyster has largely vanished both from our shores and our collective memory.
"Although there was such a large Native population here and I think they had fished them down a bit, the real kiss of death was black liquor pulp mills," explains Brian Kingzett of the Centre for Shellfish Research at Vancouver Island University in Nanaimo. The region's first kraft pulp mill, in Puget Sound, began dumping the toxic liquor into the inside waters in 1927. Within a year, the oyster industry there had disappeared, and the Olympia oyster was fast becoming one of a long list of marine species to crash under pressure from human activities.
Threats to the Oly over the past 150 years have ranged from overharvesting and pollution to habitat loss and the introduction of non-native parasites and predators, according to a new Department of Fisheries and Oceans report. Add the oysters' natural sensitivity to temperature extremes and a relatively low reproductive rate, and it's a wonder there are any Olympias left in B.C. at all. The DFO designates them a species of "special concern," with a population that "appears to be stable at low levels relative to historic accounts."
Yet the Olympia oyster survives and, in places, thrives. Last summer, Kingzett and a handful of colleagues, including representatives of the Puget Sound Restoration Fund, organized an expedition to Nootka Island off the west coast of Vancouver Island. There, in the distant past, thousands of sacks of oysters had been harvested for sale in Seattle and Vancouver. Kingzett had seen plenty of Olympias on Nootka's shores in the early 1990s, and was relieved to see the oyster beds were still full.
"We learned that Olys and humans can live well together," writes Rowan Jacobsen, an author who joined the expedition while researching his upcoming book The Living Shore. "Olys don't need to be coddled or walled off to thrive. They have been and can continue to be an important source of food and habitat for a variety of creatures in the area, including Homo sapiens."
Small oyster, big flavour
Yet getting a taste of local history is harder than I expected. I'd heard rumours that Olys turn up at Rodney's Oyster House in Yaletown, but crew chief Jesse Bray says they don't carry them often. People are "looking for bang for their buck," says Bray, and customers tend to choose the introduced varieties, which are larger. It's the same story at local seafood shops.
The place to find Olys is south of the border along Puget Sound. There, a handful of oyster farmers raise Olympias for buyers who've fallen in love with the story and the taste of our coast's original oyster. Rather than hitting the road for your fix, though, you can call Fanny Bay Oysters on Vancouver Island; their parent company, Taylor Shellfish, cultivates Olys on six farms in Washington, selling 15,000 dozen last year.
At U.S. $8.50 per dozen and a five-dozen minimum order, an Oly purchase is an excuse for a party. With a more experienced friend giving tips, I get down to shucking. A typical Olympia oyster is not even a quarter the size of its big, non-native cousins, and fits neatly in the hand like a perfect skipping stone. The outer shell is swirled with muted blues, greys and greens, while the interior is a luminescent counterpoint to the delicate, creamy grey flesh. I quickly get into a satisfying groove. With 60 Olympias lovingly shucked and laid out on ice, the payoff could begin.
Though small, Olys are famously flavourful. Because they are a different genus from the introduced Pacific oysters, they taste completely different. "People wax on about how French Bélon oysters are the best oyster. Well, the Olympia oyster is related to those," says Kingzett. "A little tiny Olympia oyster that only has a tablespoon of meat in it will actually have as much flavour to it as a cup of the Pacific oyster."
In his book Consider The Oyster, chef and champion shucker Patrick McMurray writes that "a classic Oly tastes of sea salt to start, sweet cream, seaweed, earth, fresh-cut grass -- a taste unique among oysters. Its dry metallic finish will last for up to 15 minutes, if you let it." To me, it tastes like nothing I've ever experienced. The flavour is primal, and it suddenly seems as though the sea is lapping gently at the edge of the table.
"This is a thinking man's oyster, to be eaten without condiments," writes McMurray, and I find myself nodding in agreement. Then again, they also taste sensational with a dash of local blackberry vinegar or a drop of good gin.
Bring back the Oly
The salty-sweet taste of the Olympia oyster may not be so elusive for long. In 2003, Slow Food USA added the Oly to its Ark of Taste, a catalog of "delicious foods in danger of extinction." Meanwhile, the efforts of the Puget Sound Restoration Fund are growing.
"It's one of those iconic native species along the west coast. It co-evolved with other native species in this area," says Fund executive director Betsy Peabody. "It's great to have a native a species that has been pushed down to such a critical level but still maintains a foothold. There's an underdog quality to this oyster that makes people want to fight for it."
At long last, there are also moves in B.C. toward restoration of our native oyster. The Centre for Shellfish Research is partnering with the university's culinary program to link ecological restoration with the explosive interest in local foods. The centre's Deep Bay Field Station will work to raise and possibly farm the oysters, while the school's teaching kitchen will figure out great ways to serve and promote them.
"The gastronomic connection is what really drives it home," says Kingzett. "I can bring people out on our boat and show them the marine ecology, show them healthy salmon streams that go across the oyster bed, pick some of those oysters, take them up and teach them how to cook them. When you start feeding people, that cements the image."
Olys have a long way to come back, and some question whether it is worth the effort, says Kingzett. Though Olympias settle in habitats that other oysters don't use, creating a unique habitat for other species, introduced oysters and other shellfish play similar ecological roles to the Olys.
"Having said that, these things were very abundant and now they're not," adds Kingzett. "If we can restore them even in a limited area, what we're doing is proving that we can maintain some high levels of ecological integrity from an indicator species."
There is also, among fans of the Oly, a sense that the restoration of the original oyster would have symbolic weight -- an acknowledgement of past errors and of a commitment to live more wisely on the landscape that sustains us.
"When you start doing something as unique and ecologically sensitive as the Oly oyster, you're bringing in some sentiment," says Kingzett.