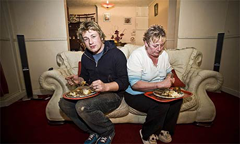 Jamie Oliver wants to change the way all Britons eat. He wants every single one to learn how to cook. And St. Jamie is comin' 'atcha though the cable box with a big marketing machine behind him. Look out, North America, you could be next.
He's not the first celebrity to preach the gospel of health food and home cooking. In fact, it's getting kinda hard to tell the difference between ordinary food enjoyment and foodwashing with the number of mainstream and cheffy celebrities endorsing recipes, cooking shows and stainless steel pots, Jamie Oliver included (more on him in a minute).
Food has long been another way to prove you're a person of means and influence, as with the fashion or art worlds. ("I so prefer morel mushrooms to pine mushrooms in risotto.") But it's also the health, social and eco movement du jour, with more reach than most -- I mean, unlike clear-cutting, homelessness, or the issue of yoga versus pilates (yes, a stretch issue, I know), every single person eats every day, so already has a... err...stake. And because of that reach, it's the newest pop-culture darling, securing for its advocates status points that are sometimes as blatant and obnoxious as SUVs a decade ago.
It hasn't always been this way. Sure, an expensive restaurant meal proved you were movin' on up, but not health food. Health food used to be for hippies. Remember the Moosewood Cookbook with its wobbly handwritten, often high-fat recipes, overloaded with cinnamon? Back in the '70s and '80s when I was growing up, shopping at the health-food store instead of Safeway, and cooking vegetarian food could easily smear you as a pot-smoking commie: not exactly the status most suburbanites were lining up for.
Yes, there have always been mainstream or celebrity people who ate healthily, but quite often they have been a little odd. In Truth or Dare, Madonna's 1991 "documentary," about her Blond Ambition tour, Madonna ate colorless and seemingly tasteless food from a plastic container three times a day. It was a big thing for her. In my mind, at the time, her willingness to give up taste and pleasure in order to achieve physical perfection and financial success spoke to her vanity more than anything else, and marked her as a little tragic.
On the other hand, my mom always had a veggie garden. She loved it, and we ate really well, but she didn't proselytize or rave about it. As household chores, we vacuumed, weeded the garden, did the dishes. It wasn't a thing.
Food, the 'ultimate class badge'
Now, of course, Michelle Obama's neo-Victory garden on the White House grounds has earned her almost as much media attention as her biceps (and the garden attention has all been positive). And Ivy League kids are jostling not for internships in e-banking in New York, but on organic farms, clutching dog-eared copies of Michael Pollan's The Omnivore's Dilemma.
"A few hope to run their own farms," writes the New York Times. "Others plan to work on changing government food policy. Some are just looking for a break from the rigors of academia... a summer on the farm provides respite from grim job hunts and as much bohemian cachet as backpacking through Europe. But for many students, farm life is a way to act on the growing enthusiasm for locally raised food and the increased concern over food safety and the environmental impact of agriculture."
Healthy food is the ultimate class and even fame badge. In her weekly e-newsletter, Goop, Gwynneth Paltrow often writes about how she eats almost purely organic food, and cooks for her family every day. And also about how because she loves to eat, she works out with a personal trainer six days a week in order to stay thin. Those are the three magic ingredients in the food class pie right now: healthy, often organic ingredients (expensive); home cooking (time and expertise unattainable for most); and thinness and external physical beauty (unattainable for an increasing number of people).
Tasting 'Ministry of Food'
So I watched the first episode of Jamie Oliver's Ministry of Food (which airs June 5th) jadedly, and rolled my eyes when one of the first voice-over lines was "Five-year-old Kaya has never had a home cooked meal."
Millionaire Jamie Oliver pulls up to Rotherham, a working class neighbourhood in his shiny Range Rover (so eco) and wants to help those poor people learn to cook. Sweet... like unrefined, non-fair-trade, unorganic sugar.
Yes, I know he did the school lunches campaign (and, yes, as a former teacher I was totally wooed by that, having witnessed post-lunch sugar-induced psychopathy), but the religion of food, preached through new ministries every day, has been starting to seem obscene.
"The key to this is everyone has to take f-ing ownership, it's about the home, it's about neighbours, it's about family," enthuses St. Jamie. "It's the holy grail to transforming whole country to be healthier, live longer, have a better relationship with food." Oh brother.
He talks to Kaya's mom. "We get take-away sometimes three times a week," she confesses.
"Does that mean four?" asks Jamie. She nods and they both laugh. It turns out it's seven.
She says her mom didn't cook, she didn't learn how to cook in school, and doesn't know what to do. She's clearly guilt-ridden about it and stressed. The veggie drawers in her fridge are full of chocolate bars. She's on social assistance and spends the whole thing on fast food. She says her kids are unhealthy. And though I'm jaded about food's link to celebrity, it's suddenly pretty impossible not to be moved by this young mother's situation.
In the cooking class, which Jamie holds, all reveal they're afraid to touch raw meat or fish. None have scraped a carrot. A few have never turned on an element on the stove ("a hob" on "the cooker," to use the British speak -- which add humors to the show for those of us on this side of the water).
A critic converted, like rice
Jamie Oliver clearly lives in a bubble (several people in the show tell him this outright which pleased me) but his efforts are still somehow endearing. One woman in the show repeatedly tells him people won't keep cooking because they can't afford the ingredients and he seems to get it.
"Why are people who are lost and vulnerable and eating f-ing shit in a tray and on the right track to dying young, and their kids... why can't a few little lessons solve that?" he wonders aloud, in one of his frequent, earnest, reality-TV-style soliloquies.
At one point, he talks about how hard it was to fly the first spaceship but they did it. And at that point, I almost turned the show off. But then he says "But Christ, this is just cooking. It's not rocket science." Um, well, OK then.
Jamie teaches them a few recipes (meat based), and Kaya's mother says she felt glee when she pulled it off. She says she got an adrenaline rush, butterflies in her stomach, real joy.
And I have to admit, watching, I did too.
She says she figured her kids would be overweight and unhealthy, and for the first time, she has hope. Jamie goes back to the young mom's home and helps her cook a meal. The voice-over says "This will be her very first home cooked dinner."
Jamie asks her daughter "How does that taste?"
"Lovely," says the five-year-old.
"Did she say lovely?" asks Jamie. The mother is beaming. Like a grinning fool, I realize I am too, as I'm staring at the screen.
Good living in difficult conditions
It's not all roses and pancakes. There's more than a slight gender problem with the show. Sure there are a couple of men in the eight-person cooking class. But it's really about the social stigma of working-class, single mothers feeding their kids junk food and, in response, a man rides in from the city in a silver SUV to show them the way.
It's also clear part of the premise of the show is whether those junk food moms are un-savable, lazy poor people, or just noble poor people who need saving.
It turns out, the main single mother on the show is smart, very capable, very determined to do well, and totally trapped.
"What do I do -- pay for bus fare to go buy a bit of meat? Or do I pay my electric [bill], buy clothes for my kids? I've got nothing left to sell. When I worry, I can't think straight, and then I can't cook," she says with a restrained, British-style tear.
Until those and other real problems are addressed, providing one missing link -- lessons on how to cook healthily and cheaply at home -- may be socially ridiculous, mired in class politics, done mostly for show, and totally obnoxious, but perhaps the best plan there is.
Related Tyee stories: