We were woken up shortly before midnight. I heard voices yelling, saw flashlights flickering across the mesh of my tent.
After fumbling to put on clothes, I stepped out into the darkness of the tree-planting camp in my sandals. A passing planter told me that we were having an emergency meeting in the central area.
The night air was hot. It was the summer of 2021, and we were planting near the town of Rocky Mountain House, Alberta, a few hours northwest of Calgary. My friend Jacob and I had driven over from Castlegar, B.C., a few days prior, blasting the air conditioning for the entire nine hours. During the drive, my car dashboard toggled between 35 to 40 C. The heat wave extended across much of Western Canada.
Our last planting contract had been in Nakusp, in B.C.'s beautiful, mountainous Kootenays. Now here we were in a gravel pit filled with piles of timber, known as log decks, waiting to be trucked away. The company we were planting for wouldn't let us set up tents next to a nearby shady patch of standing forest, because of concerns that lightning could strike the trees and they'd fall on us.
During time off, campers hung out in what they called "the cracks": the shade in between the log decks, where they set up hammocks and read books. The logs still smelled like living trees. But they'd be picked up and trucked off soon, and then there would be nowhere to hide from the sun.
I made my way to the meeting place, where planters had gathered around in clusters. Everyone else seemed nervous — really chatty. Jacob and I looked at each other in silence: our Alberta adventure was already off to an eventful start, and we hadn't even planted a single tree. I'd never had a midnight work meeting before.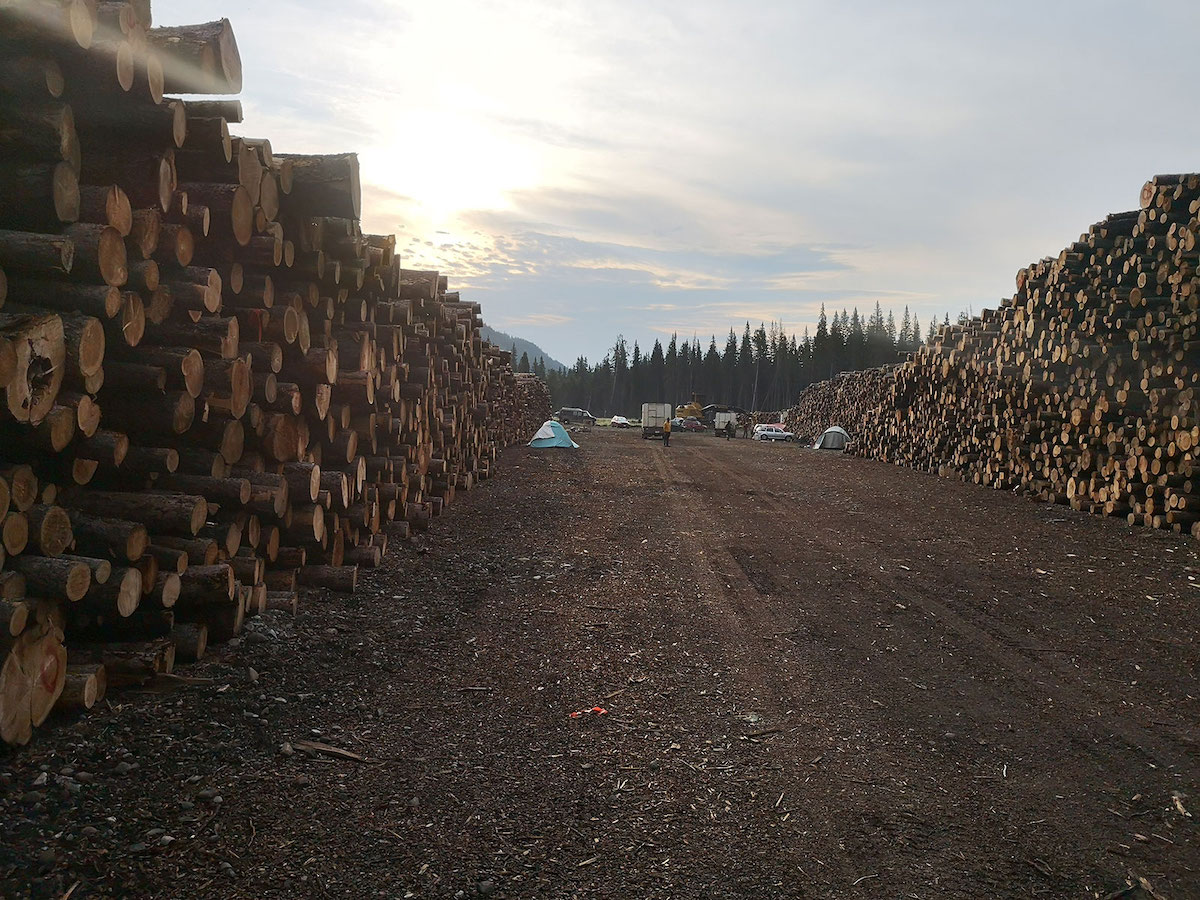 One of the supervisors told us there were multiple forest fires burning within five kilometres of us. A shift in the wind or a strike of lightning could put us in immediate danger. "We woke you up to tell you that we aren't being evacuated yet, but we are on standby," he said, adding that we should quickly put together a bag of essentials in case we had to evacuate in the night.
Jacob and I headed to our tents and started packing. High on my list of necessities? The medication I take to help control my anxiety.
The turning point
My mom always jokes with me about how I reacted, when I was four or five years old, to a present she gave me: a little picnic table for my dolls, completely to scale. Something I ordinarily would've loved. The problem, though, was that I didn't expect it. It wasn't my birthday or Christmas. So I panicked.
By the time I was in my late teens, I was having panic attacks all the time. Eventually I began therapy, and I started to take medication — sertraline, a selective serotonin reuptake inhibitor, or SSRI, which has helped significantly lessen my panic attacks.
When I learned about global warming in elementary school, it scared me, but it didn't initially make my list of top concerns. I thought I wouldn't experience it until I was very old.
Then came 2017.
I was 23 that year, and it was my third season of tree planting. I drove up to Prince George to make some more money. Smoke made the skies pink at night. On the job, we worked so close to the wildfire that one day we had to abandon the cutblock we were planting — one of my co-workers was having difficulty breathing in the thick smoke. The situation made me feel so small, like a little bug crawling on a piece of wood that was about to be thrown into a campfire. Logging roads weaved in and out all over the landscape, and I never knew where I was when I was planting. I didn't know how to get out.
There were 1,353 wildfires in B.C. in 2017, and they burned over 12,000 square kilometres. The cost in damages was $649 million — much greater than the $129 million in damages the year before.
A page on the BC Wildfire Service titled "Remembering 2017" shares a firefighter's personal account of a lightning storm that started 108 fires on July 7 in the Cariboo region alone. A provincial state of emergency was declared until Sept. 15 — the longest emergency in B.C.'s history at the time.
We kept working. We were kind of stuck there, anyway. A meme made its rounds in the camp — the famous one with the cartoon dog (originally created by cartoonist KC Green) saying "this is fine" while sitting in a burning building. Text had been added by a fellow planter to read, "All the highways are closed, so you better just keep planting!"
When the planting season ended, I made my way back to Vancouver. I took the Yellowhead Highway in my 1997 Mercury Villager and blasted Don Henley's "The Boys of Summer" on repeat. Memories blended in my head, a mixture of fear and fun.
Being so close to the stark reality of the climate emergency, had made me feel almost high, with an underpinning sensation of immense fear and guilt. It was a bit thrilling, like being the protagonist in a post-apocalyptic movie. I forgot about mundane things, like paying off my Visa, and was drawn to the immediacy of the moment — the friends who were near me, or reading a good book, or drinking a glass of wine, or blasting '80s music.
But back at home, I began to experience climate change day-to-day with gnawing anxiety, as the world around me becomes less and less normal. I grew up seeing the seasons change in a comfortingly familiar cycle, and the idea that the coming winter or spring might not resemble what I've known in the past — or that the poor, smoky summer air quality would become a regular fact of life — feels almost overwhelming.
A 1994 study completed by researchers with Laval University in Quebec City found that people, like me, with generalized anxiety disorder have a higher intolerance of uncertainty than is usual. A few decades later, a Grantham Institute at Imperial College London study described climate change's effects on mental health as an "overlooked issue." It also found that people with mental illnesses experience climate anxiety at higher rates than those who don't.
In other words, we're almost like an early warning system.
Clear cuts vs. selective logging
I often wonder where my anxiety comes from. The answer is trauma, probably, and the fact that anxiety and mental illness run in my family. But another answer is my surrounding environment. Jacob and I were planting a monoculture crop of hybrid, pesticide-sprayed spruce tree saplings in a clear-cut wasteland surrounded by smoke from burning forests in a 35 C heat wave so we could make some cash. Who wouldn't have anxiety?
In other workplaces, I need to hide my anxiety. I've picked up different tools to do this throughout the years, but it's really exhausting. When I'm holding my anxiety in, it's difficult to focus on what I'm actually doing. On my high anxiety days, I need to go home and hide in my room after work for hours until I feel better.
When I'm planting, I don't need to hide how I feel. I've lost count of how many times I've cried my eyes out in the middle of a cutblock. The stumps don't care. I've had full-blown panic attacks during a workday and still made decent money.
Planting means I can be alone for long periods of time, move my body, and spend time outside. I've struggled with sleep my entire life, but I find it easier to sleep during a planting season. I'm always so tired from working outside all day.
There are days though, where another strange and sad feeling comes alongside my anxiety. Those are the days when I'm in the middle of an old-growth cutblock, and I see the remnants of fallen trees that were hundreds of years old — just left lying there because they weren't lucrative enough to be trucked off. This kind of anxiety is a new one. It feels much more valid and much more terrifying.
I have friends and peers who are loggers, foresters, tree checkers and brushers. Most of us work these jobs because we love being outside, and many of us may not support many logging practices, but we need to make money to pay off debt or support our families. Some of us are neurodivergent or have other sorts of disabilities that make it difficult for us to find work in a 9 to 5 setting.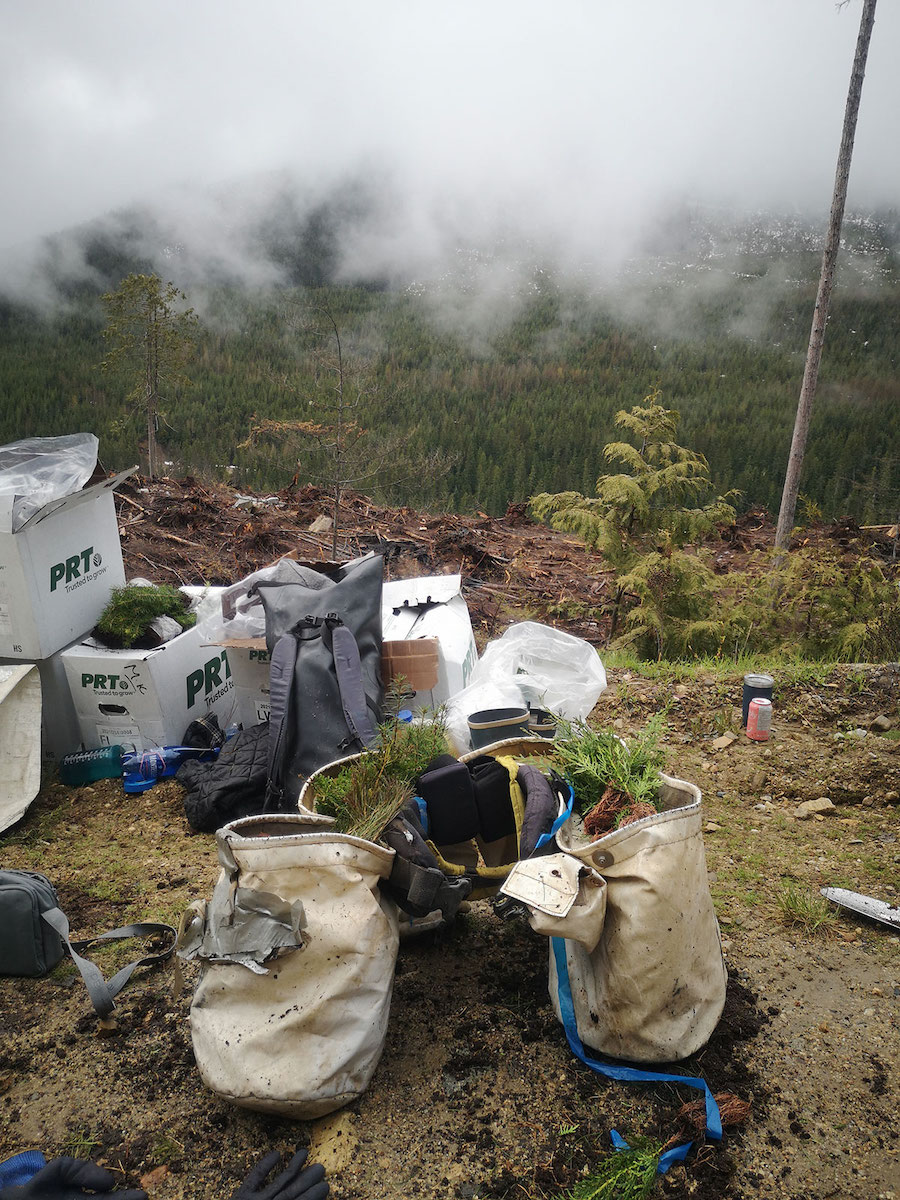 I've planted a variety of contracts over the years. Some where I feel I am doing more harm than good, planting 100 per cent pine in a dry cutblock. And some where I feel like I am helping — planting seven different species a day, including trees like hemlock, which are planted solely for species diversity (their wood is not that valuable).
In February of this year, a group of Canadian researchers published a study in which they looked into different future possibilities of wildfires in B.C., and the extent to which forest rehabilitation impacted greenhouse gas mitigation.
The rehabilitation involved wood salvaging and planting "genetically improved" seedlings, and some site-specific controlled burning. The study found that forest rehabilitation will have a positive impact on decreasing greenhouse gases, but not until the middle of the century.
Restoring a forest is so much more complex than just planting trees. The trees I plant come out of boxes, plastic-wrapped in bundles of 15. Some of them are sprayed with pesticides. Sometimes when I plant a seedling, I kill five natural germinant seedlings with my shovel by accident.
I have planted a few cutblocks that were selectively logged. One time during a heat wave in the spring of 2019, we were planting a selectively logged block near Merritt. There were corridors of upturned dirt surrounded by second growth trees. We were grateful to plant that shady block during the heat wave.
I got scared by a grouse that day — the noise of its wings shocked me. I also saw a bunny, and a lot of butterflies.
Last season, I planted another selectively logged block. The tree price was well compensated, and it ended up being the most lucrative day in my entire career of planting so far. I had to think a bit more than the usual day of work because we needed to understand where the open sections were behind the forested parts, but it was fun to work in what felt like a forest. Each time I plant a selectively logged cutblock, I notice the flora and fauna around me, and generally have good days mentally.
A UN report from February 2022 found that while logging couldn't be deemed a direct cause of wildfires, land-use changes including deforestation can greatly impact the likelihood of forest fires. One study cited in the report looked specifically at B.C.'s 2017 record-breaking fire season, determining that climate change was a big factor in increasing the amount of burnt areas that year.
In other words, climate anxiety is a rational response to what I experience sometimes, standing in the middle of an old-growth cutblock.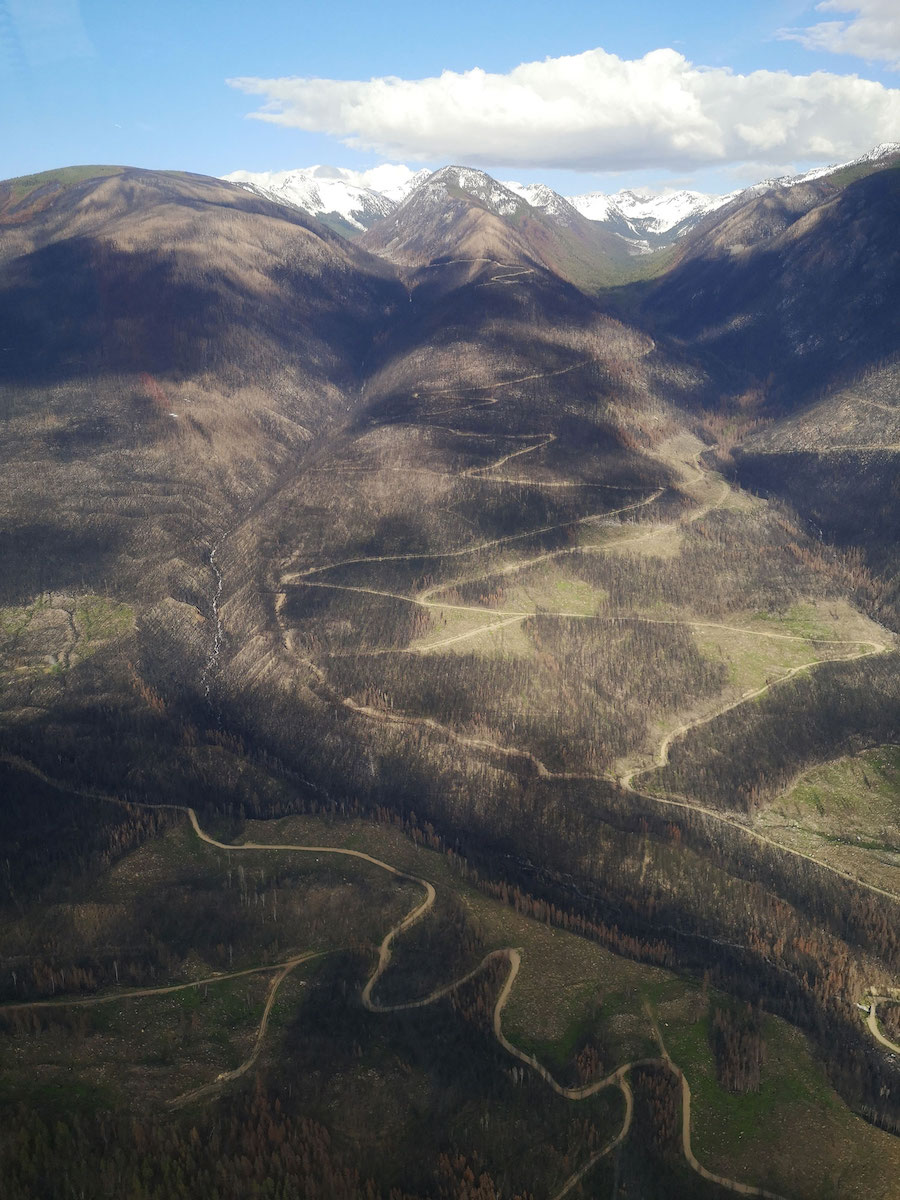 Really, really glad to be alive
After the midnight meeting in the tree-planting camp in the summer of 2021, Jacob and I fell back asleep. When we woke up at 5:30 a.m. the next day, we were told that our crew was on standby again because our planting sites may not be safe either. We unloaded juvenile trees from the refrigeration truck, which keeps them fresh, and then sat around waiting for the green light.
Eventually we were cleared to work. I popped a Ritalin to stay awake. The drive to the cutblock was only about 20 minutes, if memory serves correctly. I chatted with other planters about the odds that we would be evacuated. The bags that Jacob and I had packed were back at camp, and I wondered to myself why I hadn't brought my anxiety medication to work with me.
We arrived at our worksite, where Jacob and I planted together. The land is easy in Alberta and we both were planting fast despite our lack of sleep (and thanks to the Ritalin). But we could smell the fire and see billowing smoke, coming from just a few kilometres away.
I began to spiral. My car was back at camp. Nearly all of my worldly possessions were in it, and most of Jacob's things, too. My laptop computer, an iPad that I'd just bought that spring, my glasses, my contacts, my guitar, my clothes, my medication.
"Do you want to leave?" I asked Jacob.
"Yes!" he replied.
We planted until our foreman came into our section of the cutblock. We told him we didn't feel safe and were leaving. We were too close to the fire, and needed to cut our time in Alberta short. Many foremen make commission, meaning the more money their planters make, the more money the foreman makes. So the fact that Jacob and I left meant that he'd lose money. Still, when we told him, he said he respected our decision. Everyone in camp was stressed out and scared.
After our self-evacuation, Jacob and I drove through the night, still wearing our planting clothes, blasting albums by the Knife. We made it to a friend's home in Castlegar at 4 a.m. We had only planted for three hours in Alberta.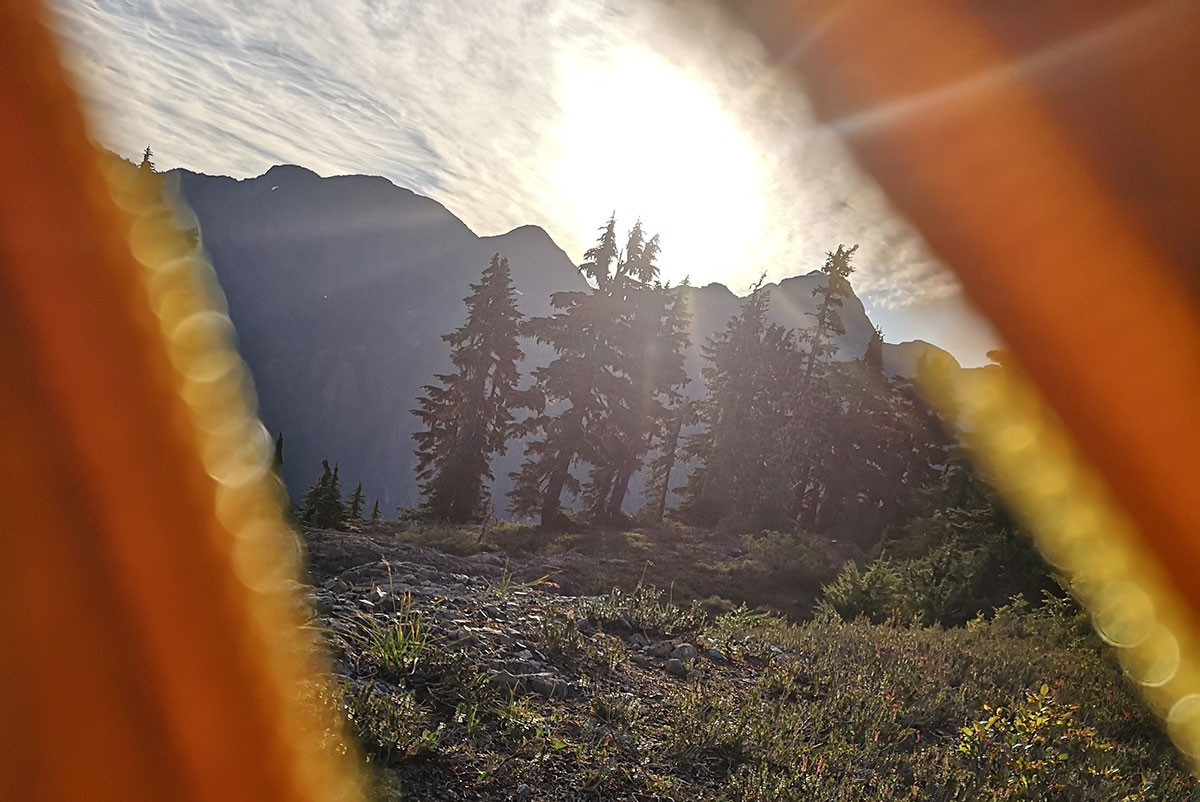 The next summer, Jacob and I planted in the Kootenays — no Alberta. When the season ended, we went for a hike up Flower Ridge in Strathcona Provincial Park, on Vancouver Island. At 2,000 metres of altitude, we saw tiny alpine spruce and mountain hemlock growing just at the edge of the treeline. We knew they were old. We camped on the ridge, 360 degrees of mountains surrounding us. Jacob asked me about grad school. He's six years younger than me, and has always planted for money, but said he wants to study ecology. I told him that school may mean you have more debt, but when you're passionate about it, that can carry you. We both felt a wonderment as we fell asleep surrounded by nature.
When we woke up, we sat on the ridge and I made coffee and looked at the mountains. We talked about resource extraction, how when you're tree planting you're just a cog in the wheel of the logging industry. We talked about working towards a more sustainable career. And as we watched the sunrise, completely alone, I felt really, really glad to be alive.