[Editor's note: Got an empty lot near you? A crumbling building? A bridge to nowhere? Have no fear, The Tyee's Place Detective is here! Our monthly series will explore mysteries of uncommon places and common places with mysterious pasts. We'll take a magnifying glass to powerful forces in B.C. — from colonialism to resource extraction to real estate speculation — and how they manifest in your corner of the province.]
This building started out as a grand temple, became a Buddhist monastery, and includes neighbourhood lore about a young Jimi Hendrix playing on its stage.
But today 301 E. Hastings is in sad shape: the building has sat empty for 20 years, even though it's been owned by a government entity, Vancouver Coastal Health, since 2001. It's located near the centre of the Downtown Eastside, a neighbourhood where there's a dire need for homeless shelters, permanent housing, gathering spaces and places to make art.
In 2018, then-housing minister Selina Robinson announced $83 million in funding for four new affordable housing buildings in the Downtown Eastside. The plan would have included demolishing the Salvation Army Temple at 301 E. Hastings, a move that alarmed heritage advocates.
Five years later, the building still stands empty, surrounded by blue fences. There's plywood where windows should be, a crown of graffiti, a permanent roost of pigeons and a cascade of green lichen trailing down the front of the building.
Vancouver Coastal Health wouldn't answer The Tyee's questions about why the building has been vacant for so many years, saying only that 301 E. Hastings "remains an important part of our future planning to provide critical health care and wellness services to the community on the Downtown Eastside." The health authority added it "will work with Indigenous and housing partners in any future development of the site," but provided no information on when that development might happen.
Karen Ward, a Downtown Eastside resident and advocate, said Vancouver Coastal Health's management of the building amounts to "demolition by neglect."
"The fact that it's owned by it's a health authority makes it so much worse," Ward said. "It's not just some private landlord or property owner, it's the public." Heritage advocates also can't understand why the building has been left to sit empty for so many years.
"In my world, we're always trying to deliver amenities — heritage amenities of course, but also cultural amenities. And here's a building that is kind of custom built for that. And everybody is just kind of letting it rot," said Donald Luxton, a cultural heritage advisor based in Vancouver.
"The area, in my humble opinion, requires public assembly, cultural space — something for people to do."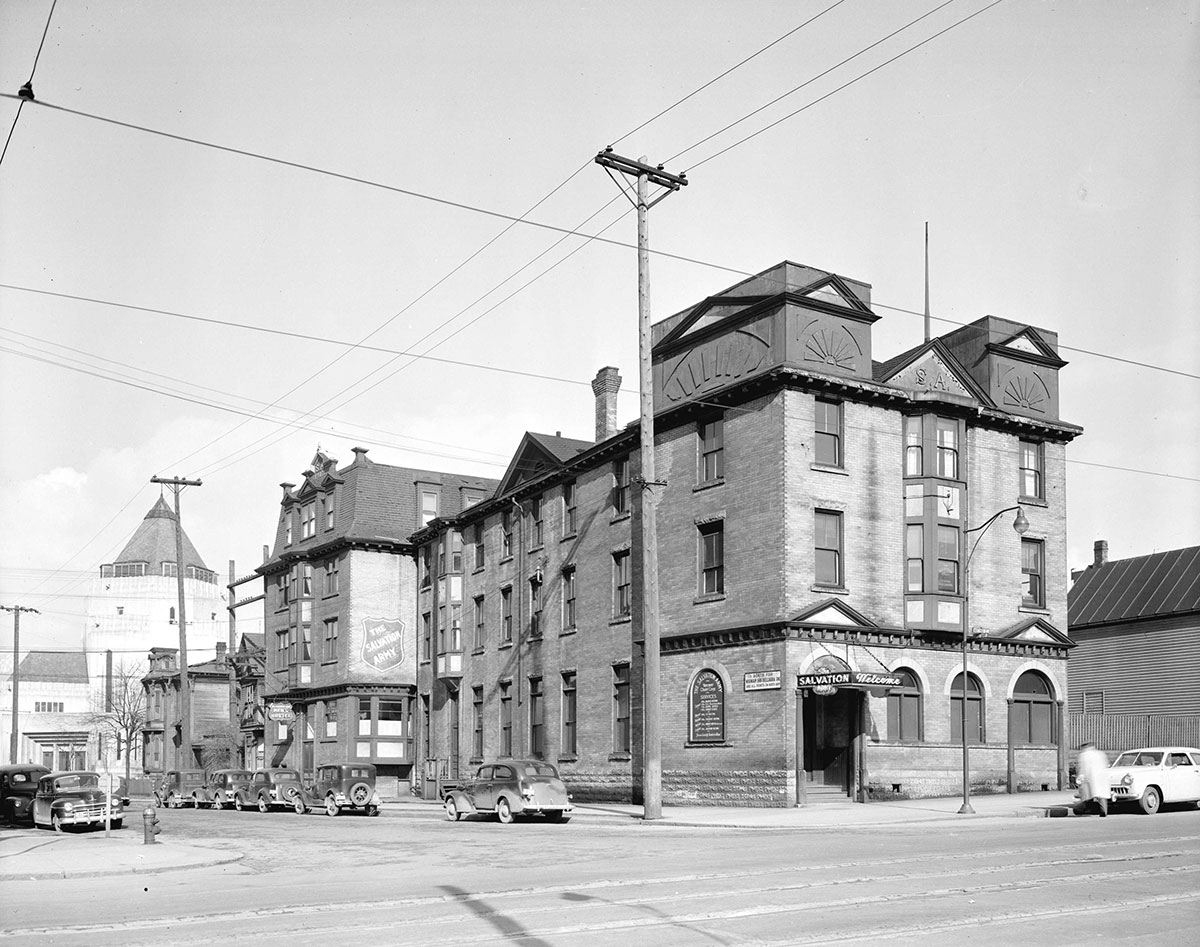 Construction on the Salvation Army Temple was started in 1947 and the building opened in 1950, replacing an older Salvation Army "citadel" on the same spot. The art deco building was designed by a local Vancouver architecture firm, Mercer & Mercer, who also built the Waldorf Hotel at 1489 E. Hastings.
A Vancouver Sun article from 1950 shows photos of a gleaming new building and an interior shot of the "mothers' room," where churchgoers could leave their children in the care of babysitters. The building was headquarters for the religious organization's operations in British Columbia, and included an auditorium with seating for 700 people, offices, a kitchen, and a gym in the basement where sports programs could be run for children and teens.
Part of the building's lore features Jimi Hendrix, who lived in Vancouver for short periods as a youth, playing on the auditorium's stage.
The 1950 Vancouver Sun story also includes a lot of detail about the new building having modern fire safety features, in a neighbourhood where many of the buildings people lived in, such as old houses and single-room occupancy hotels, were at high risk for fire.
"The concrete building at the corner of Hastings and Gore has five outside entrances, with an extra exit in the basement… which goes right to the street with no congestion in case of fire," reads one paragraph. Elsewhere, a band room is also described as having "fire-resistant lockers."
Luxton said the new building was a commitment to the neighbourhood by the Salvation Army. Like many churches in the area, it provided social services to people living in poverty and families with children.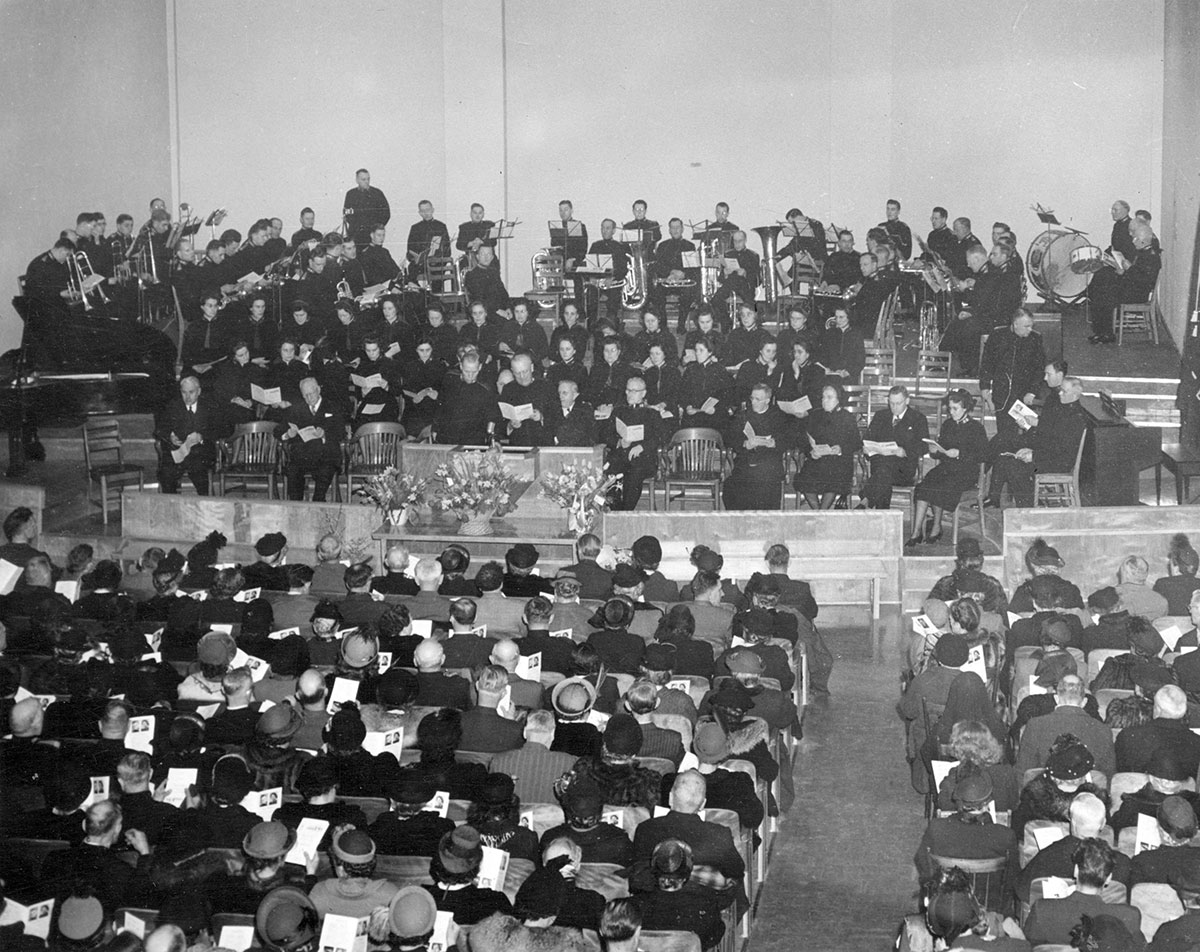 The building is also one example of the expansion in health care, education and the creation of the modern welfare state that was happening in the years after the Second World War.
Starting in 1984, the building had a second life as a Buddhist monastery.
"We didn't do the same kinds of social services that the [First United] church across the street does, where they serve people coffee and take them in for showers and things," Heng Chih, a nun at the Gold Buddha Monastery, told Vancouver Sun reporter John Mackie in 2001. "But we had other kinds of activities that maybe we can say affected the vibe level."
Those activities included "a lot of mantras, praying and chanting" and serving residents of nearby Chinatown, Chih explained.
"Chinatown was close, and most of the people who came were Asian. They came and prayed. We performed for them all the major ceremonies in Buddhism."
A CBC news story from the early 2000s shows the monks praying, singing and drumming in the main auditorium of the temple.
Realtors Leonardo Di Francesco and Rav Rampuri remember a huge gold statue of Buddha and the large commercial kitchen in the basement, with seating for up to 200 people. The building also had sleeping rooms upstairs for resident and visiting monks.
The monastery was interested in moving to another former Salvation Army building on East 11th Avenue in Mount Pleasant, and Di Francesco and Rampuri handled both that purchase and the sale of 301 E. Hastings. While the 25,000-square-foot building at 301 E. Hastings was initially listed at $2.4 million, it sat on the market for a year before finally selling for $1.5 million.
Rampuri recalls that the building was in relatively good condition at the time it sold, but its location on a street where there is so much homelessness and drug use was part of what made it challenging to sell.
The two realtors, who specialize in selling churches remember hearing at the time that the government planned to turn the building into a drug detox centre. What Rampuri and DiFrancesco recall is that when the BC Liberals got elected later that year, that plan was halted.
The Tyee checked with the BC Liberals, but communications staff weren't able to verify what happened in 2001. In 2016, the BC Liberal government was moving forward with a plan to redevelop the site and "was actively in partnership with Vancouver Coastal Health through a memorandum of understanding."
The BC NDP did not reply to a request for comment.
Today, the building would likely be worth ten times as much as the $1.5 million VCH paid in 2001, Di Francesco said.
"For years we've driven by it," Di Francesco told The Tyee, "and we keep saying, 'when are they going to do something with it?'"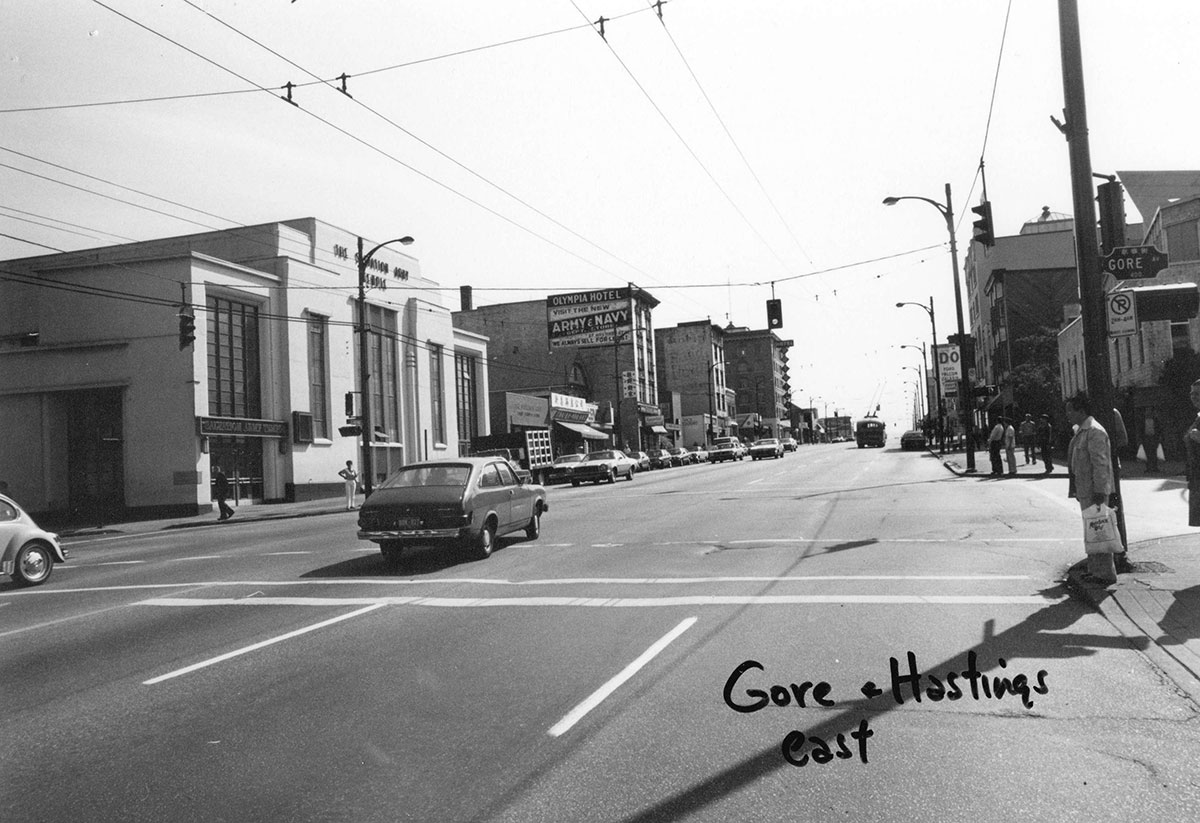 In 2018, Robinson made the $83 million funding announcement for four sites.
Those projects included two buildings that would be a combination of health facilities and social housing at 301 E. Hastings and 58 W. Hastings; new housing operated by PHS Community Services Society at 23-51 Cordova; and a women and families centre at 616 Cordova St. operated by Union Gospel Mission.
Except for 301 E. Hastings, those projects are now completed or under construction. In the meantime, the amount of visible homelessness and desperation in the neighbourhood has increased. At times, people have pitched their tents against the side of the vacant building.
Ward said the lot could house both an arts space on the ground floor and housing above. Both are desperately needed in the Downtown Eastside, where homelessness and poverty cause poor health and shave years off people's lives.
Luxton is hopeful the building itself can still be saved and turned into something useful for the community.
According to the City of Vancouver, concerns about 301 E. Hastings are mostly focused on graffiti and unauthorized entry rather than the building's condition. Luxton said there have also been several fires in the building over the years.
"It's a very fine example of the architecture of the time," said Luxton. "The problem is you look at it now and it's so rundown, but it's actually a very handsome building. I think we just need to continue to talk about it, and I would like to see a better outcome than just tear it down and forget about it."
---
If you have an idea for a place you think we should explore in a future story, get in touch via email.