More than a decade ago, Haida artist and craftsman Jaalen Edenshaw sat up in bed, awoken from a dream of his late grandmother who came to visit him in the form of a crab. In the dream his grandmother spoke to him in Haida, but to his dismay, he couldn't understand a word.
Lying awake, with a terrible feeling in the pit of his stomach, he turned to his wife, Jaskwaan Bedard. "We have to learn Haida and teach our children," he said.
It was the beginning of a lifelong journey to recover a language that had been almost entirely robbed from their community.
After her husband described his dream, Bedard was filled with doubt about her ability to learn her language. She felt shades of shame cloud her confidence, an experience common among many Indigenous peoples who have internalized the lasting effects of intergenerational colonial oppression.
Sitting in a student lounge at Simon Fraser University, where she is enrolled in a professional development program for "aspiring teachers," Bedard spoke about how shame juxtaposed the pride and resilience of Indigenous peoples.
"The shame of losing our language and not being allowed to speak it, that's huge," she said. "But our identity, who we are and where we come from, they couldn't take that away."
At the time of her husband's dream, Bedard's only memories of the Haida language came from her grandmother and great grandmother. She knew songs, colloquial phrases and terms of endearment they had used when she was young, but her grandparents, in an effort to protect them, had not passed the language to her parents.
"It was really traumatic for them," she said of her grandparents' experiences. Many of her grandmother's generation attended residential schools, where their ancestral languages and cultural practices were forbidden in a direct and often violent attempt to "kill the Indian, save the man," in the words of American colonialist Richard Pratt.
"There are layers of shame that colonialism has put onto us," Bedard said. "The survivors who come out of residential schools, what surrounds them, what they fight through, what they heal from, it's within all of us as well."
Yet the drive to learn her native tongue and associated cultural teachings was stronger than the shame. Despite obstacles, Bedard and her husband joined a newly formed "language nest," an immersion program modelled after Māori language nests in New Zealand.
"There was no writing. There was no English," she explained, remembering how children in the community interacted with the few fluent elders, then in their late 80s and early 90s. The daily program, run by two workers, followed culturally specific routines.
In 2007, while still working for the language nest, with the first of her three children on her hip, Bedard moved to Victoria to complete a Master's in Indigenous Governance with a focus on language revitalization at the University of Victoria. After graduating, Bedard and her husband moved back to Haida Gwaii, where they joined the nest again and eventually Bedard started to run the program.
No trust for Indigenous Peoples
In order to keep the nest running, Bedard applied every year for funding, stringing together separate grants, each with its own requirements. Immersion programs require funds for elders, resource workers, physical space, teaching materials, food and more.
At one point, Bedard co-wrote a grant for a project on wordless, visual narratives, and the non-Aboriginal grant writer was shocked at the process.
"My friend who had never done an application for an Aboriginal project was blown away by the amount of detail needed. It was about 25 pages for roughly $6,000," she explained. "I had never seen it from his point of view."
"We're put under more rigour than other people, and it's because there's not a level of trust," she said. "It's an idea that they need to be careful with money for Indigenous people and make sure they're not wasting it."
Bedard estimated that it would cost at least $50,000 to run a successful program for her community, but even in a good year she was only able to access $25,000.
Eventually, there simply wasn't enough money to continue. Parts of the program are now included in other early development programs, which just run twice a week.
When she left the language nest position, Bedard spent three years in a mentor-apprentice program (MAP), an intensive one-on-one program developed by First Peoples Cultural Council, based on the work of Leanne Hinton. In 300 hours of language learning, Bedard worked closely with mentor Primrose Adams, a "master spruce root weaver and matriarch of the Yahgu 'Laanas Raven clan," she said.
Bedard was offered a teaching position at a local high school where she taught Haida and created language curriculum. Despite a Master's degree and speaking Haida, Bedard wasn't paid as a certified teacher. That will change when she completes the SFU program.
"Without certification, you're paid as a non-teacher," she said. "This was a step I needed to take, but none of the content has to do with Indigenous language teaching."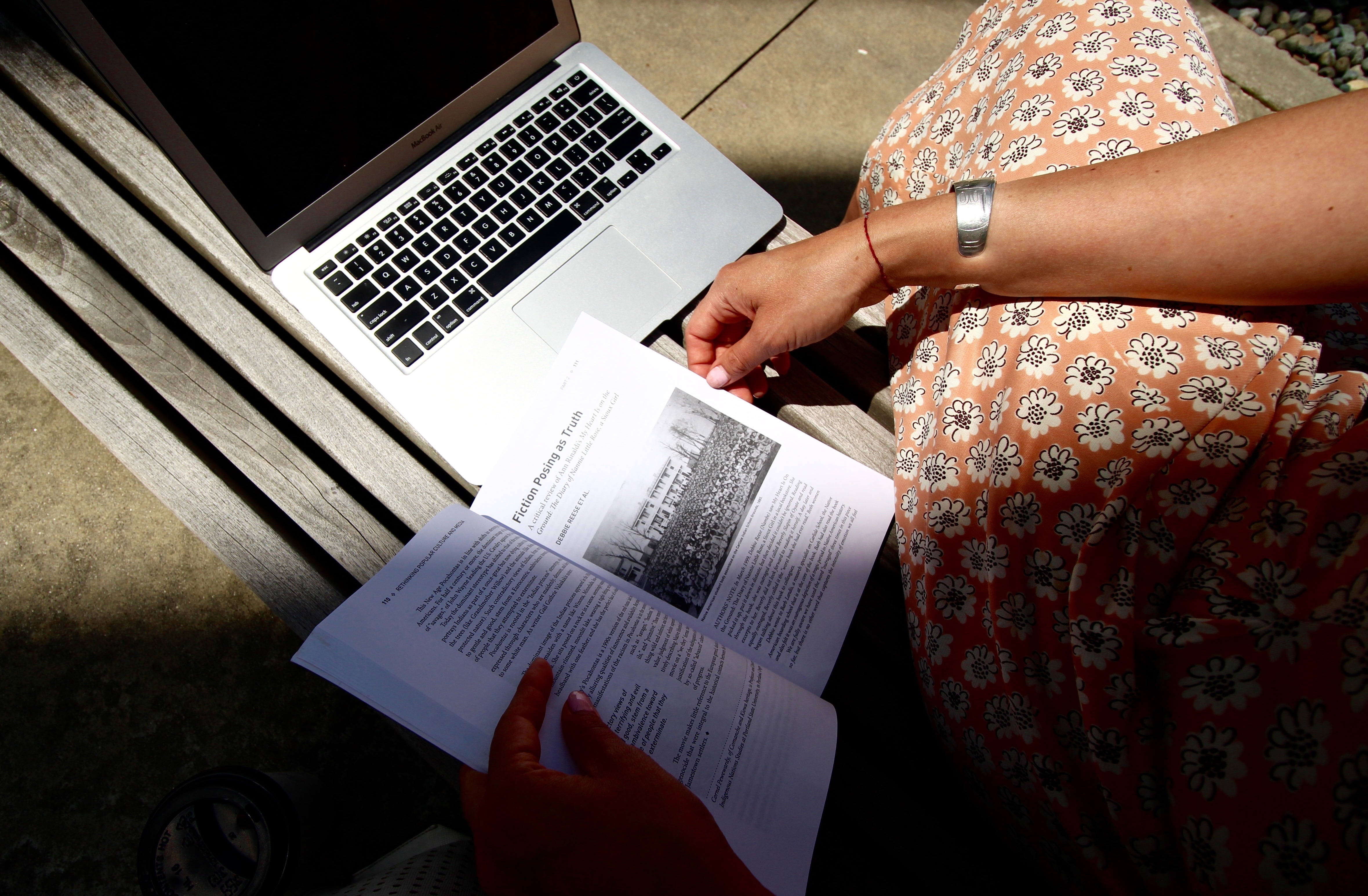 Bedard is now spending half the year in Vancouver as the only Indigenous student in her program, away from family, community and elders. During her first three months, Bedard experienced intense insomnia and guilt about being away from her children. She had to remind herself daily why she was making the sacrifice and the knowledge she will bring home.
"No one made me feel guilty," she said, ensuring that her stories would not be met with pity. "I would think, I'm just here to do this certificate, go back home and teach my language, so no one challenge me." She laughed.
"I had to learn not to just try to get through, but to appreciate the opportunity. To be fully present," she said. Since being away, she has treated herself to luxuries enjoyed only "once in a blue moon" back home, like getting her nails done and attending shows with friends.
"Can't have these when I'm filleting fish," she laughed, referring to a fresh coat of paint on her nails.
Over the past months, Bedard has managed to return home for visits, see family on Vancouver Island and in Port Moody, and recently her children came to Vancouver to visit the big city. At the opening of the first ever Vancouver Indigenous Fashion Week on Wednesday night, she was stopped by many community members who recognized her face, knew her family and were thrilled to share stories.
"There are many urban Haida here," she explained.
Back in Masset, some of Bedard's family and friends are working on a feature film made entirely in two dialects of the Haida language. A New York Times article described the project as an attempt at "reviving a lost language." Bedard says it really shows the strength, creative resistance and resilience of her people.
Bedard says her community's efforts are the kind of initiative that should benefit from new funding under a promised Indigenous Languages Act.
But she said she has little voice in the government process shaping the new legislation.
'I hope the right thing is done'
In November, Prime Minister Justin Trudeau announced the proposed Indigenous Languages Act in the House of Commons.
When community members asked Bedard about the new initiative, she wasn't sure how to respond.
"I have no idea where that money will go," she said. "I hope the right thing is done and it's put towards organizations that have the training, knowledge and background to deliver programming to communities that struggle with a declining budget."
Like many Indigenous languages advocates, Bedard doesn't want funding used to establish offices in Ottawa or hire non-Indigenous researchers, a common practice in the past.
In May, Mohawk activist and educator Ellen Gabriel spoke about Indigenous languages at the UN Permanent Forum on Indigenous Issues in New York, offering a similar argument that language revitalization must be based in community.
"You cannot learn a language from the Internet. You must be immersed in it. You must hear how it is spoken and how it lives," she said. "Language has a spirit. It is a part of who we are. It is a part of our DNA. When we lose our languages, we lose who we are as Indigenous Peoples."
Gabriel called for action and urged community organizers, like Bedard, to be diligent in grassroots language protection and preservation.
"We need to start waking up as Indigenous Peoples and get the help from the states, who contributed to the destruction of our languages," she said.
Trudeau has said the Indigenous Languages Act is intended to "undo the lasting damage" from the residential schools system's attempt to eliminate Indigenous cultures.
Support for Indigenous languages has also been identified as a crucial component of the Truth and Reconciliation Commission's Calls to Action for reconciliation and healing for Indigenous nations.
But not all activists believe legislation is enough.
Lorena Fontaine, associate professor of Indigenous governance at the University of Winnipeg, and Toronto lawyer David Leitch are heading a lawsuit to force the federal government to recognize that Indigenous peoples have specific language rights under Section 35 of the Canadian Charter of Rights and Freedoms.
"We're trying to get the federal government to see that Aboriginal People already have language rights in this country," Fontaine explained in a Media Indigena podcast in June 2016. "We're also trying to force the issue that we need a definition of what those rights are."
"There's a special section in the Constitution, Section 23, that states that the French language community and the English language community have a right to educate children in those languages," she said. "Those same principles apply to Aboriginal people."
Fontaine, like Gabriel and Bedard, stressed the need for immersion programs. Legislation is also needed, she said.
"We have jurisdiction issues," she explained. "We'd need legislation to be drafted. We need programs for the communities off reserve and we'd want there to be a gap in strategies for people on and off reserve."
The Liberals have promised $5 million a year towards Indigenous languages preservation, Fontaine said. But with more than 630 communities and approximately 90 languages, far more funding is needed if action is to speak louder than words.
One B.C. language program, The Comeback Campaign (TCC), isn't waiting for an official government response but has called for donors to help sponsor tuition and cost of living for students accepted. TCC attempts to create new Squamish language speakers through an Adult Immersion Program at SFU.
While the Indigenous Languages Act awaits a formal introduction, Bedard is eager to finish her teacher training course and return to her kids, Haana, Nora Jane and Wiijaa, and her community. Though humble, as is culturally correct, she is not shy to express her dedication to the strength and health of Xaad Kil (the Haida language) and her Nation.
"I'm almost done," she said, speaking of her course. But for Bedard, other language learners and those whose ancestral tongues have yet to beckon them home in dream, the battle may have just begun.