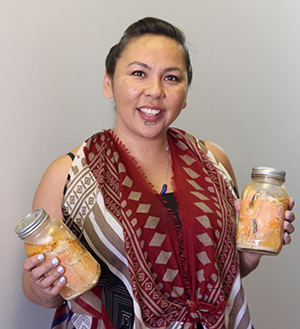 For Lauraleigh Paul Yuxweluptun'aat, the proverb "When life gives you lemons, make lemonade" doesn't resonate. She prefers: "When the Canadian government takes away your land, resources and inherent rights and give you rations of flour, sugar, salt and lard, make bannock."
Bannock holds different names and meanings for the over 600 Indigenous communities across Canada. It is a simple bread, fried or baked, that has become a cultural icon for Indigenous peoples.
For Paul, a Carrier Salish, Coast Salish and Interior Salish woman, bannock is a "bread of love," which is why her catering business and newly opened cultural cafe, found at the heart of the Commercial Drive neighbourhood in Vancouver, is named BigHeart Bannock.
"Bannock can go far and can feed many, but it has to be done with love," she said, standing in the newly renovated cafe. "Bannock was what we had to eat, but now I want to pay homage to the dignity of our women who have learned to turn a negative into a positive."
Emphasized in the 2015 Truth and Reconciliation Commission, Canada's residential school system introduced food insecurity, hunger and health conditions to the lives of many Indigenous children. Paul intends to honour the ways that Indigenous communities have creatively resisted colonial control, transforming dry biscuits into delicious bannock.
The café honours the traditions that sustained Paul through her life. While the drive to transform adversity into accomplishment seems instilled in her DNA, wild and fresh food played a huge role.
As an urban Indigenous woman who has at times lived in poverty, it was loved ones who provided her with wild salmon and fish and her knowledge of jarring, freezing and processing that secured the wellbeing of her family.
"Everything was processed and saved, to supplement the food bank line-ups and community kitchens," she said. Without access to high-nutrient foods, Paul said she isn't sure she would have made it to the point she's at today.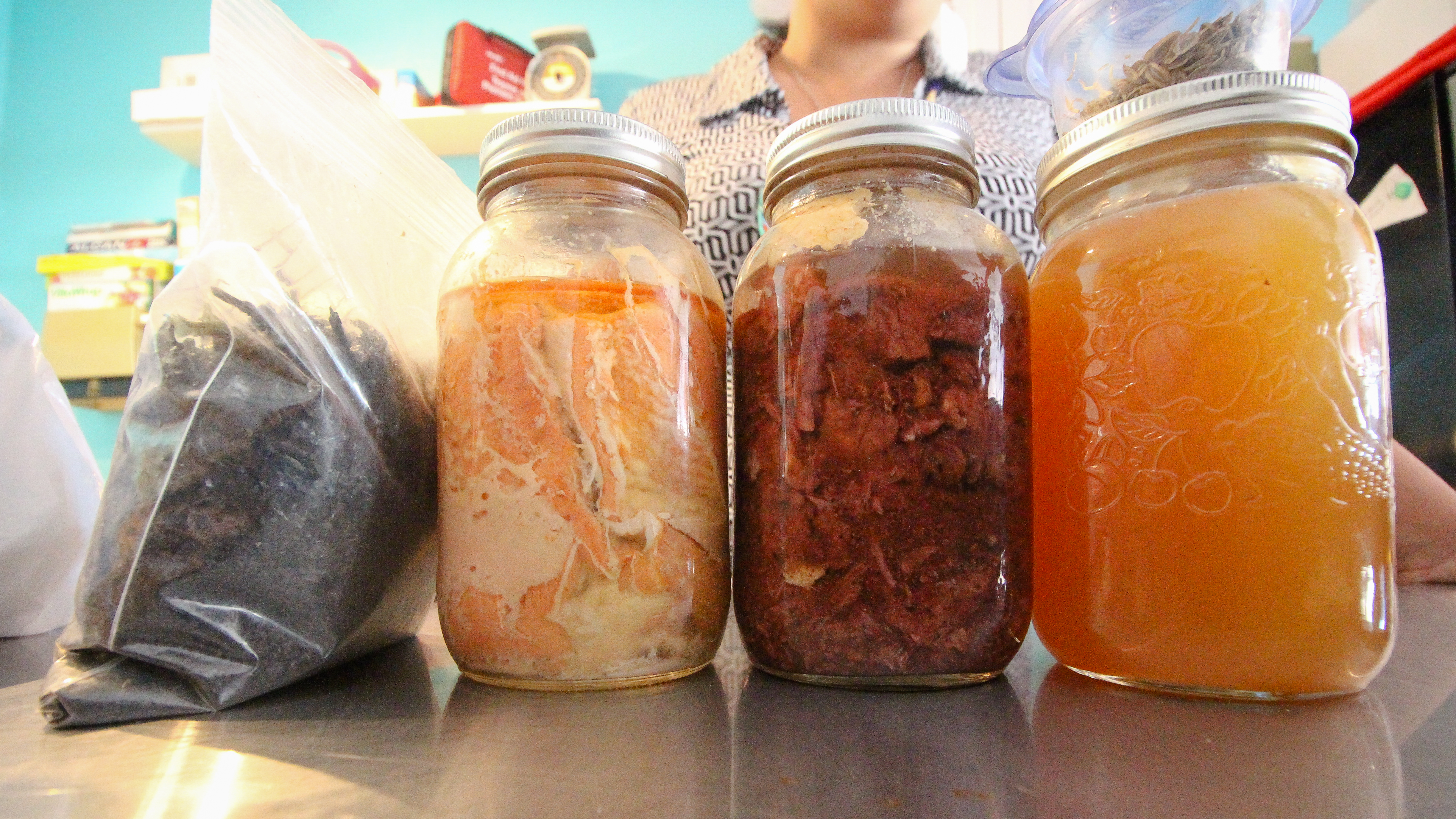 "The wild foods have resilience," she said. "I want our urban Indigenized peoples, many of whom have been displaced, to have the opportunity to reconnect with this type of sustenance, their inherent rights."
While many Indigenous peoples have maintained a relationship to their land and resources, others may have been displaced or denied the ability to nourish themselves. Paul plans to facilitate educational workshops at the café on native plants and their medicinal uses. She wants to teach how to preserve foods, especially to urbanized Indigenous people.
"I want to share this knowledge because I think it's going to create more alliances for Mother Earth."
People won't stand up for what they don't know or understand, Paul said, adding that many people within Western societies have become complacent to their relationship to food and how it's sourced and prepared.
A bannock escape
While driving to watch her sons participate in their school's annual Sports Day, Paul spoke about the intensity of the past weeks.
She had recently worked her last chef shift at the only First Nations restaurant in Vancouver, Salmon n' Bannock. She commended their staff for teaching her and supporting her new enterprise.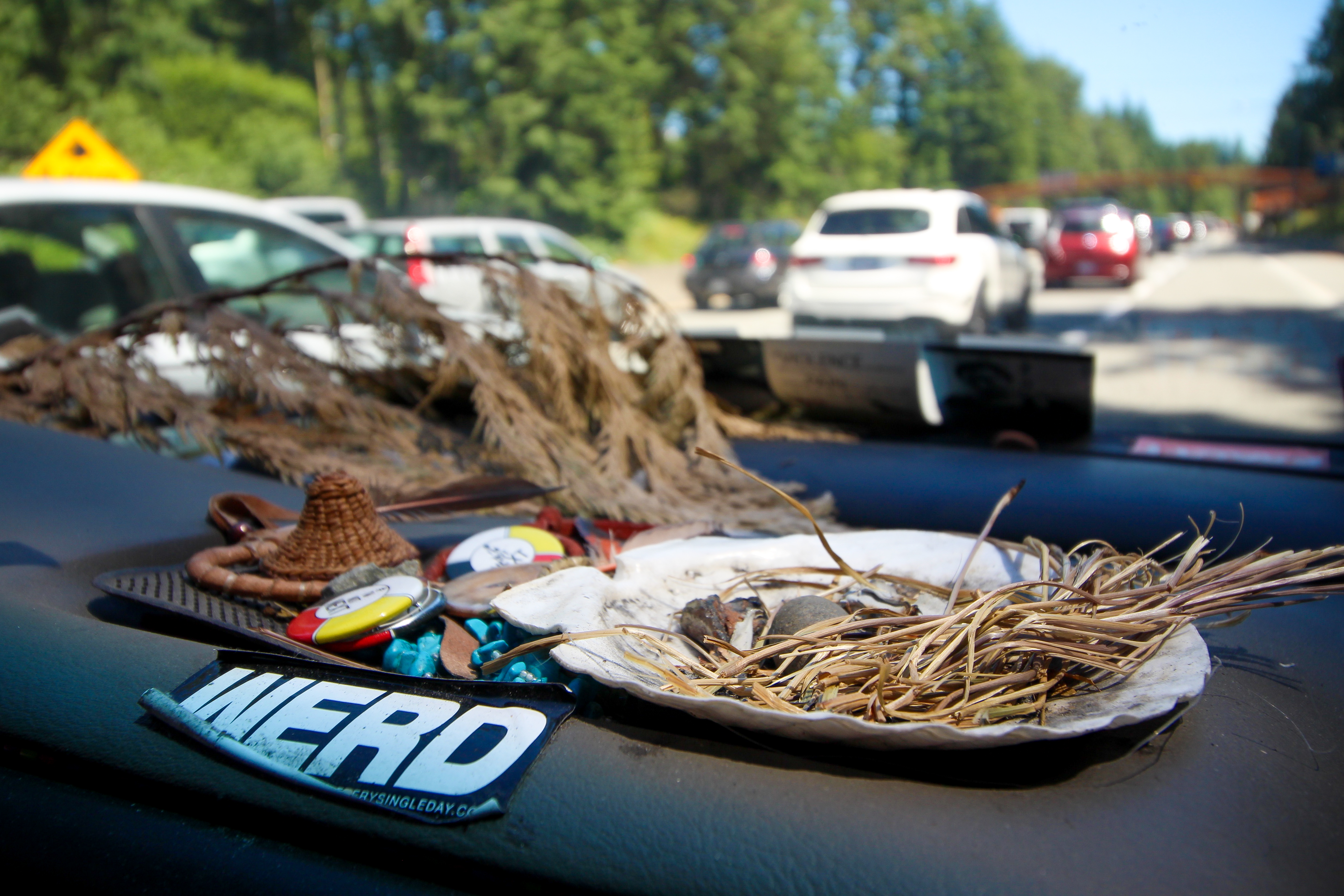 Though Paul had dreamed her entire life of a "bannock shack," a place to escape to for warm bannock, she learned that a possible space, located at 1692 Venables Street, had just become available four weeks ago. She had pictured traveling with her sons and serving out of a food truck, and now had only hours to make a huge financial and emotional decision to open a bricks-and-mortar café.
The decision brought challenges. Paul has faced last-minute cancelled contracts, a rush to learn how to run a much bigger business and the need to balance between buying groceries for her family and supplies for the shop.
At the same time, Paul has received immense community support and sacred signs that have kept her grounded in her decision.
When owners of Spirit Bear Coffee Company learned about an unforeseen obstacle that threatened their partnership with supplying BigHeart Bannock, they donated an espresso machine and installed it for her.
"There is so much big-heartedness going into this," she said as she retold the story, hands lifted in gratitude.
More recently, an unnamed elder dropped off a gift that brought her to tears. Paul's nephew was watching the café when an elder left behind aprons with eagle, bear paw and First Nations art designs. When her nephew asked for the elder's name, so that he could tell Paul who the gift was from, she asked to remain anonymous and urged them to "keep making spirit food for our people."
"She had smudged them and prayed over the aprons," Paul said. "For an elder who knows what's up and who has lived through generations of trauma… to come to my sacred space and make this sacred offering of covering us shows the intention of what she wants to happen for our people."
"Covering someone up" is a part of her Coast Salish protocol, Paul explained. When people place a covering, something that resembles a blanket, they are protecting that person, she said.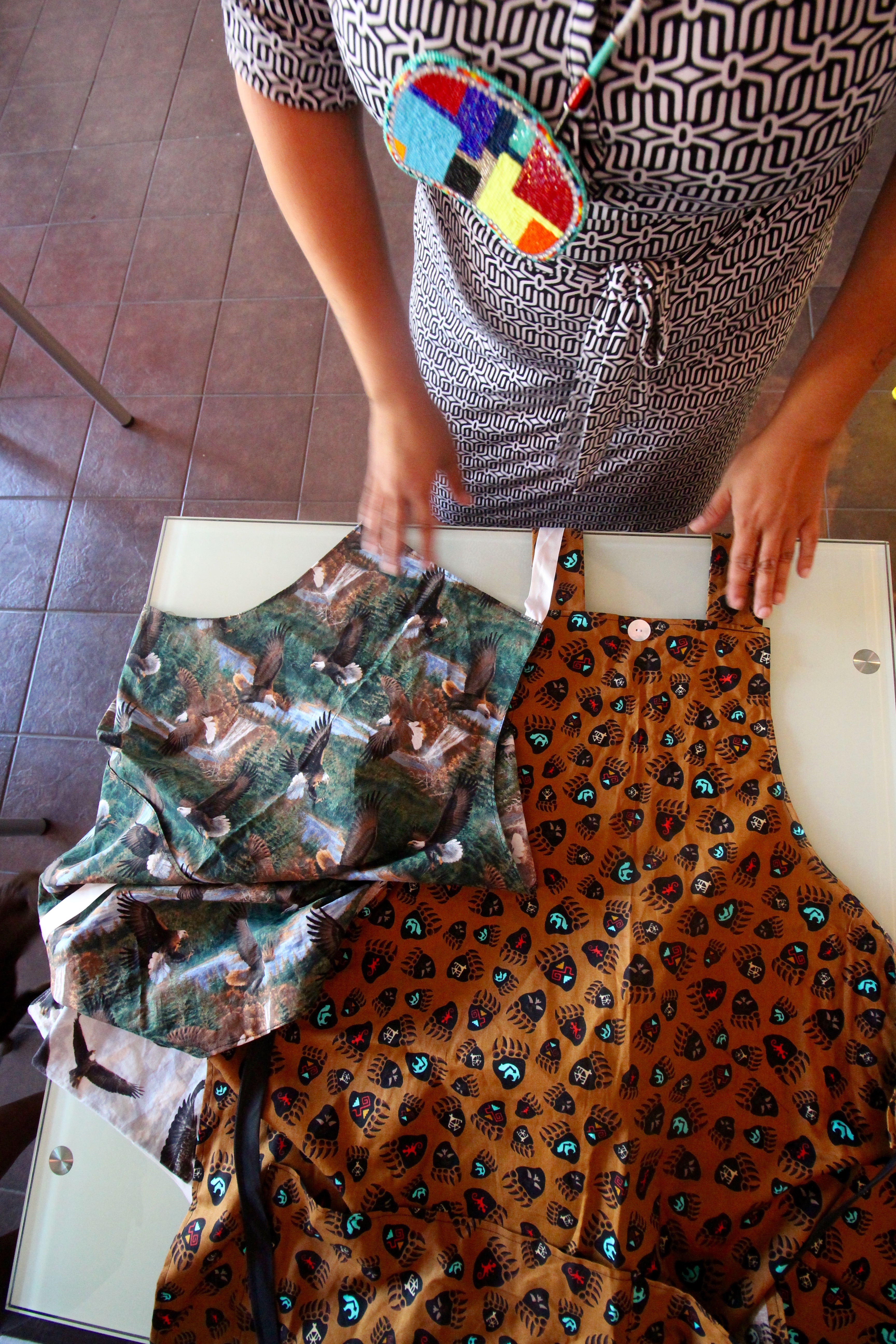 "She wants that healing just as bad as we do," Paul added. "I get an affirmation like that and it's like, you don't give up Laura, you have to keep finding the path and staying on it to make this all possible."
It's not the first time Paul has made a brave and bold decision to continue fighting. As someone who grew up in "the bipolarity of intergenerational trauma," Paul has had to hustle to make ends meet for as long as she can remember.
"I moved out and on my own by the time I was 15," she said. Before that, many different family members had raised her — her grandparents, her dad, mom, foster caretakers and an auntie who "did the bulk of it."
While Paul witnessed some of her family members making strides for the community, others were poverty stricken, dealing with violence and addiction.
"Some of my cousins are down here," Paul said, waving out the window as she rolled through downtown Vancouver on the way to pick up her smoker (because "everything tastes better smoked"). When she sees family members suffering, she knows what hurt and hardship they have experienced, she said, and she greets them with no less love than when she knew them as a child.
"I had many blessings as to how I came out," she said. "It's always a slippery slope. I always felt like any given one thing could really take me out, or take me under."
These lessons sharpened Paul's standards. Recently, seeking halibut for her restaurant, she asked a fisherman where he fishes, his nation and how long he has been fishing.
"Do you want it or not? I've got other buyers," he responded. She went elsewhere.
"I know right then and there that's not the energy I want to feed my people," she said. "I'm very much paying attention to the Indigenous tradesperson and the relationships we have had or the referral it comes through."
"The people speak," she said, noting that her interview process looks a bit different than most Western business models.
She recently traded a refurbished truck for a bounty of locally sourced medicinal tea supplies from Raven and Hummingbird Tea Company, a mother-daughter duo that support Indigenous food security.
Paul honours sacred traditions inside and outside the kitchen. Her teachings require that she and her staff "get right" before they start work. For Paul, "getting right" means taking any negative thoughts or feelings and hanging them on a hook or dropping them in a basket outside the kitchen. It also includes the willingness to stop whatever you're doing and pause for a dance party when the moment requires it.
Paul also upholds the sacred law of "setting the table," a lesson passed on to her from the many Indigenous "life-givers" (a term Paul uses, rather than women, to be inclusive of the gender non-conforming teachers) who have shaped her. She cleans the oil, sets out the stove, organizes her ingredients and turns on music (usually A Tribe Called Red) before starting to cook.
"Once I got that, I try and focus on what's getting better and what I want for my children and their future, their children and their future and their grandchildren and their future," she said.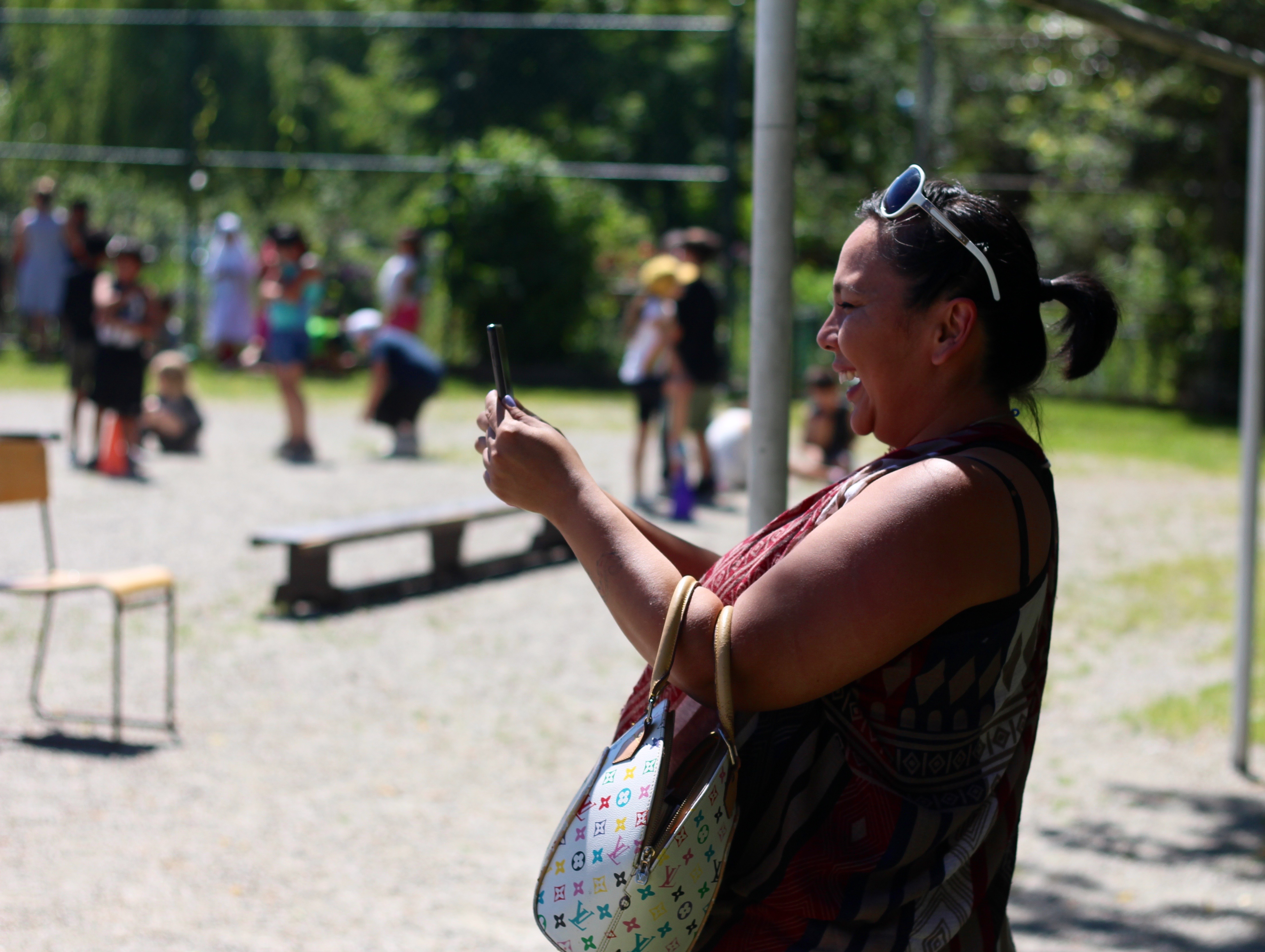 Bannockgasm
Since the doors to the cafe officially opened on July 6, Paul has continued to listen to her community. She'll be listening for her favourite sound, the familiar "oohs" and "aahs" of a person whose eyes roll and knees go weak as they begin to have a "bannockgasm."
"I have no shame," Paul said, laughing. "Any time I see a new person eating my bannock, I have to watch, because they go straight into bannockgasm."
To achieve bannockgasm, Paul insists on a light crispy outside and buttery fluffy inside. She follows a specific technique of layering and mixing her ingredients, passed down to her from many Indigenous life-givers and perfected through years of practice.
"It should feel precious in your hands," she said. "Each piece gets kneaded individually to my desired consistency, pulled, stretched and then put into the fryer."
Bannock is the foundation of most plates, accompanied with a plethora of locally sourced medicinal fusions, like cedar jelly and sage-blueberry jam.
"Another jam I did was a mint and stinging nettle," she said. "Stinging nettle is used for anti-inflammatory purposes and tissue regeneration and mint is good for soothing the stomach and digestive issues."
Guests can also expect bannock burgers of bison, venison and elk, bannock tacos, chowders, stews, and if they're lucky, a sweet desert like the sage-smoked blueberry cheesecake she stuffed into her crispy-fluffy Bannock bundles for the Queer Arts Festival, Unsettled.
"It was made in a smudge," she said. "We smudged the blueberries all morning. It took about four hours."
On top of the time it takes to perfect a dish like the ones Paul promises, it also takes energy, and many hands. Paul is supported by her family and community, some of whom are volunteering to help lift the café off the ground.
After three days of working straight over the past weekend, with five or less hours of sleep, customers started to ask Paul how she still had any energy left.
"I tell them the same thing I keep talking about," she said with a smile, finally relaxing with the volunteers and workers that served throughout Car-Free Day on Commercial Drive, "It's in the food."
Though Paul upholds ancient traditions and incorporates sacred teachings to her relationship to food, her methods may be refreshingly new for some. With ingredients like integrity, peace of mind and an excess of love, BigHeart Bannock may be just what "East Van Nation" has been hungry for.
It's also Paul's personal commitment to the next 150 years.
"My descendants and the seven generations to come, they're all going to be instilled in who they are," she said, confidently. "They're all going to have their own means to advocate for their inherent rights, Mother Earth, their culture and wellbeing."