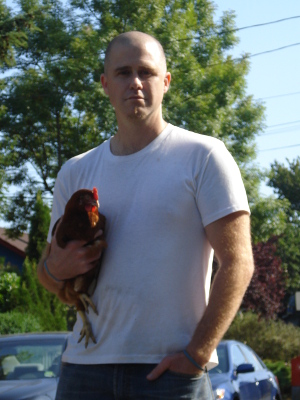 What a City Is For: Remaking the Politics of Displacement
Matt Hern
The MIT Press (2016)
Let's say you're a white liberal who wants to improve community infrastructure in a mixed income neighbourhood. Could that be a bad thing? John Washington, an activist in the Portland neighbourhood of Albina, has words for you: "I knew the Black people were fucked as soon as I saw the bike lanes."
This is one of many challenges to our assumptions in Matt Hern's What a City Is For. He asks us to consider the implications of gentrification, and all of its attendant trappings. But there are much bigger affronts to convention in this book. Who really owns land? And what are the consequences for poor people?
Hern, an East Van community activist and university instructor, uses Albina as his main example. It was once the backbone of Portland's Black community, and now it's a cool place for edgy white folks to push many long-time residents away.
In just 20 years ending in 2010, Albina's Black population declined to 25 per cent from nearly 75 per cent. Hern believes this is partly a consequence of a progressive city government's urban renewal policies, and that such gentrification happens in various guises all over the place, including his own neighbourhood of Grandview-Woodland. "The parallels could hardly be clearer, and I feel a sense of foreboding dismay."
Hern doesn't pin all or even most of the blame on the gentrifiers. He confesses that he is one — as a fan of bike lanes and community gardens, and as the co-founder of Car-free Days — even though he calls the building he rents as his home "a piece of shit." It's just the market doing its thing, he writes. "It's supply and demand, and if that means displacement, well so be it."
Supply and demand, however, hasn't well served our interests in providing the one thing that pretty much all of us want most: a secure place to live where we don't feel like an outsider. You could argue that this issue is at the heart of most of the world's problems. In Syria, and in Vancouver, it's what we talk about, even if the stakes are rather different.
The genius of George
Throughout the book, Hern canvasses the ideas of several little-known big thinkers on land ownership issues. He writes about Murray Bookchin, the provocative American socialist whose advocacy for "libertarian municipalism" helped create a remarkable concentration of community land trusts in Burlington, Vermont. He also summons the ghost of Henry George, whose book Progress and Poverty sold an astonishing 3 million copies in the U.S. in the years after it was published in 1879.
George argued that land was our common heritage, and that no one should get a windfall profit from buying and selling land, especially if the profit is created by a new road or railway or some other form of adjoining infrastructure. That's wealth created by society as a whole, he argued, and government should tax the entire profit on the land. Conversely, George maintained that the goods and services people create (including buildings) should not be taxed, because that inhibits wealth creation. Before Marx dominated the scene, George was the provocative icon busy demolishing the Adam Smiths of the world with his simple ideas and lively prose. He created a legion of "single-tax" advocates that included early Vancouver mayor W.D. Taylor.
Today, George is obscure, but Georgist thinking still informs current public policy, a prime example being the way Vancouver's civic government extracts community benefits from rezoned properties near new SkyTrain stations. It's a tepid version of what George fought for, but it shows that in some ways we accept his principles.
Hern argues forcefully that we allow all sorts of constraints on the use of land. It's zoned to permit only certain activities. And the direction can be pretty fine-grained: the city can tell me what my back-porch railings must look like. My next-door neighbour once put it very simply: "You didn't really buy your house, you just bought the right to use it the way the city tells you to." But unlike my neighbour, who is also our street's most vocal Trump supporter, Hern grounds his arguments in history and theory.
Let the people plan
Ironically, our ability to buy and sell the land beneath our buildings for often obscene and untaxed profits is pretty much completely unconstrained. There are more rules governing the sale of milk. Given that land is our common heritage, the one thing we all must use and protect in our shared interests, this is rather peculiar.
Real estate redevelopers may sell notions of community to us in their promotional material, but beneath the veneer created by their marketing departments, they often destroy it. Albina, Hern notes, presents a particularly nasty example of the destructive effect of those with money on those without it. In the words of John Washington's fellow Albina community activist Joice Taylor: "Now there is no minority neighbourhood in the city: and that was intended! They created this! Now you don't see anything to distinguish one neighbourhood from the next. It's all the same." Taylor suggests youthful activist enthusiasm isn't always a good thing. "They want to make changes too quickly, and they don't want to hear what was here and working before."
For Hern, it's a discomforting perspective that makes him complicit, and he urges us to carefully consider what we really want as we remake our cities. Hern wants the voice of communities to be more central to urban evolution. He cites Bookchin's belief that the municipality is the ideal place for true democracy, a place where political conversations can and should take place face to face. Bookchin believed that messy collective decision-making can give ordinary people real power, and that power must always filter up. "Is it possible that small groups of city residents can learn the skills necessary to care for their neighbourhoods and substantially govern themselves?" Hern asks. "Is it possible that convivial neighbourhoods are not the product of planning?"
A key part of community-based decision-making, he argues, is rethinking how we trade in and reshape land. In Grandview-Woodland, Hern notes, two-thirds of residents rent, and the median income of those renters is just $34,000. Meanwhile, land values have lost all connection to local economic realities, and the spillover effects are deeply concerning.
Just as Hern worries about the consequences of urban redevelopment, he acknowledges the need to live densely but lightly in cities in order to protect rural and agricultural land. He knows that cities need to change, and he worries we may be led astray by both fatalism about the market (even as so much wealth is being concentrated in the hands of so few) and nostalgia for a past created in different circumstances.
What does it mean to own?
Connection to place is a foundational human experience, he argues, but that doesn't mean you have to own a place in the conventional way. The system, however, is stacked against the alternatives. "It's the guys (and it's almost always guys) who own the land who ride herd on most of the real decisions," Hern writes, and they use some pretty sophisticated tools to make sure their financial interests are served.
While the book is rich with smart, simple ideas, it does have some faults. As a writer, Hern often loses his grip on plain speaking and thinking. Here is just one example: "With planetary-scale expansion of neoliberal logics came the subsumption of development into the discourse of capitalist globalization via the Washington Consensus and aid-for-trade schemes tying development assistance to the willingness of the recipients to restructure their national economies around export-led, trade liberalized, deregulated, privatized market priorities." In other words, big money pushes poor people around all over the world. It's as though there are two books here: one for my neighbour the Trump supporter and one for grad students of social theory.
Hern acknowledges his weakness for the theoretical idea, even as he questions the left's "fetishization of abstracted theory." At least theory becomes clearer for him when he can "root it in an actual place." And he's on much firmer ground when he does.
Hern looks at community land trusts, co-ops, and even squatting as mechanisms that take housing out of the speculative realm of wealth accumulation. He notes that many cities own vast amounts of land that could be used creatively to change how many of us live. He mentions a vacant block in the heart of Albina, owned by the city of Portland. He might also have mentioned the south shore of False Creek, where the City of Vancouver is now negotiating with its resident leaseholders and could create a land trust that stretches from Granville Island to the Cambie Bridge.
Hern cites Montreal architect Avi Friedman's belief in Singapore as a model. "The Singaporean government holds 80 per cent of their land in leasehold arrangements," Friedman says, "because without limits on speculation there cannot be affordable housing." Hern urges cities to "start buying up every residence they can and leasing them out." That's a line of thinking he doesn't fully develop, and it's certainly fraught. But Hern calls on us to show "a willingness to experiment, to try new approaches large and small, to hazard coalitions, to fail and learn — and to support others who are doing the same."
For those who think governments shouldn't be players in private markets, Hern argues that in the U.S. mortgage interest tax deductions and federally sponsored lenders such as Fannie May create a subsidy for ownership that amounts to $100 billion a year. (I'd add that in 2008 those who tried to profit from mortgages by repackaging and reselling them created the greatest stock market collapse since the Great Depression.)
Conversely, Hern's not arguing for the nanny state. He wants governments to enable local initiative and productivity, by rethinking how our relationship to land shapes what we do, and what is possible. "Property law," Hern writes, "can render relationships within communities either exploitative and humiliating or liberating and ennobling."
In Vancouver right now, if you don't have land or money, there's a lot of exploitation and humiliation. The good news? Hern shows us that cities really do have the power to chart a different course — if we're willing to challenge some of our most cherished assumptions.