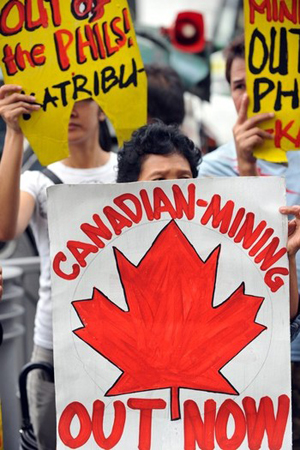 [Editor's note: This is the second of two pieces drawn, with permission, from Chapter 2 of The Ugly Canadian: Stephen Harper's Foreign Policy by Yves Engler, newly published. The first part is here. Engler's next author's event is Nov. 27 at Carleton University, 2:45 p.m., Room A220, Loeb Building, Ottawa.]
Time and again Canadian Prime Minister Stephen Harper has used diplomatic trips to support controversial mining projects. Canada-based Barrick Gold Corporation, the world's largest gold producer, gained important support for its Pascua Lama operations, which spurred large-scale protests, during his July 2007 trip to Chile. The prime minister visited the company's Chilean office and said: "Barrick follows Canadian standards of corporate social responsibility." He was greeted with signs from mine opponents stating, "Harper go home" and "Canada: What's HARPERing here?"
During a Nov. 2007 visit to Tanzania Harper once again met representatives of Barrick, which had more than $1 billion invested in the East African country. Days before meeting the prime minister, Barrick officials claimed a strike at one of its Tanzanian mines was illegal and looked to replace a thousand striking miners. To protect its North Mara mine Barrick employed 300 security officers -- and paid part of the salary for two dozen police officers -- linked to seven violent deaths from July 2005 to late 2008. The Oct. 2011 Globe and Mail Business magazine reported on a Tanzanian lawyer organization's claim that 19 villagers were killed by police and security guards at the North Mara mine between Jan. 2009 and June 2010. The victims were usually searching for gold.
Under Harper all levels of Canadian diplomacy have promoted mining. Anthony Bebbington, director of the Graduate School of Geography at Clark University, told the Standing Committee on Foreign Affairs and International Development in February 2012 that a "sub-secretary in a [Latin American] ministry of energy and mines" told him "as far as I can tell, the Canadian ambassador here is a representative for Canadian mining companies." The Massachusetts-based academic also quoted an unnamed Latin American environment minister, who complained about Canadian lobbying and mining, saying: "I don't know if Canada has been quite so discredited in its history." Bebbington's report to the Standing Committee fits a larger pattern. In Ecuador Canadian officials took a keen interest in the country's mining debate after large-scale mining was suspended for 180 days while a new mining law was written in 2009. The senior vice-president of EcuaCorriente, one of the Canadian companies bitterly opposed by local communities, described the diplomatic effort. Ian Harris wrote: "The Canadian Embassy in Ecuador has worked tirelessly to affect change in the mining policy -- including facilitating high level meetings between Canadian mining companies and President Rafael Correa."
Along with a number of mining representatives, Canada's ambassador to Ecuador, Christian LaPointe, discussed mining regulations with Ecuador's president in April 2008. According to CBC.ca, LaPointe "attended the meeting with the mining companies and presented the Canadian government's concerns over the mining rules." To add to the embassy's efforts Trade Minister Stockwell Day traveled to Ecuador in Aug. 2009. During the visit Day said: "It was important for me to be here to promote our leadership in this [mining] sector. Whether it is protecting the environment, helping communities or respecting the position of Indigenous peoples, we think responsibility and economic prosperity can go hand in hand."
The Conservatives' lobbying was successful. Canadian businessmen were granted a privileged position during mining law negotiations and key Canadian holdings escaped Ecuador's mining mandate.
Bev Oda's missions for miners
Further south, the Conservatives signed a free trade agreement largely to protect $5 billion in Canadian mining investment in Peru from the type of legislative changes Ecuador implemented. Signed in the midst of intense mining conflict, the 2010 trade agreement -- with environmental and labour safeguards "even weaker than NAFTA's" -- was designed to remove any future Peruvian government's ability to change mining regulations or to expropriate the properties of Canadian companies. In June 2011 indigenous Aymara in eastern Peru led a wave of anti-mining protests. Six protesters were killed when 1,000 demonstrators tried to occupy the Inca Manco Capac Airport near Lake Titicaca. In response to the protests the Ministry of Mines and Energy withdrew Vancouver-based Bear Creek Mining's concession to develop a silver deposit. After the company's concession was withdrawn Bear Creek CEO Andrew Swarthout threatened the Ministry.
"There's a free-trade agreement between Canada and Peru which is very regulated, so there's avenues there," Swarthout told Agence France Presse. "We will go through the free trade agreement."
The Conservatives have demonstrated particular interest in Peru's mining sector. In 2008 CIDA gave $4 million to the Mineral Resources Reform Project to provide technical assistance and technological support to Peru's Ministry of Mines and Energy.
The official goal of the Mineral Resources Reform Project was "development of activities oriented to the consolidation of the institutional capacity of the sector, which means the services provided by the Ministry of Mines and Energy, and to contribute to the generation of greater confidence in the Ministry and its regional offices." CIDA's push to improve the prospects for Canadian mining corporations through the Mineral Resources Reform Project warranted a visit in early 2008 by the minister of international cooperation. Embassy reported: "Ms. [Bev Oda]... arrived in Peru meeting with the Latin American nation's energy and mines minister, as well as Canadian and Peruvian mining companies and NGOs to discuss mining sector reform." Partly to facilitate Canadian mining investment, in 2009 CIDA chose Peru as one of its 20 "countries of focus" and after meeting new president Ollanta Humala in Nov. 2011 Harper announced a four-year $4.9 million Conflict Management and Prevention in the Extractive Sector (COMPES) project to "help promote economic growth in Peru by reducing the impact of social conflicts related to the use of natural resources."
The Afghanistan connection
On the other side of the world from Peru, Afghanistan's natural resources may have influenced Canadian military policy in that country. "Is mineral-rich Afghanistan the next mining hotspot?" asked a March 2008 Financial Post headline. The Conservatives brought the Afghan minister of mines to the Prospectors and Developers Association of Canada Conference in Toronto. "Minister Adel," a Foreign Affairs invitation to the conference promised, "will speak about the tremendous mining opportunities in Afghanistan, including details on a number of projects. He welcomes the opportunity to meet with Canadian companies."
In Nov. 2011 the Afghan Ministry of Mines awarded Toronto-based Kilo Goldmines a 25 percent stake in Hajigak, the largest iron deposit in Asia. The Conservatives hailed the move. "Canada is strongly committed to helping Afghans rebuild their country, and this investment by Kilo Goldmines will create jobs and prosperity for Afghans and Canadians alike," said Trade Minister Fast. "As the first significant engagement of a Western firm in the Afghan mining sector, this project will enable hard-working Canadians from Canada's world-class mining sector to help Afghanistan develop its mining infrastructure, which will lead to further growth and opportunities in both the Afghan and Canadian economies."
In at least one case the Conservatives established diplomatic relations with a country simply to serve mining interests. In April 2008 Agence France Presse reported: "Canada will establish a new trade mission in Ulaanbaatar, Mongolia, this year to help Canadian companies active in the region's mining sector."
Three months after that the trade mission was expanded to full embassy status. Canadian diplomatic representation in Mongolia was necessary because, according to Ted Menzies, parliamentary secretary to the minister of finance, "there have been some policy issues including taxation, control and investment regulations that have put Canadian companies in the region in an extremely challenging position." Soon after the Conservatives established the embassy they began to negotiate a foreign investment promotion and protection agreement to "provide greater predictability and certainty for Canadian investors considering investment opportunities in Mongolia."
With some 20 Canadian mining companies active in the country, Canada was the second largest investor in Mongolia. Ottawa's biggest concern was Vancouver-based Ivanhoe, which owned a copper and gold project in the Gobi desert. This $6 billion project, noted the Financial Post, "was the major campaign issue" in Mongolia's 2008 election. In April 2006 at least 3,000 people marched against foreign mining in Mongolia's capital, with protesters burning an effigy of Ivanhoe's Robert Friedland. The ire directed towards Friedland was partly because of comments he made in 2005. Friedland explained his Mongolian venture to an investor's conference this way: "So we're coming in from outer space and landing at Oyu Tolgoi... And the nice thing about this: there's no people around; the land is flat, there's no tropical jungle; there's no NGOs. We're only 70 kilometres from the Chinese border. It does not snow here. You've got lots of room for waste dumps." The company also took heat for loaning $50 million to the government in exchange for tax concessions.
The Conservatives actively lobbied the Mongolian government on behalf of Ivanhoe. A Globe and Mail Report on Business headline described a Jan. 2008 trip to Mongolia by Trade Minister David Emerson (who joined the board of a mining company after he left public office): "Emerson to push for Ivanhoe deal in Mongolia." As part of its efforts to woo the country's decision-makers, the Conservatives doled out tens of millions of dollars in aid to Mongolia. In Aug. 2011 development minister Oda visited Mongolia and CIDA ramped up its funding to a country with limited historic ties to Canada.
Pressuring the Democratic Republic of the Congo
In middle of 2012 opposition to Vancouver-based South American Silver's operations in central Bolivia grew. Weeks of protest against the junior mining company culminated with a handful of people being sequestered and an indigenous activist's death on July 6. This prompted the Bolivian government to nationalize South American Silver's mine. The Conservatives immediately went to bat for the company. After the death, trade minister Ed Fast sent a letter to the Bolivian government expressing "deep concern" over reports it might nationalize the company's operations. Fast's spokesman Rudy Husny told the Vancouver Sun the trade minister instructed Canadian officials to "intensify their engagement with the Bolivian government in order to protect and defend Canadian interests and seek a productive resolution of this matter." This included visits with officials in La Paz and Bolivia's ambassador to Canada. An Aug. 2012 statement from South American Silver noted: "The Company thanks the Canadian government for its strong support by raising this matter as a priority on a number of diplomatic fronts."
The most egregious case of the Conservatives defending mining interests took place in the Democratic Republic of the Congo (DRC), a country that's had its natural resources viciously exploited by foreigners for over a century. Claiming Vancouver-based First Quantum violated parts of its contract, in Sept. 2009 the Congolese government withdrew the company's rights to a copper mine in the eastern part of the country. The Conservatives staunchly defended First Quantum. "Canada to press Congo mining dispute at G20 meeting," noted London's Financial Times several months later. At the G8/G20 in June 2010, the Conservatives pushed for a declaration to the final communiqué calling on the Congo to "extend urgently the rule of law" and "enhance governance and accountability in the extractive sector."
The Financial Post captured the mood: "G8 leaders scold Congo on governance." A First Quantum spokesperson told the paper: "The company is encouraged by the G8's statement regarding the governance issues challenging the resource sector in the [DRC]."
But the Conservatives did not stop there. They also took the issue to other international forums. The Financial Post reported: "Harper will raise the case of Vancouver-based First Quantum Minerals Ltd. with representatives from the World Bank, the International Monetary Fund and other governments that do business in the DRC." As part of this effort, Ottawa obstructed international efforts to reschedule the country's foreign debt, which was mostly accrued during more than three decades of Joseph Mobuto's dictatorship and the subsequent multi-country war.
"The Canadian government wants to use the Paris Club [of debtor nations] in order to resolve a particular problem [with First Quantum]," explained Congolese Information Minister Lambert Mende in Nov. 2009. "This is unacceptable." Ottawa refused to respond directly to allegations that it used Congo's indebtedness to gain political concessions for Canadian mining companies. But, Conservative government spokesperson Me'shel Gulliver Bélanger told Reuters: "Some Canadian firms have been having significant issues in a challenging investment environment."
War and treasure
A Canadian Business article based on a number of access to information requests noted that First Quantum hired Daniel Brock, a lawyer who formerly worked in the Finance and Foreign Affairs departments. "Brock met twice with officials, including the international trade minister's chief of staff, to discuss 'Canadian foreign policy regarding debt forgiveness package for Democratic Republic of Congo.'"
After winning concessions that pleased Canada's many mining companies in the Congo, Ottawa relented on the debt rescheduling. While it was largely ignored outside of this country's business press, the story received significant attention "in the Congo where newspaper editorial cartoons mocked Canada and First Quantum," reported The Financial Post.
Aside from Canadian Business and The Dominion the Canadian media seem to have ignored the circumstances under which First Quantum acquired its concession. Apparently, the company made a deal with a rebel leader, Laurent Kabila, fighting the national government in the mid-1990s. One reason First Quantum's project was nationalized is that the company rejected the Congolese government's attempt to renegotiate mining licenses granted during the 1998-2003 multi-country war.
An Oct. 2002 report by the UN Panel of Experts on the Illegal Exploitation of Natural Resources and Other Forms of Wealth of the Democratic Republic of the Congo accused First Quantum of violating OECD guidelines during the war. The report referred to the "collusion" between foreign mining companies and "highly placed government officials who provide mining licences and export permits in return for private gain... For example, in its attempts to buy rights to the Kolwezi Tailings, First Quantum Minerals (FQM) of Canada offered a down payment to the State of $100 million, cash payments and shares held in trust for Government officials. According to documents in the possession of the Panel, the payments list included the National Security Minister, Mwenze Kongolo; the director of the National Intelligence Agency, Didier Kazadi Nyembwe; the director general of Gécamines, Yumba Monga; and the former minister of the payments residency, Pierre-Victor Mpoyo. The FQM share offer to those officials was premised on a sharp rise in its share price once it was announced that it had secured some of the most valuable mineral concessions in the Democratic Republic of the Congo."
So, it would appear that not only do the Conservatives support the interests of the mining industry in general, but under Harper this country's foreign policy enforces the interests of all mining companies, no matter the context. Is this a foreign policy to make Canadians proud?
To read the first article in this two-part series click here.