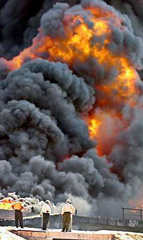 This was the year the world's oil addicts hit bottom. Daily, it seemed, fresh evidence told us the Iraq war was a disaster, and soon enough, so would be the planet's climate.
The road to these intertwined reckonings is decades long, strewn with governments toppled, revolts fomented, and wars fought by the U.S. and its allies with the aim of securing energy supplies around the world.
2006 looks like the year that the American people along with Canadians and others in the West began to shake themselves awake. But is it too late?
Six years ago, an SUV-hugging nation in denial elected a Texan oil man as its leader, squandering what may have been the last chance to turn this thing around in time to prevent Middle East chaos and an Earth rendered one-third desert. Instead, the fate of the planet was placed, de facto, into the hands of Vice President Dick Cheney, who, as Joan Didion detailed, worked his "fatal touch" to construct an imperial presidency in slavish service of the oil and military interests that made him and his cronies wildly rich. For decades, energy experts, environmentalists and others had urged that North America must wean itself off oil to prevent war and save the planet. By 2005, even former CIA director Robert M. Gates (now U.S. Secretary of Defense) was warning that "the American people are going to pay a terrible price for not having had an energy strategy."
That didn't stop Big Oil further cranking up its expensive spin.
Canada, with its own oil-friendly leader, finds itself sucked into the vortex. While our troops battle a Taliban that oil-driven U.S. foreign policy helped create, we've drawn international fire for reneging on Kyoto. Here in B.C., we'd better brace ourselves for drought and flood.
The surest sign that Americans weren't buying Bush on Iraq anymore came in November, as voters turfed Republican majorities from both houses. Meanwhile, Al Gore's movie and a relentless series of dire scientific reports finally drilled the reality of global warming into mass consciousness. The elite seemed to focus up when the former World Bank chief predicted the climate change would cost the world economy upwards of $9 trillion.
So, do enough of us now get the picture? And if so, can we move quickly enough to save ourselves?
The year ends with the jury still very much out. In Washington, the talk is of ramping up troops in Iraq, and construction continues on "enduring bases" there, even as Iraqis endure their deepening hell.
As for global warming, the Internet is abuzz with quick-hit primers and creative thinking. Oxford professor George Monbiot, whose book Heat: How to Stop the Planet from Burning got big play this year, refers to "the last generation" as he exhorts action governmental and personal that might just rescue humanity if we act fast. Very fast.
New Year's resolutions anyone?