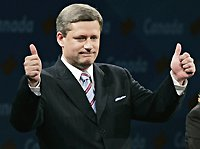 The only thing missing when Prime Minister Stephen Harper speaks is an American flag as the backdrop.
A long time admirer of everything American, Harper even included an explicitly pro-American clause in the Reform Party's constitution. He has even begun extending his admiration of American political ideology to an adoption of a presidential political style. The change in style ranges from the relatively benign practice of recognizing visitors in the Commons Gallery (an American, not Canadian practice) to the more serious treatment of his cabinet ministers as if they were appointed lackeys (as US cabinet members are) and not elected representatives. At his news conferences, he has tried to enforce a system where only a very select number of journalists will be allowed to ask him questions. Those deemed "unfriendly" to the regime are effectively silenced.
Those matters of style are troubling, but it is still the substance of the parallels with George Bush that are the most serious. The latest example is on the climate change front. Just as all kinds of dedicated unbelievers are reluctantly getting on the climate change train - Tony Blair, Australia's John Howard, Time magazine, the Pentagon and even George Bush - Harper is determined to take Canada off the train. Why?
The answer might lie in Oilberta, just as George Bush's hatred of Kyoto is rooted in Texas oil fields.
No debate, no accountablity
Harper and his environment minister are on a virtual binge of vengeance against anyone they can punish for even claiming there is a problem. Harper's foolish rant about "the Liberal bureaucracy" during the election is now playing out in policy decisions. The Conservative government, during the same week that it was trumpeting its dedication to accountability and transparency with a 250-page omnibus bill, was quietly axing 15 programs that were aimed at reducing greenhouse gas emissions. No debate, no explanation, no accountability.
It demonstrates what Harper would do with real power if we ever give him a majority.
The most bizarre example of Harper's paranoia, and that of his Environment Minister Rona Ambrose, was the recent decision preventing an Environment Canada scientist from launching a novel about global warming. According to the Canadian Press, the scientist, Mark Tushingham, was ordered not to appear at the National Press Club talk about his book Hotter than Hell - an account of the possible future impact of global warming.
A spokesman for Minister Ambrose told the media that Mr. Tushingham was ordered not to appear at his book launch because he was described in the news release as an Environment Canada scientist "and it was assumed that he would be representing the position of the department." Minister Ambrose apparently assumed that Canadians (the couple of hundred who might have heard about it) are so dense that they would think the government now writes and publishes fiction.
The real Harper?
There is in this vendetta a reminder of who Stephen Harper really is. The mask has dropped, if just for a moment, from the man we know as viscerally hostile to any kind of activist government, contemptuous of three generations of Canadian nation-building and, perhaps, most important in this particular instance, a man who spent much of his political life defending the influence of corporate money in politics.
As for his paranoia about the "Liberal" bureaucracy, Harper's response to questions about the book controversy seem intended to declare that the bureaucracy is now Conservative. "I obviously not only hope, but expect, that all elements of the bureaucracy will be working with us to achieve our objectives." Would those objectives include denying climate change?
It should come as no surprise that Mr. Harper's loyalty to corporations should be expressed so brazenly to the oil industry that is the ruler of Alberta politics, start-up financier of the Reform Party and key to Harper's political base. Both Prime Minister Harper and President George Bush are loyal defenders of the richest and most reactionary corporate sectors in their respective countries. Both are absolutely determined to defend the oil and gas industry against any conceivable damage from efforts to slow the ravages of global warming. Reports suggest that Bush was delighted with Harper's visit to Afghanistan. No doubt the oil industry was, too, as they have no doubts about the geo-politics of the mission there.
It is especially revealing that this determination should be demonstrated so crassly during the same week that one of the most powerful and convincing books yet written on climate change was being promoted by its author in Canada. The Weather Makers: How We Are Changing the Climate and What It Means for Life on Earth, by Australian author Tim Flannery, presents a relentless array of evidence that climate change is already here. Tony Blair has gone out his way to praise the book.
In contrast, Harper went to the trouble of sabotaging a very low-key publishing event - an almost pathological dedication to denying climate change. But the more disturbing strategy is avoiding the actual science. This hear-no-evil, see-no-evil approach is alive and well in Harper's troubled mind. One of the fifteen programs axed or suspended by the government is the Canadian Climate Impacts and Adaptation and Research Network (C-CIARN), tasked with trying to anticipate the future impacts of climate change on Canada and help devise strategies to adapt to them.
Stephen Harper may be right in assuming that Canadians don't want another election any time soon. But governing as if he has a majority is a high risk strategy. Canadians did not vote to see government power used to carry out a mandate written by the oil patch in the interests of a single province. If they conclude that the old Stephen Harper is the real Stephen Harper, they won't complain for a minute about going back to the polls.
Murray Dobbin writes his State of the Nation column twice monthly for The Tyee.