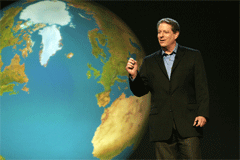 When is a film not a film? When it's a lecture instead.
Al Gore has been walking the earth for some time with his little slideshow, crying, "The end is near!" The latest incarnation of his one-man crusade is the film An Inconvenient Truth, which opens in theatres on June 9th, having made suitably large splashes at the Sundance Film Festival, and more recently, at Cannes. The film is as much a portrait of Gore himself as an explication of the looming doom of environmental collapse. He talks about his own life experiences, the near death of his young son, his sister dying from lung cancer, his family's farm, his college days -- which all add up to a portrait of a thoughtful, gentle man, who saw the future ahead, and decided to do what he could to make it a little better. Which is all well and good. But...
The problem with a lecture, particularly in film form, is that it is somehow very easy to ignore. During Gore's PowerPoint presentation, you can't help but notice the audience members -- who are clearly not paying attention, who are whispering to their neighbours and staring blankly into space. This gives the film an even more classroom feeling.
Still, the science in the film is indisputable, and set out in layperson's terms. For the average Joe, a few tidbits of this information may be a revelation, but it's not news for anyone who has been paying attention. That said, the relationship between carbon emissions in the atmosphere and global temperature is one of the more startling sequences; the man who "should have been the next President of the United States" climbs into a lift to point out the rising levels of carbon, and the corresponding temperatures they will likely create. I believe the term, "off the charts," has been coined for just such a situation, but even that doesn't quite do it justice. The higher it climbs the more your stomach sinks, which is what illustrates Gore's statement about jumping straight from denial to despair, without stopping to actually do something. Anything would be better than the pretty much nothing-at-all-scenario we have at the moment.
Message but not movie
But while the politicians waffle about the economy versus the environment, the point is made explicitly clear, that one can't exist without the other. Gore uses the U.S. Government's own media images against them -- gold bars on one side of the scale, and the entire world on the other. Which one would you choose?
So, the content in the film is not at issue, but its lack of style, which makes it feel like you're being spoon-fed a big swallow of cod liver oil. It might be good for you, but it doesn't go down easy. Does this really matter when the message is as critical as it is? You can ignore the messenger, even the movie, but the facts remain. Yes, it's critical to cry wolf, because this time there really is a big slavering beast at the door, but you still need to do it with style. Art matters, because it is the only thing that genuinely gets through our thick human skulls into the brains beneath.
Mr. Gore had always reminded me, oddly enough, of the Frankenstein monster; perhaps it's the stiffness of his gait, or his big square head, but he looms over the film like a genial giant bringing tidings of gloom. To U.S. citizens, of course, he symbolizes far more than that. He is the living embodiment of the path not taken. There but for the grace (or graces of the Supreme court) goes, or went, the U.S. He's a walking, talking recrimination of sorts, but perhaps that's what we all need -- to be reminded again and again of the things we are collectively doing wrong. But a hagiography, whether be it on the right or the left, still leaves a sour taste.
Consuming salvation?
Director Davis Guggenheim tries hard to keep things moving, but there is an unctuous "Hollywood wives at work" tone, where the rich and the fabulous suddenly appear to realize that their lifestyle may actually be in jeopardy. No more Malibu mansions or super fun SUVs to drive rough shod over hill and over dale. No more hills, no more dales. After all, doesn't Laurie David (one of the film's producers, and wife of Larry David (Curb Your Enthusiasm, Seinfeld), profiled recently in Vogue magazine) have as much right to continue living on planet Earth as anyone else? Certainly she does, but at the same time, how many resources does her private jet consume? It's this equation that makes one a little suspicious.
Another niggling point (a power point that is), is the constant product placement for Apple computers. If only we were all Mac based, would things get better? As soon as there's a problem, someone always has a solution for sale, some new thing to buy, be it an electric car or a light bulb. But isn't buying, consuming and manufacturing a large part of the problem to begin with? These might be minor questions but, left unanswered, they detract from the film, as well as from the message that Gore is trying to send.
My mother (self-appointed expert on global warming) likes to say, "It kind of makes everything humans are doing lately seem pretty ridiculous." Oh, humanity. It also makes you long for the bigger picture, the overview -- which is what Gore repeatedly provides, to his credit, by giving us shots of our tiny blue and green planet tumbling through space. The sheer immensity of the black void surrounding Earth makes it seem so infinitely fragile, a tiny spark in the darkness, snuffed out as easily as you blow out a candle. But before that happens maybe we ought to get our asses in gear and clean up the joint, ending once and for all the ceaseless whinging about Kyoto being too tough. I'm talking to you Stephen Harper, and your hair from hell. A shudder runs through me whenever I see that cantilevered shelf of follicles, just like the return of the 1950s "Father Knows Best." And all that entails.
If the revolution is indeed coming, I sure wish it would hurry up. One wearies of endlessly waiting for it. And wondering how long people can be pushed into corners before they rear up on their little hind legs and demand changes from their government. If history demonstrates anything, it's that someone usually emerges to lead the people when they most need leading. But it can go either way, and often does. Up pops a Hitler-type, and says, "Hey! I have a great idea, let's kill everyone, that'll fix everything." Or conversely, Gandhi or Martin Luther King might make their way through the crowd and say, "Now, now, come on, let's be reasonable." Where's old JC when you need him anyway? Get the hell down here, and "Save us Jebus!" As Homer Simpson might say. All we have is Al Gore. And he'll have to do for now it seems.
Dorothy Woodend reviews films for The Tyee every Friday.
Recent, related stories in The Tyee: Dorothy Woodend discussed documentary confession obsession last week, and The Devil and Daniel Johnston in April. Steve Burgess probed the sanity of documentary makers.