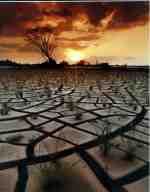 The last two weeks have been a busy time for global warming news. However, most of it had nothing to do with the recently-ended UN climate conference on Montreal.
Beyond the cloistered meetings in Montreal, real world climate events were rolling out rapidly, and, arguably, were much more tangible than the "Montreal Action Plan" brokered blearily at 6:00 AM last Saturday.
The laundry list started two weeks ago when scientists reported in the prestigious journal Science that current carbon dioxide levels have ballooned 27% higher than they have been for at least 650,000 years. In the same issue, researchers at Rutgers University published findings showing that sea levels are rising twice as fast now as 150 years ago.
The culprit on both counts: human-induced climate change.
Another important study was released last week by the National Oceanography Centre in the UK, showing that the portion of the Gulf Stream current delivering warm water from the tropics to northern Europe had declined by an alarming 30% in the last twelve years.
This heat conveyor belt delivers one million billion watts of energy across the Atlantic annually - the equivalent of one million power plants. England sits at the same latitude as Labrador, and should this fortunate ocean current ever shut down, as it has numerous times in the geological past, the UK might have to cope with a similar climate as well.
Scientists have grimly predicted that this so-called "thermohaline circulation" could shut down if melting ice sheets on Greenland dilute passing salt water from the tropics. Sometimes it sucks to be right.
The big blow
On December 1st, the 2005 Atlantic hurricane season officially ended, smashing virtually all records there were to break. Among the milestones: the most named storms in one year, the most hurricanes and the most category five hurricanes. Three of the six most powerful Atlantic storms ever recorded also happened this year.
Hurricane Epsilon - the fifth named storm beyond the end of the English alphabet - was also the longest-lasting December hurricane on record. Stay tuned for next year, unless, of course, we are visited by another tropical tempest before Christmas. While the official hurricane season ended December 1, it is unclear whether Mother Nature got the memo.
For those interested primarily in matters of economics, there is something for you too. It was reported that this year's hurricane season cost the US well over $250 billion in insured property losses and reconstruction costs. Needless to say, this was another record.
'State of public calamity'
Meanwhile, a record-breaking drought has hit the Amazon basin since October. It has so far caused forest fires, dried lagoons, killed crops and fish and imperiled villages that depend on water for transportation and to carry away sewage.
With a certain Latin panache, the state governor of Amazonas declared a "state of public calamity" with many communities being forced to cope with diminishing supplies of fuel and increasing risk of cholera.
Lastly, while the UN climate conference dragged on for two weeks, an additional 268 million tonnes of additional carbon dioxide were spewed into the atmosphere through our continual burning of fossil fuels.
All these events might seem a long way from Montreal, but the connection is an important one. Progress at the UN conference was agonizingly slow, but fundamental change has a very large and powerful ally: Earth's changing climate. Political inaction is becoming more threatened with each new climate disaster and scientific finding.
Some world leaders may still enjoy the luxury of pretending their powers transcend what we are now doing to the Earth's climate, but those days are numbered. Global climate change is becoming more difficult to ignore, or to justify ignoring.
George's place in geologic history
In spite of this, the well-known intransigence of the Bush administration to cross Big Oil was on full display in Montreal, and given what is at stake, may well secure George W's place in infamy. History does not remember kindly those on the wrong side of major historic events, and our ongoing experiment with the Earth's climate appears to be making not just human history, but geologic history, as well.
Those who worked so hard at the UN climate conference deserve our thanks. Given the current occupant of the White House, the last minute deal brokered was likely as good as we could hope for.
Let us hope that the worsening global climate will quickly improve the political climate, so that we can get on with far more meaningful action in the near future.
Mitchell Anderson is a freelance writer living in Vancouver. His blog can be viewed at: http://mitchellanderson.blogspot.com