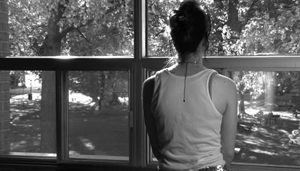 Is prostitution inherently exploitative and degrading to women? Or can sex be work, a job like any other job?
Two films to be shown next week as part of DOXA, Vancouver's annual documentary film festival, put very different lenses on these difficult questions.
Directed by Ève Lamont, The Fallacy (L'Imposture) is a film from Quebec that takes a candid look at prostitution via interviews with dozens of women who have either exited the industry or who are still involved in it. The stories of these women are powerful, sometimes brutal, and without a doubt challenge the "happy hooker" image perpetuated in films like Pretty Woman.
Scarlet Road, a film by Catherine Scott, looks at sex work as just that -- work. The film focuses on the experience of an Australian woman named Rachel Wotton and her work with disabled men, a form of sex work she's passionate about and sees in many ways as a kind of therapy.
But these films don't only tell stories. Both directly challenge societal perspectives and put forth powerful arguments around prostitution law.
The Tyee asked both filmmakers about the motivations behind their approaches, their thoughts on choice, and the best way forward for prostitution law.
On sex work as exploitation, or sex work as work:
Scott was motivated to create her film in order to share a part of the sex industry that is not often seen. Scarlet Road presents sex work as simply a job people can choose in life, just as they would choose to be a waitress or a construction worker.
CS: "The work Rachel does with her clients with disabilities is a really new and interesting area that hadn't been done a lot before in terms of film -- certainly not from a sex worker's perspective. This was the area of her life that she was most passionate about.
"One of the reasons Rachel was motivated to do this film was that she was tired of the stories we usually hear about the sex industry. The sex industry is a very diverse place but often the story of the poor sex worker who is not in control of her work environment or who has been trafficked or is a drug addict is the only story we hear.
"Rachel wanted to show that there are people in the sex industry who choose this as a profession. She really wanted people to see her for who she was -- not a victim, a fallen woman, or a sexual deviant, but just a regular person who has a particular job."
The Fallacy presents an opposing view. Filmmaker Lamont challenges the idea that prostitution is a desirable "job" or something one would choose if they had another option.
EL: "I did see some women who had 'some control' over their work, but they are rare. Mostly, these are women who are independent (no pimp or spouse profiteer), are not addicted, and are seeing customers they know at home or working in strip clubs. But these women are still there to meet the sexual desires of men they don't want. They still do this work because they lack other options and would leave if they had a formal education or skills that would allow them to get a job that paid above minimum wage. I knew one woman who was working independently and though she wasn't happy, she would have been much less happy to find herself in poverty. Can we really talk about choice in that situation?
"Those who say prostitution is a job like any other are ignorant of the situation. I too was ignorant before I spent several years talking to all these women who were in the sex industry. Even when customers are 'nice,' when they are not violent or don't humiliate or insult the women, they are still men who the women wouldn't choose to be with otherwise. In the end, the women must meet their sexual demands because the johns have the money. They are paid to act."
On putting choice into context:
The director of Scarlet Road feels that one's life circumstances are decided by the choices we make, and that some women choose to engage in sex work.
CS: "Women who are doing sex work have a choice -- we all have choices. It's true that maybe some don't have a choice in certain situations but Rachel, for example, had a choice. She could have worked in a sandwich shop or she could work in the sex industry and earn 20 times the money. So there is a choice. Women in Kenya can choose to work with sewing machines if they want and earn the same amount of money doing that in one month as they can earn in two days doing sex work.
"Yes there may be conditions surrounding these individuals that make the choice more difficult, like poverty, but if they're choosing to do it and they're not being trafficked, then that is their right to choose it. There are a lot of people who work in construction sites in Singapore who probably don't want to be there either -- but they do it because they're trying to make their lives better."
Conversely, Lamont argues that choice always happens within a larger context. Many of the women she interviewed came from backgrounds that lacked choices.
EL: "Indeed each path is unique, but I was surprised to see so many similarities in the women's histories. Even for those who say 'It's my choice,' there is never a happy story that brought them into prostitution. Often something happened to them in their childhood that was traumatic or they were victims of abuse, incest, or sexual assault. Half of the women I met were introduced to prostitution when they were minors, by a boyfriend or because they ran away from home. The other half started at around 18 to 20 and were duped -- they didn't know what they were getting into. A minority of the women I spoke with were older but, in the end, were also trapped.
"Prostitution is a choice that comes from lack of choice. It's an unequal relationship between those who have money and power and those that need money (and have no power). Even if a woman is not forced or under the control of a pimp, it is never desired sex. It's always the one who pays who dictates the nature of sexual exchange.
"The real question is not why some women 'choose' to become prostitutes, but rather why some men are allowed to buy sex and have access to the bodies of women and children? Is it acceptable in the 21st century to reduce a human being to an instrument of pleasure or a sexual commodity?"
On connections and disconnections of bodies and minds:
Scott felt that Rachel's work is no different than anyone else's. She argues that feeling disconnected from work is a universal feeling.
CS: "I've known women who've never been in the sex industry and have been in relationships where they felt disconnected from their bodies and their sexuality. At the end of the day, we all need to find the best possible situation for ourselves as individuals -- whether we're in a relationship or in a workplace. We need to get really good at defining our boundaries and pursuing things that are good for us as individuals."
On the other hand, many of the women featured in The Fallacy talked about feeling disconnected from their bodies or having to disconnect from their realities in order to cope.
EL: "Before making this film I had no idea so many women in prostitution suffered from dissociation. Incest victims, for example, dissociate emotionally from their bodies, but so do women in prostitution. I met more than 75 women who were in the sex trade and they told me they had to disconnect in order to cope with having unwanted sex several times a day, often through drug use.
"Society trivializes prostitution and pornography and makes the world of prostitution look like an attractive option, but ultimately they end up poor and isolated, with a shattered sexuality, substance abuse problems, mental health and physical problems."
On the best way forward for prostitution law:
While the two filmmakers disagree on the best legal framework for prostitution, they both agree that the prostituted women must be decriminalized. Scott believes that decriminalizing the pimps and johns will work in the best interest of everyone involved.
CS: "One of the reasons this film could be made in Australia and that Rachel could be in the film was because it is legal here. If we tried to make this film in America she could get arrested, because there what she's doing is illegal. If you were to ask Rachel she would say that the best way to deal with it would be to create a framework where people can work for themselves or work in a brothel and be protected. If the women are criminalized, then they can't go to the police if they are robbed or attacked. It's also hard to get a job if you have a criminal record, so if you want people to be able to move out of the industry, then it's in your interest to decriminalize. Just treat it like any other business.
"If you criminalize the clients then you're criminalizing everything around the sex worker and that's not an ideal situation for the people working in the industry."
Lamont argues that this decriminalizing pimps and johns has been shown not to work in other countries that have tried it.
EL: "Wherever there has been legalized prostitution, it has been a monumental failure. Legalizing prostitution in brothels does not make prostitution safer for women. The violence in prostitution doesn't come from the illegality of prostitution -- it comes from the men who choose to violate the women.
"In Holland, which has legalized prostitution, there went from being 2,000 prostitutes in 1980 to 30,000 today. In countries that have legalized brothels, illegal brothels have sprung up like crazy and now exceed the number of legal brothels. Where prostitution is legalized, pimps and traffickers become legitimate businessmen.
"Not only that, but when there is legalized prostitution, street prostitution also increases. The girls in the street are not allowed in the legalized brothels because they are struggling with substance abuse problems or have mental health issues.
"In Canada, prostitution is not illegal, but all of the activities surrounding it are. That is to say: pimping, public communication for the purposes of prostitution, and operating a bawdy house is illegal. [Editor's note: the Ontario Court of Appeal struck down the bawdy house law in March; the federal government has since decided to appeal the decision.] But there is an asymmetrical application of laws. The police disproportionately punish women who work on the street while the pimps are rarely bothered. Ninety per cent of charges are related to communication, which is mainly attributed to street prostitutes -- 92 per cent of whom are women. Customers are rarely charged. It is the women who are the most vulnerable and victimized in prostitution who are penalized by the judicial system.
"The easiest solution and least expensive solution is to decriminalize women in prostitution. That is not to say that we should decriminalize the pimps or the customers -- these people should be penalized because of the harm they inflict on women and on society."
You can see Scarlett Road at DOXA this Saturday, May 6 at 6p.m. The Fallacy will show on Thursday, May 10 at 5p.m. at Vancity Theatre. Tickets are available for purchase online.