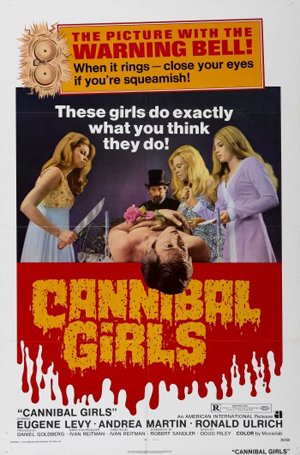 It's officially the dog days of August. A season when the dumpster reek takes on almost Homeric proportions, clothing becomes optional and ice cream seems a reasonable dinner entrée. After a hard day of work, when you walk in your front door, strip down to your underpants and flop over into a sweaty heap, you need something undemanding to watch. In the weedy dregs of summer, the brain can only take so much. One needs trash cinema to help make it through to the clean living and industrious days of September.
I am talking real trash, not Hollywood piffle puff like Eat, Pray, Love, a book I hated so much that I literally threw it across the room, then took a five-hour-long shower in order to feel clean again. I would rather punch myself in the face, repeatedly, than watch that narcissistic succubus Julia Roberts act cute for 90 minutes in the even dumber movie version of the already plenty-o-dumb book. But enough bitter bile on your buttered popcorn, how about some blood and gore instead?
'Cannibal Girls'
The Pacific Cinémathèque in Vancouver is showing Ivan Reitman's Cannibal Girls this weekend in Vancouver. Long before they were Canadian comedic icons on SCTV, Eugene Levy and Andrea Martin were meat on the chopping block of this Canuxploitation classic. The 1973 film is a hoot, although originally it was a bell, with an alarm that would ring to alert patrons to the carnage about to splash forth. While there won't be any bells ringing at the Cinémathèque's screaming, er... I mean screening, rest assured you will be pleasantly entertained by this fine example of red, white and red cinema.
Things get rolling right away with a long shot of a couple running through an austere Canadian landscape. The pair find a secluded spot, take off their capes (yes, capes) spread them on the ground and proceed to get sexy busy. They deserve a good chopping, which is exactly what they get. Well, the male half anyway. His screaming blond partner gets a gentle nab of blood between the boobies. If you want to call that a proto-feminist moment, go right ahead.
One cannot watch Cannibal Girls with much seriousness, ergo it is ideal for summer viewing, when all you want is a few chuckles, and a gander at the Canadian winter. The rest of the film maintains a suitably cool menace. After the opening blood bath, the story proceeds with Gloria and Cliff, a couple on their way to a romantic weekend in beautiful downtown Farnhamville, a tiny town with a big legend. Even before they've checked into their hotel, the locals are eyeballing them as potential cutlets and flank steaks.
People like meat in this town. The titular girl's diet functions as a type of immune booster, like a form of Cold-FX. As the local landlady and meaty man procurer, who sends couples off to be hacked up, keeps saying: "The girls were never sick a day in their lives." There are plenty of other tongue in cheek moments sprinkled throughout -- from the Monopoly-playing male geeks who become dinner à la carte, to Eugene Levy's handlebar hairiness, to the fact that Jim Henson presides over the trio of meat eating females.
Watch the trailer for 'Cannibal Girls'
Although the character of the mysterious Reverend Alex St. John is probably meant to be an echo of Charles Manson, with his top hat and cape (this film has a bit of a cape fixation) the actor bears an uncanny resemblance to Kermit's master. You keep expecting Ms. Piggy to show up and exact some terrible retribution squealing, "Pork is NOT the other white meat!" while she chops men into hamburger. Such a scene would be out of place. But I digress...
Unwittingly Cliff and Gloria visit the farmhouse where the girls and their puppet master ply their bloody trade. The place is now a restaurant, where the creepy Reverend acts as maître d' and the girls serve up delicious repasts. Before long things get nasty as Rita and Cliff are forced to betray one another. Whether there is indeed some deep fear of Gloria Steinem and Betty Friedan second wave feminism fueling the film's subtext, the war between the sexes is just that, bloody, violent and very personal. Cannibal Girls is a perfect film for a summer evening, when it's too hot and sticky to think. Be thankful that it's only sweat running down your back, and not something far more sanguine.
'House'
The same weekend, the Cinémathèque is also bringing back Nobuhiko Obayashi's House. Having reviewed the film earlier this year, I will quote myself:
"House is not an easy film to critique, primarily because it's insane, but also because it's hard to tell if it's serious about being insane or merely playing at it. The director was supposedly inspired by the imaginings of his 11-year-old daughter, and there is definitely something of a Brothers Grimm fairy tale meets H.R. Pufnstuf quality to the story, filled as it is with symbols that transcend time and place. Another apt comparison may be Sailor Moon meets Salo."
I can only reiterate, this shit is wack.
'Idiocracy'
If you need even more junk, and are in Vancouver, you can watch both films at the Cinémathèque and then haul your sodden self over to the Vancity Theatre for a screening of Mike Judge's Idiocracy. If you haven't seen this film before, it's worth seeking it out.
The film was shelved good and hard after its initial release, and it's not difficult to see why. It's just a little too close to genuine reality.
The premise of the film is in the future, smart people have vanished like the passenger pigeon or the great auk. Dumb people have bred like mad and essentially taken over. The planet is a garbage heap, and the smartest man on the earth played is by Luke Wilson, which should tell you something.
Wilson is Corporal Joe Bauer, a perfectly average American soldier who is cryogenically frozen as part of a secret military experiment. A hooker named Rita (Maya Rudolph) also undergoes the same procedure at the behest of her pimp.
As is the case with most top-secret freezing experiments (see Futurama), something goes terribly wrong. Human error even at the dawn of the 21st century is alive and well. Five hundred years later in the year 2505, human error has completely taken over. When Joe is accidentally defrosted from his long sleep, he discovers that he is now the smartest man alive. The planet is buried under mountains of garbage, COSTCO stores have grown to the size of entire cities and the human populace watches Reality TV shows like Ow my Balls!
Does this sound eerily familiar yet?
Somewhere Jane Jacobs is spinning like a top in her grave, while Dark Age Ahead takes on an even blacker hue. All of this may sound rather depressing, but it has an acidic sweetness to it, akin to the sensation of sucking on super sour candy for hours. Even as the inside of your mouth ulcerates, you keep eating it. Which is perhaps not a bad descriptor of much junk cinema -- it hurts so good.
'Piranhas 3-D'
If you want to be even further convinced that the future is now, you could always take in a midnight show of Piranhas 3-D at the Rio Theatre, where the film's debut will be accompanied by a burlesque party. I'm not exactly sure what the correlation is between killer fish and ladies in bustiers. I cannot think too long and hard about it though because summer has melted my brain cells. Turns out I didn't need them that much anyway.