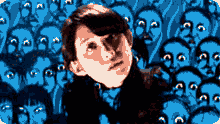 When six teenage girls named Gorgeous, Melody, Fantasy, Kung Fu, Mac, Sweet and Professor visit a haunted house in director Nobuhiko Obayashi's film House, you might think you're in for a Scooby-Doo type of adventure, in which a bunch of intrepid kids solve the mystery of the witchy-poo house. You're at least partly right. But there are some other trips here of a far more acidic variety -- meaning pharmaceutically inspired -- and also deeply etched with the symbols and iconography of classic fairytales.
Made in 1977, House looks like it was put together by an especially energetic group of Arts Umbrella students, high on acid. Every goofy film technique in the book, be it irises in and out, colour changes, filters or just weird shit with cameras, is employed in random fashion. Whether you think this is funny or scary depends on how high you are when you see the film. 
Ancient evil vs. adolescent hormones
House is not an easy film to critique, primarily because it's insane, but also because it's hard to tell if it's serious about being insane or merely playing at it. The director was supposedly inspired by the imaginings of his eleven-year-old daughter, and there is definitely something of a Brothers Grimm fairy tale meets H.R. Pufnstuf quality to the story, filled as it is with symbols that transcend time and place. Another apt comparison may be Sailor Moon meets Salo.
The scariest thing in House has 12 pairs of long legs, a dozen knobby knees, lots of hair and giggles insanely. Teenage girls are scary. I have known big tough men, men who can chop down trees and engage in bar fights, turn pale and shaky at the mere sight of a gaggle of teenagers. Why exactly this is so, I'm not sure, but it's readily apparent when Gorgeous and her girl gang take on a witch on her home turf and suffer the consequences. It's fair fight, though: ancient unspeakable evil against raging adolescent hormones.
The story begins when Gorgeous and her friends decide to visit her aunt's house in the country. Gorgeous's father has decided to remarry, and his bride-to-be, accompanied by drippy theme music and a wind machine everywhere she goes, is every teenage girl's nightmare -- beautiful, accomplished and sweet. Gorgeous vows revenge on Daddy, pledging her intentions to the photo of her dead mother, and in effect runs away from home. A letter to her long-lost aunty, a mysterious kitty cat, and a train trip later, the girls land at the country house of said elderly Aunty. Herein things begin to get really weird.
When good fruit goes bad
In a variation of Agatha Christie's classic narrative Ten Little Indians, the assembled characters are a body count just waiting to happen. One by one, the girls vanish, and with each disappearance, aging Aunty gets stronger and more vibrant, rising from her wheelchair to dance a little jig.
Each girl, pinioned into place by her moniker and set of skills, is subject to very specific tortures. Thus Melody's pride in her musical abilities ends up with her severed fingers playing a jaunty tune. Gorgeous, forever putting on makeup and looking the mirror is undone by vanity. Kung Fu, the strongest and most energetic of the bunch becomes disembodied, high-kicking legs. You get the picture. Whether you think it's poetic justice that a teenage girl named Mac who eats all the time gets eaten first, there is a certain preordained quality to the proceedings. They unfold as they must, like all good fairytales.
In amongst the giggling and then screaming girls, there are a few genuinely scary scenes. With her silver bob and cool demeanor, Aunty makes for a mighty disturbing character, especially when caught nibbling on a human eyeball, or delicately picking the meat off a young girls' severed hand. I won't spoil the scariest scenes, but watch out for the refrigerator and the piano. Even watermelons are potentially dangerous in this film. And you don't even want to know about bananas, I'm afraid.
Fairy tales for freaks
Prior to making House, Nobuhiko Obayashi made commercials, and it is this cinematic language -- glossy-lipsticked women, saccharine music and extended fantasy sequences that begin and end with girls gazing fixedly off into the distance -- that gives the film an extra sheen of craziness. The line between the real and the imagined, both in girlish daydreams and advertising campaigns, one fueling the other, provides the meat of the story. But at its heart, House is good old-fashioned tale of female adolescent jealousy. Hell hath no fury like a teenage girl with a daddy fixation. 
There may be some degree of danger in assigning any type of bigger broader meaning to House, kooky as it is, but at the same time, the imagery presented is insistent. Like many classic fairytales, implied incest is what forces a young girl out of the house onto her own journey. The sequence where Gorgeous meets her new stepmother, shot between fractured pains of glass, along with the montage of close-up shots of Gorgeous and her daddy hints at something untoward.
In the words of Catherine Orenstein's Little Red Riding Hood Uncloaked: Sex, Morality, and the Evolution of a Fairy Tale, fairy tales were often chock full of "sex, cannibalism, rape, incest, shitting, pissing, sodomy, cheating the Devil and tricking God."
These stories, replete with the grosser stuff of life, are "passed down, like cultural DNA, from one generation to the next," writes Ms. Orenstein. This may help to explain why beneath all the silly film language and dreadful acting, something older and more powerful lurks. References to World War II, sad tales of women waiting in vain for lovers who never return, sweetness and passion curdling into hunger and perversity, eventually add up to something that is greater than the sum of its parts. Although there are certainly lots of parts -- heads, legs, and fingers flying wildly about in this film, all of them female.
In this sense, House is a distinctly woman-heavy film. Men are relegated to the sidelines, as objects of daydream and desire, or useless idiots who turn into a pile of bananas at the first sight of spooky happenings. With elements of Noh theatre, and odd overtones of other more auteur-type films (perhaps even the severed bits from Oshima's In the Realm of the Senses, although that may be stretching it bit) House is certainly packed with enough references to stock half a dozen films, but even its gonzo energy doesn't fully account for its reemergence in rep theatres and cinemas.
Devoted fans celebrate badness
So why has this long-ago relic of freaky sexualized fantasy remerged now? The film is currently making the rounds of arthouse and rep theatres, and will be screening next week in Vancouver at the Pacific Cinematheque, beginning April 15, 2010. 
House's resurgence made me think of another film that touts its very awfulness like a badge of honour. Troll 2 had the dubious distinction of being dubbed the worst movie of all time, it's quantum badness was the subject of a documentary called Best Worst Movie made by its child-star (now fully grown) director Michael Paul Stephenson.
Like the subject of Best Worst Movie, House seems to inspire in audiences a degree of fevered devotion. A filmic friend of mine had already made plans weeks ago to see the film when it screens at the Cinematheque. I wonder sometimes about the celebration of badness for goodness' sake. Are we truly laughing with a film like House, or simply at it? Do such distinctions truly matter, when the evil pussycats are flying and the place is rapidly filling up with gore? If you simply must know, get your tickets early, House is so bad it's good, and thus it is bound to sell out.