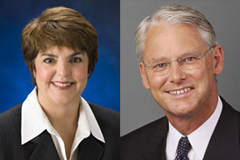 In arguments, there are a few crimes. Ignoring the question is one; politicians are well known for that. Committing an ad hominem is another: attacking the man instead of his points. And this week, there's been a flurry of another particular kind: the ad herminem, patronizing a woman for being a woman and ignoring her points.
Case in point: the B.C. leadership debate on Sunday night.
"Ms. James," said Gordon Campbell, on the topic of crime, "you should understand, this is a big job and it is hard to get a handle on."
Because before that, she had no idea she was running for premier or trying to tackle crime, right? She thought she was there to get a handle on the saucepan she was using to cook dinner (which I also happen to think is a "big job," just a slightly different one.)
In the debate, Mr. Campbell came across as "demeaning and patronizing," according to the Globe's Gary Mason, who speculated that "even Mr. Campbell's female supporters must have cringed at the remark."
When grilled by reporters after, Mr. Campbell seemed "genuinely bewildered by the fuss being made over his reply to Ms. James' legitimate question about crime," according to Mason. It's one thing to make a boo-boo; it's quite another to fail to recognize it or apologize. My two-year-old niece knows better than that.
Lesson #1: Joe Biden
So, it's clear Mr. Campbell was ignoring the points in order to make a personal attack. And sure we all do that sometimes, on debates ranging from federal policy to whose turn it is to take out the garbage. But we apologize, right? And given that more women played a role in the most-watched election in history just a few months ago south of the border, Mr. Campbell has had a lot of chances to study up on the new terrain and etiquette.
Case in point: the vice presidential debates between Joe Biden and Sarah Palin. Before Biden squared off against Palin, much ink was expelled about how the debate hinged on Biden's ability to remain respectful to someone who was certainly not his political equal, on how he could tackle her points without being either bully-ish or patronizing, since either might be construed as sexism. Biden won the debate in the court of public opinion, in large part, because he pulled that off.
That was a tougher feat than what Campbell faced on Sunday, because regardless of whose policies you side with (and I'm taking no sides here), it's clear that James and Campbell are in the same class when it comes to policy knowledge.
Lesson #2: Sonia Sotomayor
But ad herminems abound. This week, Salon ran an article called "Her Honour: Domineering and Dumb" about the kind of language used to discuss Sonia Sotomayor's suitability for the Supreme Court spot. Sotomayor is a Bronx native from a Puerto Rican family, a graduate of Princeton and Yale Law School, and a former commercial litigator and New York assistant district attorney (she's qualified). But rather than focusing on good questions like the strengths and weaknesses of her qualifications and politics, some (male) pundits are focusing on "low-budget aspersions about how brash, bossy and talkative" she is.
Lesson #3: Helen Gurley Brown (advanced)
It also falls in a week where there's lots of talk about a new biography of Helen Gurley Brown and how people used to react to her apparent double standards in gender treatment. In 1991, "in the wake of the Clarence Thomas hearings, and when she was nearing the end of her 32-year tenure as the editor of Cosmopolitan, that great invitation to fanny-pinching, was asked whether any of the women on her staff had ever been sexually harassed, a question to which she jovially replied: 'I certainly hope so.'"
Attempting to rescind her remarks in The Wall Street Journal, Brown claimed she had merely been facetious. But later went on to say that "if you're not a sex object, you're in trouble." Reading about Brown's 1962 life lead one Jezebel writer to the sobering realization that not much has changed since then.
But I and many other feminists think it's worth taking a closer look before we dismiss her so easily. Brown was a strident advocate for the primacy of work in women's lives, and the full equality of women in the workplace. She was actually lobbying for fun and pleasure as icing on the cake of fundamental respect. In other words, it's all fun and games, in the form of flirting, high heels, and general enjoyment, when there's equal power.
As Brown suggested in 1962, if a woman's choice is between a pat on the head and a pat on the bum, I think most women would pick the latter because that can go hand in hand with genuine respect. And most women would be more likely to pick a politician who gets that.
And that's what Campbell doesn't seem to get. Flirt? Sure. Patronize and then claim to be ignorant about why women find this offensive? C'mon.
Lesson #5: Naomi Wolf (advanced)
Now, don't get me wrong. I'm not advocating a return to what some call second-wave feminism, the kind of feminism where we treat men and women exactly the same, ignoring the biological and cultural differences. But we can't ignore the underlying lack of respect inherent in Campbell's remarks and attitude.
As Naomi Wolf points out in the Washington Post this week, it's as or more important than ever to point those cases out. In her review of the Brown biography, Wolf argues that it's all fine and good to embrace individualism. That "third wave feminism is pluralistic, strives to be multiethnic, is pro-sex and tolerant of other women's choices. It has led to an embrace of what was once so politically suspect -- the notion that you can be a 'lipstick lesbian' or a 'riot grrrl' if you want to be, that you can choose your persona and your freedom for yourself... but that a saucy tattoo and a condom do not a revolution make." We still have to point out instances where there's blatant sexism of the kind that undermines women's ability to do their jobs.
And that's what Campbell did. He tried to undermine her ability to do her job, not based on her knowledge or experience, but on her supposed lack of ability to understand, because of her gender, the "big jobs" that make up public life. An election campaign is based on each candidate trying to undermine the other, but the sexism test is this: would he have used those words or that tone with a man of James' caliber?
Related Tyee stories: