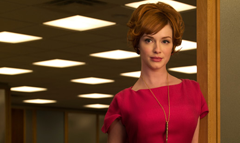 To be a strong woman, a good feminist and even save the world, you need to be a bitch, according to a recent spate of articles.
"Britain would be a better place if we had more bitches," argues Victoria Coren in this weekend's Observer. She bemoans the fact that women have forgotten how to bitch, and blames the recent rise in female physical violence on "the real tragedy, the true cultural loss ... the Decline of the Evil Put-Down."
"I look back on the golden days of my childhood [when] teenage girls were at the very height of their powers: they could ruin your life with two withering sentences. They could have you in tears with the first word ... their laconic verbal artillery left shrapnel in the soul for years to come."
Jezebel's Megan Carpentier agrees, "Being a bitch requires time and effort and a certain utter lack of caring what people think about you ... that simply isn't done anymore," and laments people are instead too busy being cool. She argues women are now "constantly playing oneups(wo)manship for who can win the most votes in a neverending popularity contest": a contest in which The Bitch loses.
"These days, bitching is low-fat, decaffeinated and kick-free," writes the Guardian's famous, acerbic columnist, Julie Burchill, in what started this all off. She wants a revival of real bitching.
Yes, the bitch is back, is the new black and the new bible.
The call of the bitch
It seems to me they're right. The time is ripe for the return of the bitch. The world is becoming more and more pernicious but hides behind a thick and syrupy veneer of niceness. Take telephone customer service people with their mandated sing-song introductions: "Hello and welcome to [their company]. My name is Jen. How can I help you today?", then the ubiquitous, "Is there anything else I can help you with today?" Well, no there isn't or I would have asked you. You've just wasted several minutes of my life, and your corporate niceness has raised my blood pressure to the point where my grip is about to snap the phone.
Even more destructive than corporate niceness is the perfection contest between women that ranks not only physical appearance, disposable fashion, kids, career achievements and wealth, but niceness. More and more women are trying to out-nice each other, due to strong social pressure, which only drives real human emotion underground.
End the psychic foot binding
When a normal human tendency -- conflict -- becomes verboten, it just seeps out through the cracks. When women are supposed to be unfailingly nice and smiling creatures, then anger, disagreement and natural grumpiness come out in other ways -- in ways that can be more eviscerating. When I go to social events, the "nicer" and faker the event, the more subversive talk goes on later, where conflict has no chance to resolve itself.
I've always liked a good argument. But while I was on the debate team as a teenager, as an adult, I've felt the pressure to nice-up instead (luckily, that pressure doesn't seem to apply to writing) and more than once I've compromised myself badly in order to keep smiling. Friends say they've been told off for being too "blunt," "sharp" and "intimidating," too.
And while maybe those criticisms were true in specific cases, I think the condemnation tends to come more from an endemic fear of female conflict and anger. Foot-binding procured delicate, pleasing but crippled feet, and now, the tyranny of niceness procures delicate, pleasing smiles and personas, but crippled psyches.
So I'm all for elbowing out space for women to constructively disagree and argue: with each other or with men, with flair and substance, in private and in public.
Empowering, like a bat to the head
But while argument, feistiness and honesty are among the best and most enjoyable things, meanness and bullying -- what at least Coren is advocating for -- are only enjoyable if you're a psychopath. As one Jezebel commenter, put it, "I don't think I always understand 'empowering' ... like, I'm exercising power over you if I hit you in the face with a bat (specifically: my power to hit you with a bat). But this isn't an implicitly good condition, is it?"
There's a difference between a fair fight and using what you know about someone to wound them for your own pleasure, between enforcing your limits or standing your ground and going on the attack, unprovoked; between speaking your mind honestly, face-to-face to improve a situation and exploiting social inequality. There's a difference between being tough and mean and exploitative:
"Bitches have the power: they are rich, or beautiful, or thin, or smart, or all of the above, and allow their conversation to hammer this superiority right into the faces of their poor, fat, dim or otherwise disenfranchised targets," writes Coren.
Power for good, not evil
Burchill's defense of the bitch, at least, is about integrity. She argues the new form of bitching -- which takes place behind people's backs and is based on fake sympathy -- is "above all, phoney."
"Though the great bitches of Hollywood were dressed to kill and magnificently shallow, there was something incredibly honest about them ... These days, though, women ... are whines, nags, snobs and scolds instead. When they diss another woman, they make a great show of doing it more in sorrow than in anger. So instead of coming across as fun-loving, red-blooded bitches ... they are the Wahs; their ceaseless, bleating mantra is "Oh, I'm Worried About Her!"
"No, all I'm asking for is a good, fair, fierce fight -- one that isn't based on envy, snobbishness, hypocrisy or any of the other things that add nothing to the quality of life or the gaiety of nations but actually drain and corrupt our daily lives."
Modelling the ethical bitch
I think most people are in the ethical bitch camp. Take the two most popular prime time bitches right now: Joan Holloway of Mad Men and Blair Waldorf of Gossip Girl. Joan, the office manager of Stirling Cooper advertising agency in 1950s New York, is high-spirited, hedonistic and sexually liberated -- and fierce in protecting those things. She's also warm, kind and level-headed, except when crossed. And then, though she's sharp, she's composed and slices only enough to do the job.
Blair reigns as queen bee of her high school. If someone challenges her position, she'll politely confirm that person is declaring war, then ruthlessly scheme until she's won. But it's a game; it's business. Afterwards, she'll help the loser to her feet: no hard feelings. And all the while, she's an unerringly warm, loyal, kind friend to those in her inner circle.
There are few things more vicariously enjoyable than watching a charismatic female character -- real or fictional -- live a brave, honest life and defend herself with a smart, sharp word. I'd argue those two characters are a big part of the successes of those shows. And I'd love a fair, honest fight with anyone who thinks otherwise.
Related Tyee stories: