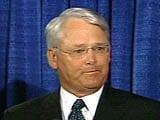 The "sleaze" factor is now near the top of the election agenda as it should have been from the outset.
For John van Dongen's most recent cabinet departure (he had to resign a few years back amidst a different scandal) simply is the rash indicating a serious disease.
This disease, a moral indifference to personal misbehaviour by government members, began during the last years of the NDP reign, when its ministers were getting into trouble. No one was more vociferous on the side of parliamentary probity and cabinet morality than Gordon Campbell. He was practically Churchillian in his declarations about the duties of ministers under a cloud to resign until their name had been cleared.
Campbell made the point that it wasn't a matter of presumption of innocence but the strict rule that if one of Her Majesty's ministers appeared to be compromised, he or she must stand down. At the time, Opposition Leader Campbell was dead on the money. Any member of his caucus of that day would have been able to point with pride to the code of honour adopted by their leader.
The trouble was, of course, that when now-Premier Campbell got hammered in Honolulu, he paid no political forfeit. He had disgraced his office, his office and himself, yet, after carefully judging his own conduct, decided that no political forfeit was called for.
One need not confine themselves to sins of the flesh, for it was Gordon Campbell who, after throwing up the trial balloon of selling B.C. Rail in the 1996 campaign, quickly got the electorate's message and promised, cross his heart and hope to die, that he would never ever do such a thing. That he did so is not the worst of it, for he played the part of a huckster lawyer as he said he hadn't sold B.C. Rail, merely leased it -- for 990 years. In order to see how long that was in real terms, I reckoned backwards to learn that 990 years ago, England was ruled by Ethelred the Unready!
Once that happened, people around him could be forgiven for assuming that standards of political morality were lower than a snake's belly. They might even infer that interests were no longer those of the public but of cronies and those who made campaign donations. The survival of fish was trumped by the greed of the fish farmers. The sanctity of our public power system came a distant second to handing billions of dollars worth of power to "mom and pop" operations like Ledcor and General Electric, and, while he was at it, letting them desecrate our environment.
And now we have John van Dongen's recent departure from the solicitor general's portfolio.
In 2003, van Dongen resigned as minister of Agriculture, Food and Fisheries after allegedly tipping off fish farmers as to when the inspectors would arrive. He also returned the fines they had paid for other misdemeanours over the years. Gordon Campbell put the man with this sense of moral behaviour into the solicitor general's chair, making him the province's police chief!
Why not? After all, if the premier can get away with being nailed for drunk driving, what's a little matter of helping a friend of the government who gets into a bit of a jam?
How big a jump is it from there to paying large sums to high-rolling lobbyists who are also getting paid by companies dealing with the government?
If there is no penalty for drunk driving or tipping off potential offenders, where is the line that must not be crossed?
We are, of course, all mortals with penchants for sinning and we all do sin. However, there are penalties. And sometimes the same sin will require different results depending upon the circumstances in which it was committed. The consequences for lying may run all the way from nil if it's merely a social fib to loss of a mate if it goes to the root of the relationship. The consequences to ministers are often high, higher than they might be to you and me in our walks of life.
It is for that reason that leaders, like Gordon Campbell, must set an example not just in their own behaviour but where they're judging colleagues.
Mr. Campbell's amorality came blazing through with the van Dongen resignation from the solicitor general's office. Van Dongen waited a week before telling Campbell, yet the premier's reaction was not to fire him, but to take away two departments while showering the disgraced solicitor general with words of praise and sympathy.
It wasn't a matter of concern to Premier Campbell that his solicitor general had repeatedly broken the law and then, by silence, misled him.
One would think that any premier who had a sense of right and wrong would have tossed van Dongen out and said to the public: "See? This is how this government and this premier deals with those who have failed to meet the standards of their office."
Gordon Campbell put his re-election chances ahead of his duty, but then, what else would you expect from a man who puts his own ambitions ahead of paying any forfeit for his own misdeeds?
Related Tyee stories: