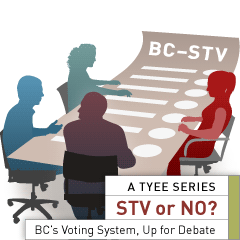 [Editor's note: Welcome to round two of The Tyee's Great How-We-Elect Debate between David Schreck of NoSTV and Shoni Field of BC-STV. You'll find round one's two questions posed and debated here. And an explanation of STV here.]
QUESTION THREE: Won't the massive ridings under the proposed BC-STV system be too large to represent properly? Is there anywhere in the world where they have an electoral map like the one being proposed for BC-STV?
Shoni Field, who is for STV, answers:
The current first-past-the-post system fails to provide effective local representation. BC-STV fixes this serious flaw.
Wilf Chelle, Citizens' Assembly member from Peace River, North says "I have no doubt that BC-STV will significantly improve the quality of local representation by making our MLAs accountable to local voters".
The districts will be no larger than federal ridings -- significantly smaller in the far north. But, each district will have more than one MLA. STV is particularly well suited to B.C. because of the ability to customize the number of MLAs in each riding to suit the population density.
A quick comparison will show why Chelle and others from the North and Interior recommend BC-STV.
FPTP: All but a handful of seats are "safe." Candidates are virtually guaranteed election after receiving the party nomination. Their loyalty is to the party, not the voter. The winner is known; parties usually ignore these seats.
BC-STV: voters have the final say on which candidates they prefer. If an MLA doesn't serve, voters choose another without even having to switch parties. Competition amongst district MLAs provides a powerful incentive to represent voters. There are swing seats in every district; parties can't take anybody for granted.
FPTP: MLAs are subject to iron-clad party discipline. MLAs cannot bring forward important local issues. They represent their party to their constituency, not their constituency in the legislature.
BC-STV: Knowing that popular MLAs can run successfully as independents gives MLAs some leverage to exercise independence on critical local issues.
FPTP: The same party will often receive the most votes across a whole region. When it's the opposition, that region has no voice in cabinet.
BC-STV: Most districts would elect at least one member from the governing party, so every region will have a voice at the cabinet table.
FPTP: 50 to 60 per cent of us don't have an MLA we voted for. With so few votes needed to elect somebody, MLAs are usually from larger centres and ignore outlying areas.
BC-STV: an impressive 80 to 90 per cent of voters will have an MLA they chose. When so many votes count, smaller communities cannot be ignored. MLAs will come from across the district, not just the largest centre. Most of us will have an MLA to represent our point of view.
BC-STV provides voters with greater choice locally. It gives MLAs the incentive and opportunity to represent their constituents. British Columbians want effective local representation; that's what BC-STV will give us.
David Schreck, who is against STV, answers:
With STV, constituencies would not only be geographically large, some larger than many countries, but they would all be large in terms of population.
STV supporters will no doubt point out that the number of MLAs is the same under STV as under our current system, hence roughly 50,000 people for every MLA, but despite claims by STV supporters, voters expect to be able to deal with every representative that is elected in a multiple-MLA area. MLAs shouldn't tell constituents to go see one of their other representatives, but that is precisely what STV supporters suggest would happen. That means less representation and less accountability.
In the Green Party submission to the Citizens' Assembly, it reported that in response to the question: "How do you have all candidate meetings when there are so many candidates in multi-member ridings vying for attention?" the Irish Green Party replied:
"All-candidate meetings are not that common here (perhaps for that reason). Special interest groups would often invite all candidates to a meeting and let them fight for attention from the floor. The main activities are leaflet-drops, door-to-door canvassing and standing at shopping-centres, church gates, etc. Many candidates for the larger parties are of such low calibre that their party will actively discourage them from debating with their opponents!"
In terms of population, electoral areas in British Columbia under STV are more than twice the size of areas in Ireland, so if the Irish have problems, imagine the nightmare we would have.
If BC-STV were adopted, the constituency boundaries that would be used are those recommended by the B.C. Boundaries Commission as amended and shown on the Elections BC website.
Under BC-STV, Kamloops would be part of Cariboo-Thompson, an enormous 5-MLA electoral area reaching from Quesnel all the way to the U.S. border, an area of 141,000 sq. km. – twice the size of Ireland. With almost 200,000 people living in the riding, voters would still have just one vote to elect 5 MLAs for the region. In North Island – South Coast, a 4-MLA area, Powell River and all of the Sunshine Coast would be in the same riding as Port Alberni and Ucluelet.
For much of the province BC-STV is not workable in terms of geography, and for all of the province it is not workable in terms of constituencies with over 200,000 people.
QUESTION FOUR: Doesn't the current first-past-the-post system shut out smaller parties? The Greens, for example, got nine per cent of the vote in the last election but their supporters have nothing to show for it.
David Schreck, who is against STV, answers:
Our current electoral system, first-past-the-post (FPTP), has elected smaller parties since its inception, and many believe that an independent will be elected on May 12th in Delta South.
In 1996, two members of the Reform Party and one Progressive Democratic Alliance member were elected. In 1991, 17 Liberals (under Gordon Wilson), 52 New Democrats and seven Social Credit MLAs were elected. In 1975, one Liberal, 18 New Democrats, 35 Socreds and one Conservative were elected. In 1972, five Liberals, 38 New Democrats,10 Socreds and two Conservatives were elected.
It is not the fault of our electoral system that from time to time some of the parties coalesce for what they think is their common electoral interests.
It is worthwhile to compare the difference in the success of the Greens in the Republic of Ireland under STV with their electoral record in B.C. In 2005 the Greens ran a full slate of 79 candidates, but they only spent $281,448 in the campaign -- $43,901 centrally. In 68 of the 79 local campaigns, the Greens spent less than $4,000.
In 2007 in Ireland, the Greens spent $832,000 (443,858 Euros). Small parties have succeeded in B.C. in the past, but it appears they have been better organized and better financed than the Greens.
The Green Party's 2004 submission to the Citizens' Assembly, presented by the late Colleen McCrory, was harshly critical of STV. It included information the B.C. Greens obtained from the Irish Greens who said: "The Green Party would rarely have one quota (except in some town councils with nine or twelve seat constituencies) so we rarely run more than one candidate."
In British Columbia with 9 per cent, or even 12 per cent, of the vote, the Greens would not meet the necessary quota to elect a candidate on the first round of the STV count in any of the 20 multiple-MLA electoral areas.
The only hope for the Greens, based on 2005 results, would be to receive large numbers of transfer votes, but as STV advocate Dennis Pilon admitted in a debate on CKNW recently, most people vote party with STV. Since voters have their one vote split into fractions, but they cannot control the size of the fraction that is allocated to any preference, receiving a tiny fraction of a vote as the third or fourth preference from a Liberal or New Democrat won't necessarily be enough to elect a Green.
Perhaps that is why Jane Sterk argued for MMP (Mixed Member Proportional) and not STV when she made her submission to the Citizens' Assembly.
Shoni Field, who is for STV, answers:
The majority of British Columbians, including those who never vote Green, believe that we'd benefit from having them in the legislature. It offends our sense of fairness that a party can earn nine per cent of the vote and those 161,842 voters not elect even one MLA.
There are scaremongers who suggest that the Green Party is the thin end of the wedge, that before too long we'd have a fragmented legislature with the Marxist Nudist Vegan Party holding the government hostage. Nonsense!
B.C.'s political culture is polarized, not fragmented. And single transferable vote has a natural threshold that prevents extreme, single-issue parties from achieving success. A candidate needs around 20,000 votes in a district to win a seat. While a party earning 9 to 10 per cent will win close to that in seats, very small parties are unlikely to win a seat.
Moreover, as the Irish experience has shown, the need to attract second preferences works against extreme parties. In recent Irish elections, Sein Fein got more first preference votes than the Green Party, but the Green Party won more seats. The Green Party is a moderate party with support across the political spectrum that earns lots of subesequent preferences. Sein Fein isn't and doesn't. STV rewards candidates who build bridges.
Some politicians tell us that the only problem with the electoral system is us -- the silly voters. If provincially we'd all just vote Liberal and NDP then, hey, presto, problem solved. Likewise on the federal stage, clearly the NDP, Greens and Bloc should just go home leaving politics to the Conservatives and Liberals.
The truth is, larger parties will always campaign against electoral reform. They want to be the only alternative in town. When scandal fells the other party; there they are, the government in waiting.
But, democracy isn't about crowing the heir apparent, and it certainly isn't about deciding who gets a voice and who doesn't. The problem with our current system stretches far beyond the nine per cent of Green Party voters who are left unrepresented. An astonishing 50 to 60 per cent of British Columbians do not have an MLA they elected. In contrast, BC-STV will give 80 to 90 per cent of voters an MLA of their choice.
Democracy is about giving people the representation they choose. A majority of British Columbians has chosen to vote for alternatives to the governing party (whoever that might be at the time), it is our democratic responsibility to find a way to give them that representation.
Related Tyee stories:
Weee! Easy As STV!
Only a deranged math nerd could like the new vote scheme those Citizens Assembly keeners picked for us.
Sharing the STV Pie
UVic's Dennis Pilon serves up his reasons for changing the way BC elects.