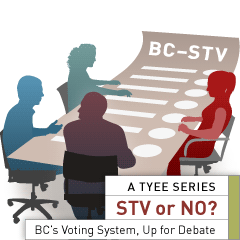 [Editor's note: After four previous rounds of debate between Shoni Fields of British Columbians for BC-STV and David Schreck of NoSTV, we flipped a coin to see who would go first or second in this, the final round. The coin decided Field first, then Schreck, will sum up.]
Shoni Field, who is for STV, argues:
Who do you trust to approach BC-STV with the open-minded scrutiny that it deserves? How about voters, with similar concerns as you have, who spent eleven months exhaustively researching it, before recommending it (by 95 per cent) to their fellow citizens?
The Citizens' Assembly was 160 randomly chosen women and men from every constituency in B.C.. We were first and foremost voters. We had no vested interests, or hidden agenda. We were critical, suspicious and analytical.
We became experts in the mechanics of electoral systems -- how they work and what they do. But it was you, our fellow voters, who defined what would be best for BC.
From Vancouver to the Peace, from left to right, voters had serious concerns with the divisive politics and unaccountable governments that First Past the Post system churns out.
British Columbians believe that it isn't fair that a party can form government without having the most votes, or that our province could be left without an official opposition -- even if we voted for one. They are appalled that 60 per cent of voters do not elect anybody and that our "majority" governments only have the support of 40 per cent of voters.
Voters across the province were very clear: First Past the Post fails to deliver effective local representation. Most MLAs are chosen at nominating meetings, not the ballot box. They can win with so few votes that they can ignore smaller communities. They are so bound by party discipline that they have no opportunity to stand up for their communities.
Those who want to retain First Past the Post have offered no case in its defense.
Instead, they say BC-STV would be too much democracy for the average voter. I haven't met any average voters, just thousands of extraordinary ones who care deeply about the future of our province -- you all seem tremendously capable to me! They say size is the only thing that counts. Yet a majority of voters in every region of B.C., including Citizens' Assembly members from the North, saw that BC-STV would give us more accountable and effective local representation.
The only serious case that can be made for First Past the Post is that it makes it very easy for a small group of backroom boys to pull the strings.
No wonder BC-STV sounds so attractive to a majority of British Columbians!
BC-STV gives us the governments we voted for -- 80 to 90 per cent of voters have an MLA of our choice. Our votes are fairly and accurately translated into seats in the legislature.
Each region has the same number of MLAs that they do now. Instead, always coming from the largest centre as they would in FPTP, MLAs are spread out throughout the district. Competitive local elections means voters make the final choice on which candidates best represent a party -- an end to 'safe' seats and non-representative MLAs that ride the coattails of a popular party. With BC-STV, MLAs have the incentive and opportunity to become a champion of their community.
We'll have governments that represent a majority of voters, and the stability that comes from having policies that work for B.C. rather than for a small group of swing voters.
All around the province I see voters uniting behind BC-STV regardless of which party they vote for. We know that political parties have been talking about fixing the 'democratic deficit' for 25 years and we've run out of patience.
That's why on May 12th we need to make B.C. voters the most powerful interest group this province has ever seen. Tell your friends, family, neighbours, colleagues, etc. why you're voting for BC-STV. It's time voters took charge.
David Schreck, who is against STV, argues:
Our current First-Past-the-Post electoral system is easy to understand -- the candidate with the most votes wins and represents one single riding. The party that wins the most MLAs forms government.
The Single Transferable Vote would create giant ridings of up to seven members of the legislative assembly representing more than 300,000 people -- losing local accountability and responsibility of MLAs to voters.
Changing how we vote for MLAs won't change politics for the better and it might make it worse.
BC-STV's complicated voting system means your single vote will be "fractionalized" and distributed so that you may never know how it was counted. You can mark your preferences but you have no control over what part of your single vote gets distributed to any of your preferences.
No STV is confident that those who watch the short video explanation (prepared by the Citizens' Assembly) of how the Single Transferable Vote count takes place will reject STV; so confident that it is posted on the top of the No STV website.
BC-STV would replace our current 85 constituencies with just 20 large areas electing two to seven MLAs each. For example, the Capital Region would include Port Renfrew, Victoria and Galiano Island; with seven MLAs, that's the largest riding in terms of population but not largest in terms of geography. North Island-South Coast, with four MLAs, would be as large as Ireland. It would include Bamfield, Port Alberni, Sechelt, Powell River and Port Hardy; that's right -- the Sunshine Coast gets merged with the northwest coast of Vancouver Island. Cariboo-Thompson would be twice as large as Ireland. It would include everything from Quesnel to the U.S. border with Kamloops in between.
STV replaces local representation with regional representation by a group of MLAs, who would be hard to hold accountable for their actions. Proponents claim that there are no safe seats with STV, but with STV many politicians in Ireland hang on for more than 30 years. Their parties run only as many candidates in each area as they think they can elect, thereby creating safe seats and increasing the power of political parties who determine who they nominate to be members of parliament.
Our First-Past-the-Post system is used by much of the world, including the United Kingdom, the United States, India and Canada. STV is used in a few municipalities, but only in Ireland and Malta to determine representation in a national parliament. STV supporters sometimes refer to all proportional systems as if they were the same as STV, but there is an enormous difference between the system in Israel and STV in Ireland. STV is unique in requiring that there be constituencies with more than one representative, something even the Irish are now questioning.
No STV takes no position on whether other electoral systems -- such as Mixed Member Proportional -- might be an improvement but if BC-STV is not rejected by voting for First-Past-the-Post system, BC-STV will be in place for a recommended minimum of three elections -- until 2025!
Vote First-Past-The-Post on May 12 -- don't take a chance on STV.
Related Tyee stories:
Weee! Easy as STV!
Only a deranged math nerd could like the new vote scheme those Citizens Assembly keeners picked out for us.
Sharing the STV Pie
UVic's Dennis Pilon serves up his reasons for changing the way B.C. elects.