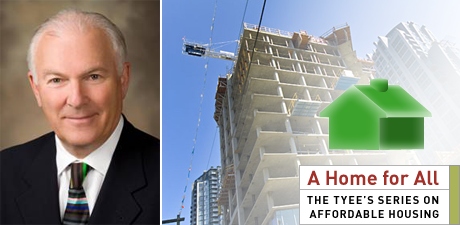 [Editor's note: Homes for All is a Tyee series that seeks to identify strategies to close the gap between what ordinary B.C. homes cost and what ordinary B.C. families can afford.
David Goodman has sold more than 350 apartment buildings during his 26-year career as a broker, and co-publishes (with his son Mark) a newsletter for apartment owners called The Goodman Report.
At an Urban Development Institute breakfast on Tuesday, Goodman shared his thoughts about why the Vancouver apartment rental industry has all but collapsed over the past decade, and what governments could do to nurture the construction of new purpose-build rental apartments. The following is excerpted from Goodman's lively speech.]
We have in our midst some of the most successful, resourceful and financially sound condo developers in North America, supported by a wide array of outstanding architects, interior designers, engineers, construction companies, trades and consultants to the industry.
With all the talent here, one would assume that building something as simple as a non-subsidized 60-suite rental building in Greater Vancouver would be a cake walk.
Right!
During my 26 years in apartment sales, I've heard on at least 50 separate occasions developers commenting that "even if the land is thrown in for free, we cannot make the numbers work on a new rental building."
As a result, the Vancouver vacancy rates stands at 0.5 per cent, the age of the average purpose-build rental is 50 years plus, and local developers attempting to produce new rental housing are likely to lose money.
Crisis driven by condos, land values
Some historical background, if you'll indulge me. Things changed considerably in the early 1970s when the strata condominium was introduced to the market. This new concept provided buyers, including tenants, the opportunity to purchase and own their own suite rather than pay rent. Prices paid for condominiums were soon much higher than rental apartments. As a result, land quickly increased in value to reflect the fact that building condominiums was significantly more profitable than building rental apartments. Accordingly, except for very few special situations, the construction of purpose-built rental properties ceased. This situation has not changed much since the 1970s.
Over many years, the developers of condominiums would assemble single-family lots in apartment-zoned areas or seek to rezone former industrial sites. Unfortunately, we have almost exhausted the conventional source of residential development land throughout the Lower Mainland. As a result, the cost of multi-family zoned land and the resulting new condominiums have increased much further in Vancouver compared to other parts of Canada. This is one reason why we have all heard of some prime Vancouver sites selling at over $200 per square foot gross buildable at the recent peak of the market. Meanwhile, a comparable prime development site in Toronto, where there is no shortage of zoned land, might sell for under $40 per square foot. As you might expect, higher land costs will ultimately translate into higher housing costs over the long term -- simple economics.
I have learned to appreciate the important real estate concept known as "highest and best use" in considering the value of real estate. Each time I prepare a market assessment of a property for a client, my first step is to determine whether their apartment property has a higher value as a rental income property or as a future development site. I have been involved in a number of instances throughout the Lower Mainland where we have determined the apartment property would achieve the highest selling price if sold as a development site for condominiums.
'The heavy hand of government'
The heavy hand of government has left its indelible mark on our rental apartment industry. Municipal, provincial and federal bodies of all stripes, either by design or accident, have created a hodge-podge of regressive tax policies, bureaucratic hurdles and band-aid solutions for an extremely complex issue -- rental housing viability in Canada. Here are just a few examples:
- A recent phenomenon is that some city councils and planning staff, including those from the City of Vancouver, believe they have the right to claim any land value increase created through rezoning via Community Amenity Contributions or other forms of creative extraction. Effectively, they are pick-pocketing property owners while reducing the highest and best use of the land.
- The federal government charges the developer or buyer 3.2 per cent GST on the full market value of any new rental building when completed. That's approximately 25 per cent of a typical developer profit.
- The B.C. Assessment Authority currently assesses the land portion of a rental apartment property based on the condominium value of the land -- even if the property is used as a rental. This forces apartment owners to pay grossly inflated property taxes, and actually encourages apartment owners to sell to developers.
- In the spring of 2007, the City of Vancouver, no doubt with the best of intentions, introduced a moratorium to restrict the demolition of rental housing through most zones in the city, without appropriate notice to property owners. The objective is to have developers replace 100 per cent of any demolished rental suites as part of any redevelopment proposal. It is clear they simply did not understand or care to understand the economics of development. It appears that the city with its demolition moratorium, would prefer to maintain outdated 50- to 60-year-old buildings in the misguided belief that this is best for tenants in the long run.
- It now takes at least two years in the City of Vancouver to secure a building permit with considerable approval risk and cost -- even if the site is zoned. Developers tell me that dealing with the process is now simply a bad joke. And our new mayor wonders why development activity has slowed in Vancouver.
Ten ideas to foster new rental
As a result of these and other policies, the highest and best use of multi-family zoned land is condominiums -- not rental.
Here's the good news. This can be modified with creative zoning solutions and incentives provided by government.
I am pleased to provide the following ideas on how we might proceed to encourage some new rental housing in Vancouver:
1. Politicians (civic, provincial and federal) need to use carrots -- not sticks -- to get rental housing developed. Let us be clear -- property owners, developers and apartment investors are in the business to make money!
2. The public and politicians need to appreciate that any new non-subsidized housing constructed will be expensive and simply not available to all income groups. This means we must accept that the "trickle down effect" plays a key role in increasing the supply of new apartments. The basic idea is that we build for those tenants that can afford to pay top market rents. As these higher income tenants relocate to the newer suites, they will free up the less expensive suites for the less wealthy tenants.
3. Height and density in the RM-3, C3-A, and other residential zoned areas should be substantially increased to allow new rental economics to work. The zoning needs to be clear and outright -- free from the council or director of planning's discretion. Only this will ensure the potential increase in land value properly accrues to the property owner, rather than to the city. This in turn will encourage the owner to sell.
4. One idea now being considered by the City to their credit, is to provide a 25 per cent bonus density for rental use in a new condominium project. For example, if the new zoning FSR is 2.0 the developer can build up to 2.5 FSR if the 0.5 FSR is used for rentals, say for a 10 year period.
5. Property taxes make up to 30 per cent of apartment owner's expenses. In a similar vein, for new rental construction, taxes should be phased in over 10 years to reduce the operating expenses and thereby increase the market value of the completed project, which will allow the developer to pay more for the land.
6. The federal government needs to eliminate the GST on new rental apartments, allow rental housing to qualify for small business tax treatment, increase the rate of capital cost allowance, reduce the inclusion rate for capital gains, and allow rollover.
7. Parking regulations should be market driven -- let the developer decide how many parking stalls to build. They will figure out the appropriate number of required stalls. It will also encourage smaller, more affordable suites as smaller suites may not need a stall.
8. Month-to-month tenancy agreements should be susceptible to termination for the purposes of redevelopment with four months written notice and one-month free rent or cash for every two years of tenancy. For example, a 10-year tenant paying $1,000 per month would get $5,000 cash when he/she vacates the suite.
9. Many older strata complexes have reached the end of their economic lives, resulting in situations where the land under the project is worth more than the combined value of the strata units. Strata owners need a new mechanism to allow for a fair vote to sell to a developer and a new method of distributing the sale proceeds that reflects the market value differences of each strata unit. Strata condominium councils are legally able to vote to restrict rentals in new condominium projects with a simple vote. The province should step in to restrict the ability of these councils to choke off the supply of rentals.
10. Lastly, and most importantly, councils and planning staff need to appreciate and understand that planning delays, special demands, or costs passed on to the developer are simply deducted from the property owner's land to maintain developer profit margins. As a result, the highest and best use of the land can be reduced to the point where a property owner simply has no economic benefit selling to a developer. Ultimately, this reduces the supply of land for development, slowing development activity and leading to the shortages we are here to discuss.
It really is time for city councils, planning staff, the province, and the federal government to step up to the plate. They have done little to nothing for almost 40 years to constructively resolve the situation. This crisis will not improve and likely worsen unless our political powers that be are truly challenged to recognize the economics of the development industry.
Next Tuesday, series editor Monte Paulsen investigates the potential of secondary suites.
Related Tyee stories: