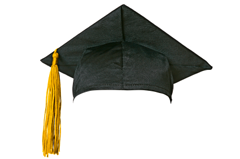 Every time the provincial government wants to show how much it supports public post-secondary education, it trumpets its promise of "creating 25,000 new student spaces."
This noble venture has the added cachet of being attached to one of the government's five Great Goals -- yes, it really is capitalized -- the one that wants to see our province become "the best-educated, most literate jurisdiction on the continent."
And recently, the 25,000 figure, which is supposed to be achieved by 2010, has magically morphed into 32,000, according to this feel-good report from Advanced Education Minister Murray Coell.
But where exactly are these "25,000 new student spaces" going, and who is sitting in them?
According to the province's auditor general, the answers to those questions are: the spaces aren't necessarily going to where they'll do the most good, and there's not as many students filling those spaces as you'd like to think.
This comes as no big surprise to those of us working or studying in the post-secondary system, who regularly deal with cancelled classes, overcrowded classes with even more students waiting to get in, and students taking smaller numbers of courses because they have to work more hours to pay their tuition, or dropping out of school entirely to avoid racking up any more student loans.
A seat isn't the same as a student
The auditor general also seems to have wondered what was going on because at the end of 2006, his office produced this largely ignored analysis of the government's post-secondary education expansion plans. Perhaps most of B.C.'s media didn't pay too much attention to this report because it has some fairly unflattering things to say about the progress of the "25,000 new student spaces" plan.
Before looking at the report's findings, though, let's give them some context by reviewing how government funds B.C.'s post-secondary system, and the reasons why creating a seat doesn't mean a student is actually going to be filling it.
Government funding for public post-secondary education in B.C. is primarily based on student enrollment numbers, which are calculated as full-time equivalents, or FTEs.
FTEs don't count how many actual students are attending an institution, but how many courses or credits all students are enrolled in.
There are different ways to measure FTEs. For example, an FTE can be calculated as 60 per cent of a full course load (a full course load is usually 15 credits, or five three-credit courses, per semester). Using this formula, three students taking one three-credit course each aren't counted as three students, but as one FTE. And one student taking five three-credit courses isn't counted as one student but as 1.4 FTEs.
The formula used to measure FTEs depends on the type of program and the type of post-secondary institution. But the basic idea behind all of them -- counting enrollments rather than students -- is the same.
Institutions' annual funding from government is primarily based on how many FTEs they "produce" in a year. So if institutional funding is tied to FTE numbers, it's obviously to an institution's advantage to have more, rather than less, FTEs. But "producing" FTEs isn't as simple as putting on a course or a program and waiting for students to show up.*
What keeps students away
A comprehensive Statistics Canada report on access to post-secondary education in Canada and the U.S. identifies a multitude of factors that may influence whether a potential student actually ends up sitting in a classroom. These include tuition costs, the student's or their family's financial resources, the education level of the student's parents, and how close the student lives to a post-secondary institution that meets their needs.
So while it sounds very nice to say, as Murray Coell does, that creating new student spaces increases "the opportunity to attend post-secondary institutions," it's misleading to pretend that providing money to create a student space is the same thing as making sure a student is actually able to go to school.
And that, expressed somewhat more tactfully, was one of the things that the auditor general's investigators found when they looked at what was happening with the "25,000 new student spaces."
A failing grade from auditor
The report audited the first two years (2004/05 and 2005/06) of the "creating 25,000 new student seats" initiative, and discovered that:
The target number of new spaces to be filled at the end of those two years was 7,417. Only 4,004 of those spaces were actually filled.
The determination of the 25,000 figure "was based primarily on one source of information: future population forecasts for the province." It did not include information from other sources, such as consultations with the institutions who would receive the funding for the new seats.
The 25,000 new seats were shared among all of the province's public post-secondary institutions in B.C. because of the ministry's policy of "regional equity." However, says the report, "the rationale behind the number of seats allocated to each institution was not well documented, was not based on consultations with the institutions, and did not sufficiently consider how well each institution had been performing in recent years."
All of the new seats were funded at the same rate ($7,200 per FTE). This amount of funding, according to the auditor general, "is a historical number... not supported by current data or analysis. It also does not consider the different mandates and cost structures of the institutions."
And, as a result of the ministry's funding model not automatically being adjusted to account for the impact of inflation, "funding intended for the implementation of 25,000 new student seats is also being used to help cover inflationary costs."
And finally, while space for students was being funded, "few institutions have formal human resource succession plans" in place to ensure that there were enough instructors to deliver the courses those students would be taking. Which, as the auditor general points out, should be a concern when "recruitment and retention within the ranks of Canadian academe is becoming a serious issue for all concerned about the future of post-secondary education in Canada."
So, in other words, the institutions themselves weren't consulted about how many new seats they might realistically be able to add, or might want to add; there was no consideration of what amount of funding would be needed to support those seats, or what regional or subject-specific costs might require different levels of funding; and no planning or resource allocation went into ensuring that institutions would have sufficient numbers of instructors to actually teach the classes.
'Excellent and accessible education' was promised
This might almost be laughable if it wasn't for the fact that this debacle comes from a ministry that promises, in its service plan, to support "excellent and accessible education". It's also not so funny when you consider the highly detailed performance plans and reports (like these) that the ministry now demands from the institutions it funds. I can only imagine what would happen to a post-secondary institution that submitted a strategic plan as poorly researched or justified as the ministry's own "25,000 new seats" plan appears to be.
But wait, it gets better (or worse, depending on your perspective). The auditor general's data show that at the end of the 2005/06 reporting period -- after the allocation of the first two years' worth of those 25,000 new seats -- 20 of the 26 public post-secondary institutions in the province missed their FTE targets for that period.
The auditor general attributes this problem to factors such as improvements in the labour market and the overall economy, and the declining number of potential post-secondary participants in the 18- to 24-year-old age group.
Too bad the government apparently doesn't show the same understanding that external variables can affect student enrollment, or demonstrate any willingness to help institutions adjust to those changes -- like, say, adjusting tuition fees to make post-secondary education more appealing in the face of a strong job market.
Instead, according to the auditor general, "the institution is expected to fill the seats in the year they are allocated, and if it does not, the ministry reserves the right to reallocate." So not only are institutions expected to fill seats when their enrollments might be affected by powerful external factors they can't control, but they also run the risk of financial punishment if they can't accomplish outcomes that might have little or nothing to do with their individual realities.
A better measure needed
The auditor general's report also criticizes the use of FTEs as a basis for determining institutional funding, saying that the "actual cost of delivering programs" would be a better indicator of institutions' financial needs. While FTEs are a relatively straightforward way to assess how much students use an institution's offerings, they also have a significant downside -- namely, that basing funding primarily on FTE levels forces institutions to focus on programs and course offerings that maximize FTEs. So courses that might offer an excellent educational experience for students, or allow a faculty member to share expertise or insight that a student couldn't get anywhere else, are likely to suffer if those courses don't get "enough" enrollment.
If an institution has to decide, for example, between offering a small seminar-style course with less than 10 students or a large standardized course which usually draws enrollment in the dozens -- even if the smaller course might be a better learning experience for the students -- guess which one has the better chance of being scheduled if the institution is worried about its FTEs.
Getting new courses or programs off the ground is also a challenge if FTEs drive an institution's decision-making. New offerings often require an initial transition period with small enrollments, while the courses or programs establish a reputation or become better known. But supporting this period of low-enrollment growth is difficult if the institution has to maximize its overall FTEs. This sad situation, ironically, seems to directly contradict the ministry's stated desire to have post-secondary education "meet[ing] employers' demands for highly skilled workers" and allowing institutions to "respond to their communities' needs." An institution can't be truly responsive or innovative in its programming if it's expected to "produce" a set number of FTEs, and doesn't feel it can risk too many offerings that might not help it reach that number.
Time for hard questions
It's worth noting that the auditor general's report ends with a "management response" which doesn't do a whole lot to substantially address the report's criticisms. Statements such as "long term plans must be carefully monitored and responsive to changing circumstances" seem somewhat inadequate in response to descriptions of planning and resource allocation that were anything but careful. The response also seems to waste a lot of time arguing about semantics, such as whether the term "succession planning" was used correctly in pointing out the need to ensure adequate numbers of faculty.
Yes, what the auditor general proposed may not be "succession planning" in the strict sense of "identifying the specific person next in line for the job." But quibbling over wording doesn't address the fact that the government seems to have no plans in place to attract or retain sufficient numbers of post-secondary faculty across the province.
And, really, why would it not be "a prudent use of Ministry resources" to collect and use "in-depth knowledge of costs for a wide range of programs" as a basis for funding allocations? Wouldn't that investment of resources result in more effective and efficient use of taxpayer funds, which is what the government seems to be claiming it wants?
When the government starts pushing the "creating 25,000 new seats" line around election time -- as I suspect it inevitably will -- I hope that someone is going to ask some hard questions about where those seats are going, whether they are being adequately funded, and how many have actual students sitting in them.
Call me an idealist, but maybe it's time for another Great Goal: to get some real "accountability" and "transparency," and demand meaningful explanations for the difference between what the government claims it's doing for post-secondary education, and what's actually happening. Because it looks like there's some pretty serious explaining to be done.
*Story updated Nov. 25, 2008.
Related Tyee stories: